Winter Storm Warning [Update]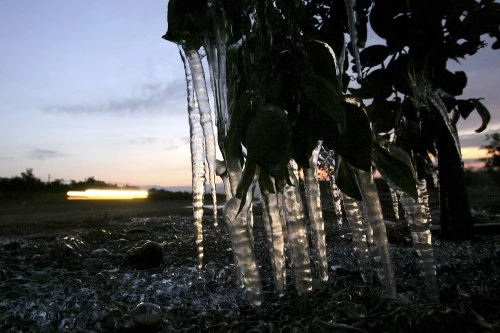 …WINTER STORM WARNING IN EFFECT FROM NOON TODAY TO NOON CST FRIDAY…
THE NATIONAL WEATHER SERVICE IN LAKE CHARLES HAS ISSUED A WINTER STORM WARNING FOR A MIX OF SNOW…SLEET…AND FREEZING RAIN…WHICH IS IN EFFECT FROM NOON TODAY TO NOON CST FRIDAY.
A MIXTURE OF RAIN…SLEET…AND LIGHT FREEZING RAIN IS POSSIBLE BY THURSDAY AFTERNOON. LITTLE ICE ACCUMULATION IS EXPECTED DURING THE MORNING OR EARLY AFTERNOON AS THE PRECIPITATION WILL START OUT VERY LIGHT WITH TEMPERATURES HOVERING JUST ABOVE FREEZING. THE PRECIPITATION IS EXPECTED TO INCREASE IN INTENSITY LATE THURSDAY AFTERNOON AND NIGHT WITH TEMPERATURES FALLING TO NEAR OR BELOW FREEZING. THIS WILL ALLOW FOR ACCUMULATION OF ICE…SLEET AND SNOW…ESPECIALLY ON ELEVATED SURFACES.
STORM TOTAL SNOW AND SLEET ACCUMULATIONS AROUND 2 INCHES…WITH ISOLATED HIGHER AMOUNTS…WILL BE POSSIBLE NORTHWEST OF A LINE FROM ALEXANDRIA TO SILSBEE.
STORM TOTAL ICE ACCUMULATIONS ALONG A LINE FROM ROUGHLY LAFAYETTE TO LAKE CHARLES TO BEAUMONT…AND NORTHWEST TO ALEXANDRIA TO SILSBEE…WILL AROUND 1/4 OF AN INCH…WITH ISOLATED HIGHER AMOUNTS POSSIBLE.
THE PRECIPITATION IS EXPECTED TO DECREASE IN INTENSITY DURING FRIDAY MORNING…THEN ENDING FROM WEST TO EAST FRIDAY AFTERNOON.
PRECAUTIONARY/PREPAREDNESS ACTIONS…
A WINTER STORM WARNING MEANS SIGNIFICANT AMOUNTS OF SNOW… SLEET…AND ICE ARE EXPECTED. THIS WILL MAKE TRAVEL VERY HAZARDOUS OR IMPOSSIBLE. ALSO…ACCUMULATION OF SLEET OR ICE ON TREE LIMBS AND POWERLINES WILL BE POSSIBLE…CAUSING SOME POWER OUTAGES.