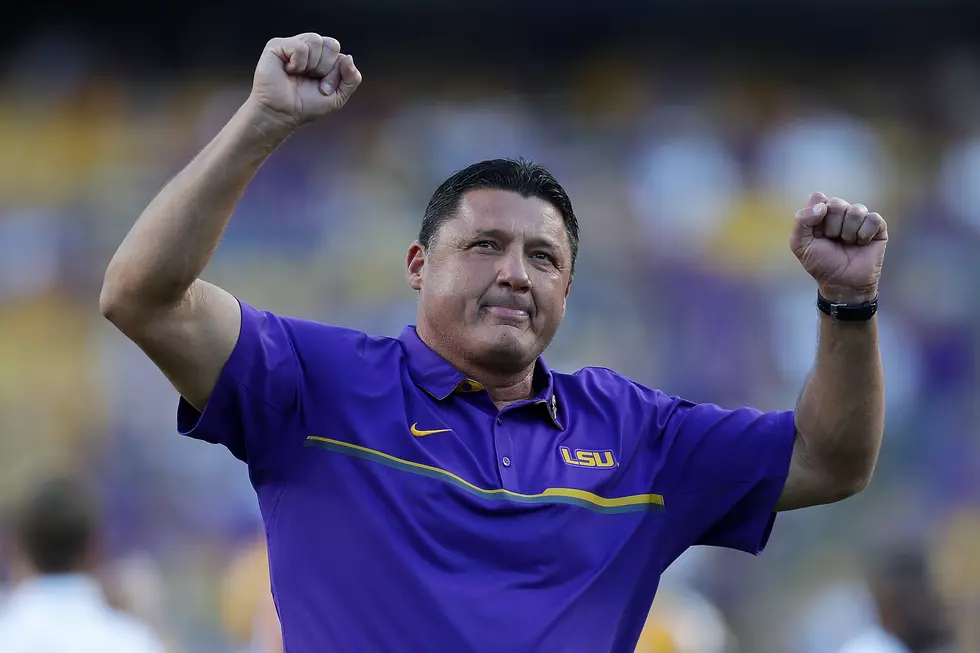 Is Former LSU Football Coach Ed Orgeron Engaged?
Ed Orgeron gets first win as LSU head Coach (Getty Images)
Social media blew up over the weekend when a former LSU football coach posted pictures of him and a lady and made a big announcement!
Ed Orgeron went on his Twitter and posted three pictures of him and a blond-haired lady and said: "Had a great night with my fiancé, Brandy Nicole!" So it looks like Coach O is engaged!
Her name obviously is Brandy Nicole and now she is Coach O's fiance we assume according to his post. The couple was in New Orleans and took some pictures and Coach O posted them on his Twitter feed.
Coach O was previously married to Kelly Orgeron but Ed and Kelly divorced after LSU won the National Championship in 2020.
One of the couple's sons Cody Orgeron played for the McNeese Cowboys football team and was the starting quarterback for a couple of years. Ed and Kelly had three sons in total during their marriage.
Since then, Coach O has left LSU and has recently announced his engagement to the woman in the photos. Social Media went up in a roar, and some comments about his announcement are classic.
We saw one comment saying "You better get a prenup signed Coach O". Another person posted, "Is that the girl in the bedroom pictures?".
We look at it this way, as long as Coach O is happy, good for him and Miss Brandy Nicole. Congrats Coach and Geaux Tigers (In Coach O's Voice LOL).
Beverages You Should Try While in New Orleans