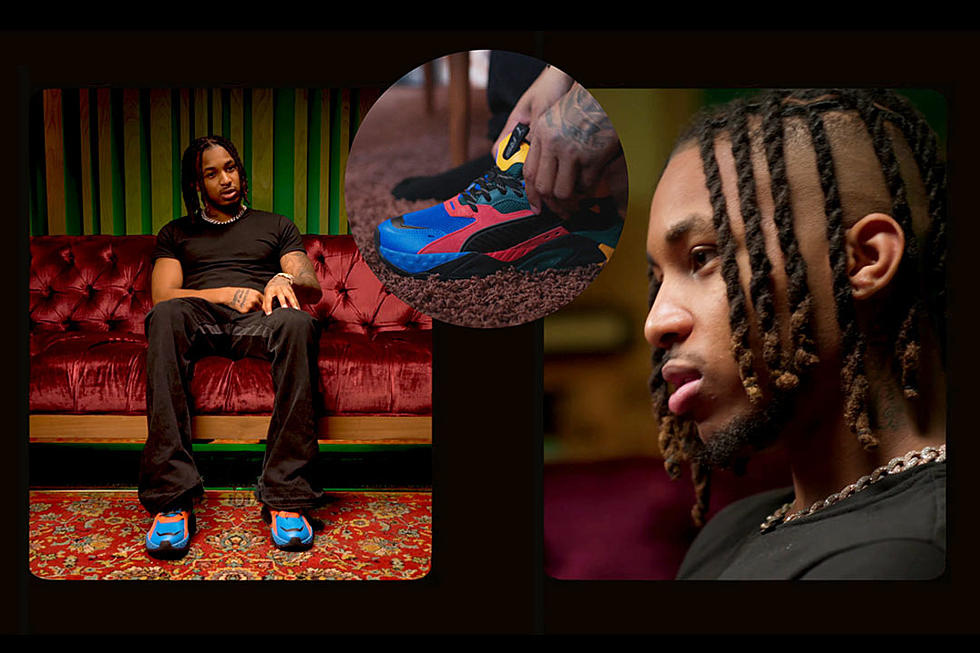 Step Into the Studio With DDG and PUMA
XXL
From YouTuber to rapper, DDG has built a career from pursuing his passions and excelling beyond the usual heights of success. More than 3 million YouTube subscribers watch his vlogs. He's secured a Billboard Hot 100 hit with "Moonwalking in Calabasas," and earned platinum and gold plaques for his music. DDG has even launched a label of his own. "Artist, entertainer, CEO, entrepreneur, valedictorian, you name it, I do it all," he tells XXL. He's reimagining and revolutionizing what it means to be a jack of all trades. Step into a day in the life with DDG and PUMA in the studio as he discusses his evolution as an artist.
A productive day for DDG is heading to the studio to record new music with his engineer Baby Rich. He steps out in PUMA's RS-TRCK Color, a reimagined and revolutionized sneaker with a vibrant colorway and cushioning technology that provides both the style and support for the self-proclaimed "fashion icon" on the move. Whether he's in the streets or in the studio, the RS-TRCK rubber outsole offers the durability needed for DDG's active lifestyle.
DDG stays active in more ways than one. Aside from being an avid basketball player and performing at shows, the rhymer, who released his new song, "Way Too Petty," this month, spends countless hours perfecting his sound. Whether he's in front of the mic or behind the boards alongside Baby Rich, DDG makes plenty of moves in the studio. It's where his ideas come to fruition and he showcases his inspiration by the growing sounds of the culture. "Hip-hop in general is evolving," the 25-year-old entertainer shares. "It's changing and I'm changing, too, as an artist and I'm adapting to the different sounds and what people like to hear and what people want. The last thing I want to do as an artist is fall behind."
Leading the pack is guaranteed with the RS-TRCK Color sneakers. A primary color palette fused with trail-inspired details make up this fashion-forward footwear, which complements the neutral tones DDG usually prefers in his 'fits. "These shoes for instance, as you can see, I wear all black," he adds. "And I like my shoe to do all the talking. PUMA is versatile just like me. PUMA is not scared to throw different colors in, you know, switch up the look. And I feel like that's something I can really relate to, especially as an artist. Someone that likes to try different things and as a fashion icon." Studio style or Fashion Week included.
The premium look of the RS-TRCK's lightweight mesh upper with mixed media overlay, plus a padded collar and mesh lining allow for both style and comfort to take priority. A signature Formstrip and RS-branding at the sides also celebrate the shoe's heritage look. All important factors for artists like DDG to walk, run or just post up in this PUMA drop.
As DDG looks toward the future, he knows reinvention comes in many forms. Whether it's the music he's creating or expanding his wardrobe, the rapper is exploring all his options. "Reinventing yourself is a way of finding yourself and once you find that niche of what you want to be and what you want to do, I feel like that's when you find success," he affirms.
Watch DDG step into PUMA's RS-TRCK Color as he hits the studio below. Purchase PUMA's RS-TRCK Color here.
Watch DDG Step Into the Studio With XXL and PUMA Below
This editorial advertisement is presented by PUMA.