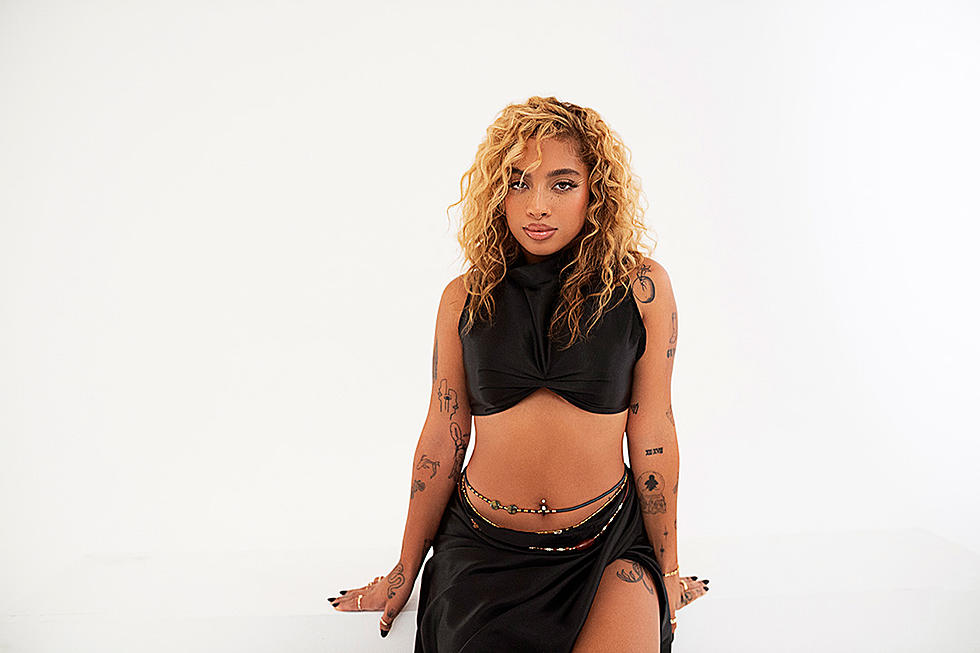 Singer Kiana Ledé Praises Drake for Influencing How Many R&B Artists Flow
Eric Williams
A childhood prodigy-turned-young R&B star, Kiana Ledé knows the ins and outs of musical success. When her mother noticed her talent at just 15 months old, Kiana began entering and winning singing-related contests. Young Kiki's biggest moment was placing first at Kidz Star USA national competition, putting her on a Kidz Bop Tour, which helped her land her first record deal. Then, at 16 years old, the Phoenix native moved to Los Angeles. She was ready to put everything she had into music. That leap of faith paid off, and the current Republic Records signee has celebrated her growing success thanks to the help of her well-received debut album, Kiki, and standout platinum single, "Ex." While prepping her forthcoming album, she shares her musical origins, being introduced to hip-hop by her father and Drake's influence on her love of R&B.
XXL: When were you first introduced to hip-hop?
Kiana Ledé: With my dad just sitting in the car, putting on his favorite song. He had a wide range of R&B and hiphop. We spent a lot of time in his car. He had his little setup in his trunk, everything in his SRT-8. He listened to a lot of [Lil] Wayne. Tech N9ne is his favorite. I'm more of an R&B girl, to be honest.
In 2015, you redid Drake's "Hotline Bling," which helped get you signed to Republic. Why that song and were you surprised by its overall success?
I had no idea that was gonna happen. We had been doing SoulFood Sessions for a year and we did everything from "Shake It Off" by Taylor Swift to "IDFWU," Big Sean, and we just turned it into some churchy song. I think I have just the naturally soulful voice. My piano player and producer grew up in the church, so it was kinda something that we just did as a joke and turned into something real.
You dropped Selfless in 2018. Of course, "Ex" is on there, and now you have this huge hit tied to you. How did that time feel?
It still doesn't hit me. It doesn't hit me until I get on stage, and I see everyone singing the song, but even then, it doesn't feel like it's about me. It feels like it's more about the music, the emotions that we're all feeling at the same time. It feels incredible, but I think I'm more grateful, not only from the support of my fans, but for the way that we can all heal each other through the music.
You dropped Kiki in 2020, which features "Labels" with Moneybagg Yo and Bia. The song samples both The Notorious B.I.G.'s "Juicy" and Mtume's "Juicy Fruit." What do you feel Bagg and Bia brought to the record?
I think Bagg brought the fun. Pink Starburst, great line. Everyone knows pink Starbursts are the best Starburst. And Bia is a f**kin' boss. I just love hearing her voice. When you hear her, you know that that's a bad b***h speaking on the song. I'm a big fan of that song.
Do you think hip-hop has affected your creative process?
The way that I flow in verses, for sure. I always say, "No one wants to hear me rap!" but I guess that's my version of rapping. Honestly, Drake has influenced a lot of people and even a lot of R&B artists, where we can kind of fit more words into one verse and tell a lot more of the story. That wasn't really part of the formula originally.
What's the story behind your latest single, "Irresponsible," and what can people expect from you next?
I really hope my ex doesn't read this article. "Irresponsible" is about feeling like someone, they kinda persuaded you to be with them and wanted you to love them and then eventually there's that switch up. Right now, I'm just focused on getting this s**t together for this album to come out at the beginning of the year, next year. I'm so ready for people to hear this new music and hear this new version of me because it's just more toxic, also slightly more vulnerable.
Read Kiana Ledé's interview in the winter issue of XXL magazine, on newsstands now. Check out additional interviews in the magazine, including the cover story with Pusha T as well as conversations with Chance The Rapper, Ab-Soul, Freddie Gibbs, G Herbo, DaBaby, EST Gee, Murda Beatz, Morray, Ice Spice, Jeleel!, Armani White, Destroy Lonely, producer Dez Wright, actor Shameik Moore, plus a look at how new artists get on in hip-hop these days, hip-hop's love for wrestling, the ways in which women in rap succeeded in 2022, the rapper-run podcasts the game has grown to love and a tribute to rappers we lost in 2022.
See Photos of Pusha T's XXL Winter 2022 Issue Cover Story