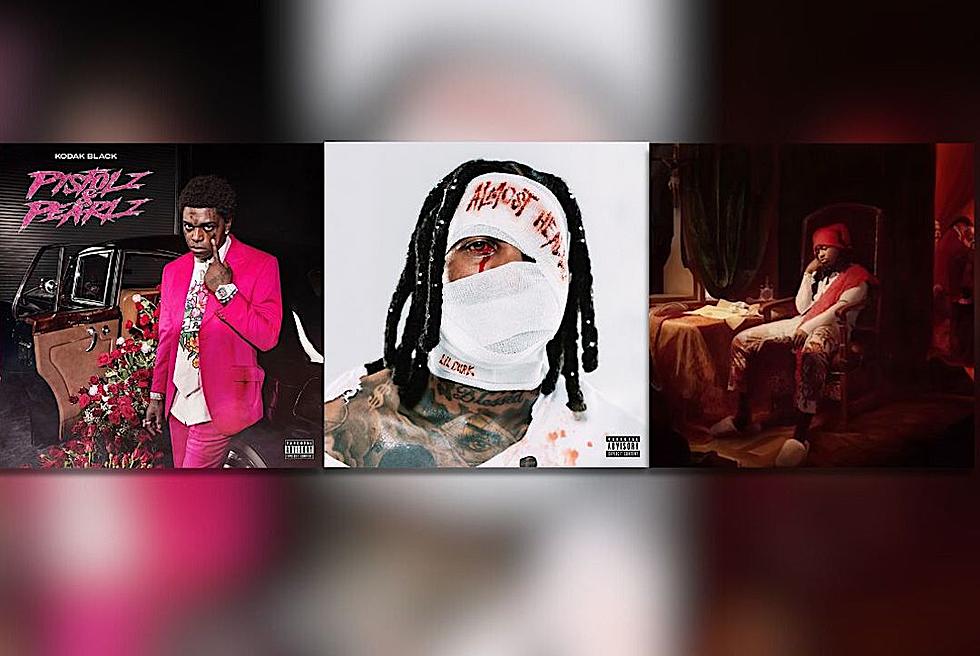 Lil Durk, Kodak Black, Cochise and More – New Hip-Hop Projects
Interscope Records/Alamo Records LLC/Sony Music Entertainment/Columbia Records
As May nearly comes to a close, three of the top artists in the rap game are releasing new music today. A Chicago rapper is dropping his highly-anticipated eighth album, a Florida rhymer is bidding farewell to his former label with his studio project and another Sunshine State rapper releases an EP for his fans.
Lil Durk's has finally released Almost Healed, which initially was set to drop on May 12 but he pulled a bait and switch and delivered instead his J. Cole-assisted single, "All My Life."
Durkio's rap rival NBA YoungBoy, who released his Richest Opp mixtape on the same day, took great pleasure in seeing the Chicago rhymer push back his album at the last minute. YB posted a video of himself celebrating Durk's about-face move.
"B***h-a** n***a, you pushed back, you bet not ever try it again," YB said while bouncing to a song off his new mixtape, flashing money and flaunting his watches. "Don't play with me," he added.
But the XXL Spring 2023 cover star may have had the last laugh because his "All My Life" song is out-streaming YoungBoy's Richest Opp project on Spotify.
Streaming numbers aside, Lil Durk will hit the road this summer and embark on his Sorry for the Drought Tour. The North America trek kicks off July 28 in Tampa, Fla., and wraps up in Phoenix, Ariz. on Sept. 7.
Meanwhile Kodak Black's Pistolz & Pearlz is the "ZeZe"'s rhymer's final project for Interscope Records as he takes his talents to Capitol Records after inking a deal with them in October 2022. Last Thursday (May 18), Yak hopped on his Instagram page to announce his new album to his nearly 13 million followers.
"PISTOLS & PEARLS – 5/26/23 THANX to EVERYONE THATS BEEN ON THIS JOURNEY WITH ME LUVIN & THUGGIN ! I COULDNT FIND PEACE WITHOUT ALL THE VIOLENCE @atlanticrecords It's Been Well," he in the caption while sharing the album's artwork and tracklist. "Nothing But Gratitude & The Utmost Respect."
The 21-song collection boasts guest appearances from EST Gee and mostly from his Sniper Gang crew including, Vvsnce, WizDaWizard, Loe Shimmy, Syko Bob and more. The album follows behind his 2022 effort, Back For Everything, which premiered at No. 2 on the Billboard 200 chart with 60,000 equivalent album units moved in its first week of release. The LP featured the fan-favorite track "Super Gremlin," which reached platinum status.
Kodak will also hit the road this summer as a co-headliner of Lil Durk's Sorry for the Drought Tour featuring guests NLE Choppa and DD Osama.
Finally, Cochise delivers his new project No Ones Nice to Me. The EP follows the former XXL Freshman's full-length album The Inspection, which dropped last summer.
The seven-song EP features the Palm Beach, Fla. rapper's sing-songy rhymes and no guest features. Earlier this month, Cochise dropped the set's first single, "Kaneki."
Last week, the 25-year-old spitter released a short clip titled "Cochise Goes to Therapy" where the Florida rhymer is in a therapy session with a group of men. When Cochise introduced himself as a rapper who gets bullied to drop music, the other men ridiculed him for thinking his problem is a behavioral issue. Watch the video below.
Check out other new projects this week from Monaleo, KayCyy, K Camp, Kari Faux and more below.
Alamo Records LLC/Sony Music Entertainment

Alamo Records LLC/Sony Music Entertainment

Pistolz & Pearlz

Kodak Black

No One's Nice to Me

Cochise

Columbia Records/Sony Music Entertainment

Columbia Records/Sony Music Entertainment

Where The Flowers Don't Die

Monaleo

BuVision LLC/Columbia Records/Sony Music Entertainment

BuVision LLC/Columbia Records/Sony Music Entertainment

Nothing Bigger Than the Program

Jay Worthy

Real Bitches Don't Die

Kari Faux

drink sum wtr/Lowkey Superstar Records

drink sum wtr/Lowkey Superstar Records

Growing Pains

Abby Jasmine