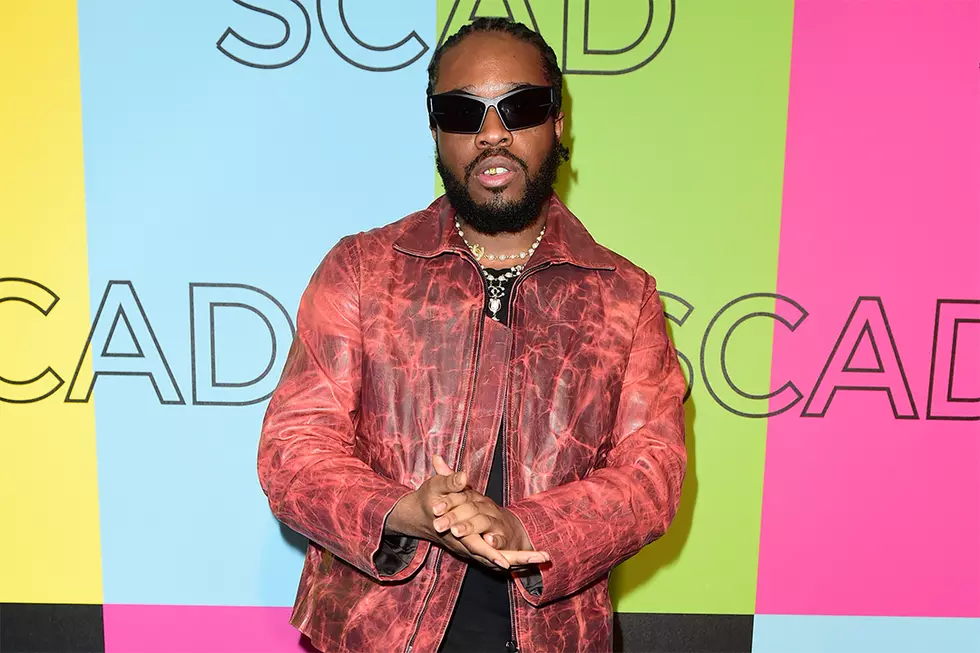 Actor Shameik Moore Shares His Connections to the Wu-Tang Clan as a Character on the Rap Group's TV Series
Killilea/Getty Images for SCAD
Hell Yeah
The love for hip-hop runs deep for TV star Shameik Moore.
Interview: C. Vernon Coleman II
Editor's Note: This story originally appeared in the Winter 2022 issue of XXL Magazine, on stands now.
Actor Shameik Moore has music in his blood. The 27-year-old son of a reggae artist is most well-known for roles in Wu-Tang: An American Saga, Dope, The Get Down and voicing the web-flinging superhero in Spider-Man: Into the Spiderverse, but hip-hop is the Atlanta native's passion. Releasing music independently since 2015, Moore is hoping to make his mark on the record industry, as well as the silver stage with an upcoming album and songs with artists like Playboi Carti and Lil Yachty in the stash. Now, Moore talks about falling in love with hip-hop, working with the Wu and his own budding music career.
XXL: Where does your love for hip-hop come from?
Shameik Moore: I saw the movie You Got Served. I walked in with my pants on my belly button, and I came out sagging. That movie opened my interest in dance.
You're from Atlanta. Were you into the local music scene?
When I was 12, I was doing dance battles at a nightclub, which led to casting director putting me in music videos with Soulja Boy, Keri Hilson and Lil Wayne. That's how I led into acting. The same casting director got a call from Cartoon Network: "Hey, we need some kids to dance in this commercial." One thing kept leading to another. My whole trajectory is pretty much exactly that. One job leading to the next.
The Wu-Tang Clan came out before you were even born. What was your introduction to the Wu?
I didn't listen to Wu-Tang at all until I met RZA. RZA approached me to do his film, Cut Throat City. That's when I started listening to Wu-Tang. And it had nothing to do with that character. I wanted to know more about who I was working with.
You play Raekwon on Wu-Tang: An American Saga, but who is your favorite Wu-Tang member, musically?
My favorite was definitely Ghostface. It's hard for [Raekwon] not to be my favorite now 'cause I put my soul into the characters I play. I really understand as much as I can understand from the script and whatever experiences I've had with Raekwon. And the music, and how the lyrics are interpreted. I've built a relationship with Raekwon's lyrics and his energy and what he represents.
What's your favorite Wu-Tang song?
It switches. I naturally listen to a song like "Ice Cream" more than others because of the kind of music that I make. It's R&B and hip-hop. There's other flavors like reggae and some other things in there. When I was doing this last season, I was really heavy on Only Built 4 Cuban Linx…, "Heaven or Hell." I also love the skits.
Who are some hip-hop artists you are into?
I like a lot of what Swae Lee been doing for a while. Drake has been influential for a long time now. I think PartyNextDoor had a wave when he first dropped. I think Playboi Carti is unfuckwitable in his lane. I rock with [Lil] Yachty in person. I'm proud of A$AP Rocky right now. I fuck with Jacquees. Shout-out to Latto, too.
Who are some artists you'd like to work with?
I got a record with Playboi Carti. I got a record with Yachty. I would prefer to make a song with Kehlani. I would like to make a visual and a record with Normani. I would like to do some shit with Rema. Omah Lay. Chris Brown. I don't see it being a better visual than [that]. Don Toliver. Those first two projects are hard. I think we could do something fire. Baby Keem. He cold. That's a bad boy right there.
Read Shameik Moore's interview in the winter issue of XXL magazine, on newsstands now. Check out additional interviews in the magazine, including cover story with Pusha T, conversations with Freddie Gibbs, Chance The Rapper, Ab-Soul, G Herbo, DaBaby, EST Gee, Murda Beatz, Morray, Ice Spice, Jeleel!, Armani White, Destroy Lonely, producer Dez Wright, singer Kiana Ledé, plus a look at hip-hop's love for wrestling, a deep dive into how new artists get on in hip-hop these days, the ways in which women in rap succeeded in 2022, the rapper-run podcasts the game has grown to love and a tribute to rappers we lost in 2022.
See Photos of Pusha T's XXL Winter 2022 Issue Cover Story