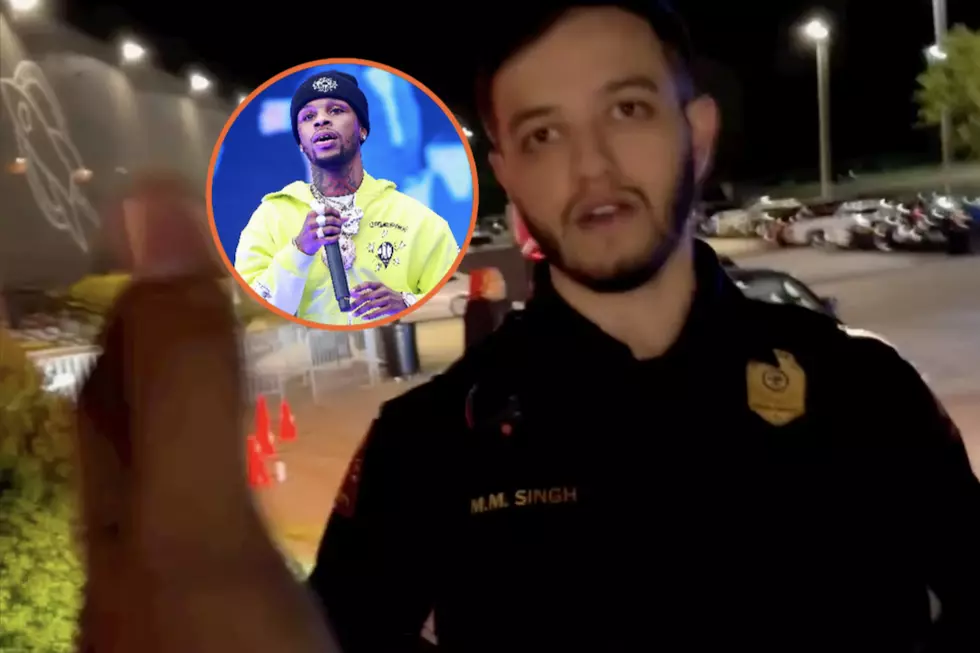 Toosii Claims Cop Pulled Gun on Him After Rapper's Own Gun Falls Out, Argues With Police
toosii/Instagram/Arturo Holmes/Getty Images
Toosii had a run-in with police last night and according to him, it could have turned deadly.
On Saturday (March 11), Toosii shared on his Instagram account a video of his interaction with police in North Carolina. In the clip, The 2021 XXL Freshman claims a cop pulled a gun on him after the rapper's own gun fell out of his car. The 23-year-old artist is seen arguing with police and explaining to them that he almost lost his life because a cop allegedly pulled a gun on him.
"I did not pull no gun on him," he argued at the police officers in the video below. "My gun fell on the ground...no it was not in my hand, bro, it fell out my car."
Toosii added that he picked up the gun and put it in the car, but when he put his hands up, a police officer allegedly still pulled his gun on him without probable cause.
"You was dead ass finna to shoot me," he tells the officer, adding, "this n***a said, 'gun, gun, gun' as if someone was finna to like, what the f**k?"
The police officer insisted that it wasn't him that yelled "gun, gun, gun." But Toosii vehemently disagreed with the officer's response, claiming he was the only one who pulled a gun on him. Several officers join in the conversation and started arguing with the rapper as well.
It's unclear where the incident happened in North Carolina.
In the caption of the video, Toosii explained what happened to him with the police. He wrote:
"Mind you I live in the state of North Carolina! An OPEN CARRY STATE where I am also LICENSED TO CARRY. You would think officers are more trained for situations like this but instead you get officer dip sh*t who pulls his gun out on me because he'a so in fear for his life and ready to kill an innocent man and take him away from his family! I'm in disbelief at how someone who could have went throhhh so much training could have honestly reacted this way… I could have senselessly lost my life tonight because some coward was too afraid and doesn't know how to do his job [thumbs down emoji]."
XXL has reached out to Toosi's rep for comment.
Watch Toosii's Heated Argument with Police in North Carolina Below
See 22 Hip-Hop-Related Police Raids
These rappers had some serious run-ins with the police.