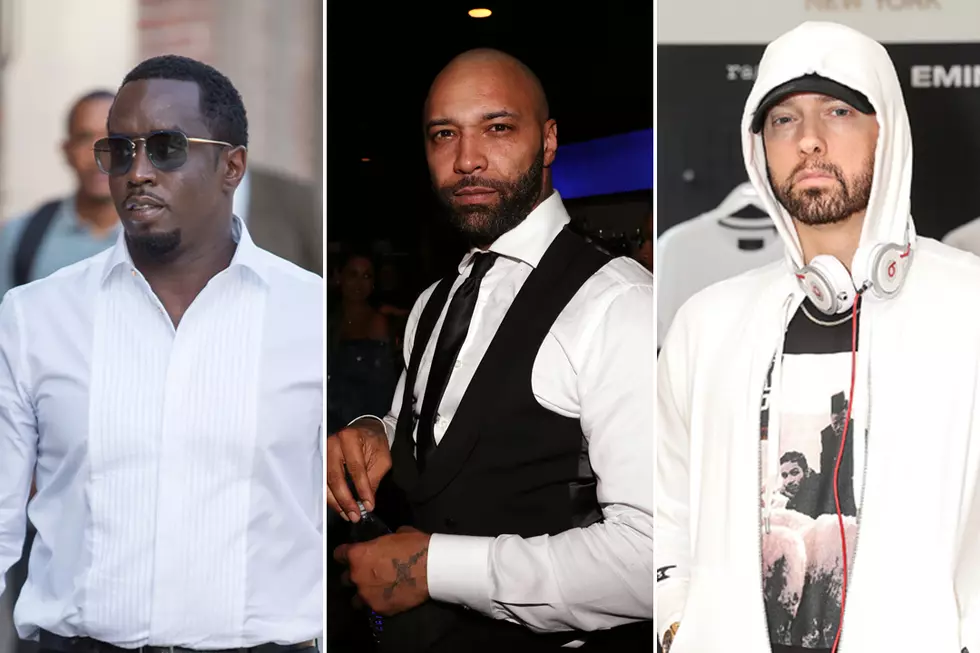 Joe Budden Says Diddy Plans to Respond to Eminem's Claim That He Had Tupac Shakur Killed
RB/Bauer-Griffin / Johnny Nunez / David M. Benett, Getty Images (3)
Speaking on an episode of The Joe Budden Podcast this past Tuesday (Sept. 19), Budden, who was also a focus of Em's "Killshot" wrath, says a behind-the-scenes conversation with Puff let him know the Bad Boy Records founder wasn't going to let Em's controversial implication go unresponded to.
"Nothing to speculate about. Nothing to talk about," Budden says. "Puff said it's in his hands and he said I can tell ya. That's the end of that. He said, 'Yeah, there's nothing to say about it. It's in my hands.' He's wild. Period."
Budden doesn't get any more specific, but it's clear that Diddy would have a reason to be displeased with Em's bar. On "Killshot," which is a diss song responding to Machine Gun Kelly's Em diss, "Rap Devil," Em references the theory that Diddy had Shakur set up to be shot and killed in Las Vegas 22 years ago.
"Killshot, I will not fail, I'm with the Doc still/But this idiot's boss pops pills and tells him he's got skills/But, Kells, the day you put out a hit's the day Diddy admits/That he put the hit out that got Pac killed," Em raps on the track.
Em ends "Killshot" by saying he's just playing around, but according to Budden, that wasn't quite enough for Diddy.
Listen to Budden speak on the matter below.
See Photos of Eminem's Different Looks Over the Years