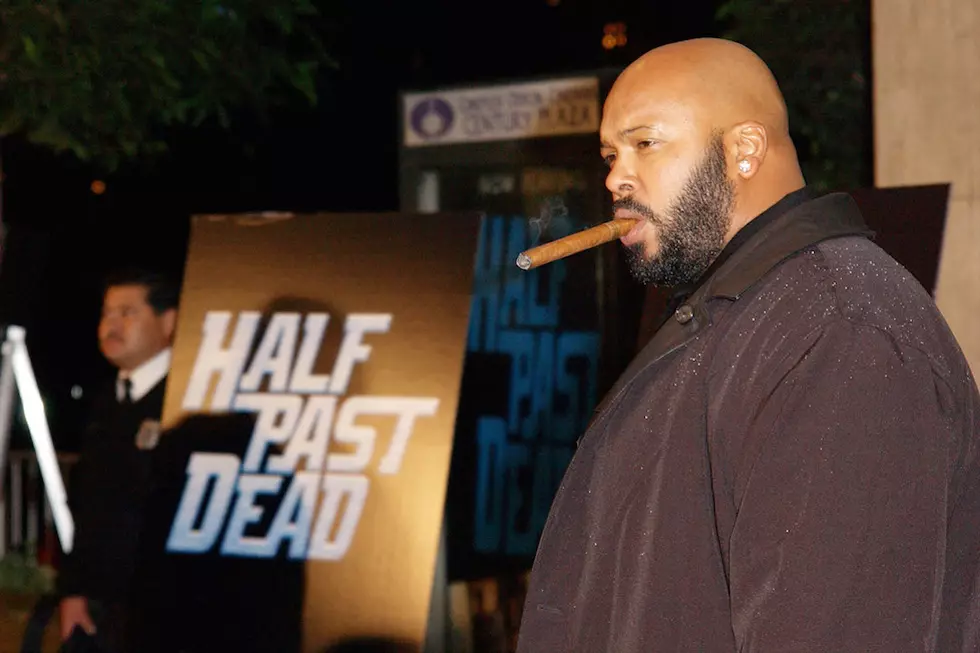 10 Rappers Suge Knight Never Tried To Kill (We Think)
Robert Mora, Getty Images
In a late 90s interview with MTV, Suge downplayed his fearsome reputation and his contempt for Sean "Diddy" Combs in the midst of the infamous feud between Combs' Bad Boy Entertainment and Suge's Death Row Records. The beef went a long way towards cementing Suge's image as hip-hop's most menacing personality.
"The whole thing was blown out of proportion," Knight explained from jail, at the time. "I just said the boy liked to be seen too much -- was overshadowing his own artists. I wasn't lying. I watch BET (Black Entertainment Television). I see his ass all the time and I know I called it right two years ago."
"I just want to know one thing," Knight continued, "why is that fool always running in his videos. What is he scared of?"
We can probably answer that for you, Suge.
Aside from Eminem, Suge's name has come up in some of the darkest moments in rap: fans speculate that Suge had some sort of involvement in the murders of both 2Pac and the Notorious B.I.G.; threatened to throw Vanilla Ice off of a balcony, and he assaulted the late Eazy E--and there are fans who still believe Suge somehow conspired to get Eazy infected with HIV.
We don't know if Suge has the biological resources to pull off that sorta thing. But the dude seems to be the rap game's Grim Reaper. With so much proverbial blood on his name--we decided to do a quick check of the handful of rappers Suge Knight actually didn't ever attempt to have wacked.
We hadn't seen Jibbs since before Dubya left office, so we started wondering if maybe Suge got to him. But he seems to be fine--he's allegedly the night manager at a Popeye's Chicken in East St. Louis.*

*We just made that up. Of course we don't know what Jibbs is doing now. Who does?

Peter Kramer, Getty Images

Peter Kramer, Getty Images

Suge Knight casts a long shadow over 90s West Coast acts. So we were wondering if Coolio, (who was kinda sorta affiliated with Ice Cube early on, who was an enemy of Dr. Dre for a little while, who was Suge's partner at Death Row for four years), ever incurred the wrath of Knight. But nah--it looks like Suge never bothered to sink Coolio's fantastic voyage.

Brenda Chase, Getty Images

Brenda Chase, Getty Images

Sadly, "The Human Beatbox" Buffy passed away of a heart attack in 1995. However, authorities have determined that Suge Knight was not involved.

She was technically a West Coast rapper and she fell off the face of the earth. Could it be Suge? Is she in Witness Protection? Did she have to go underground? Nah--she just had a kid and let her 15 minutes of fame run out.

Jason Merritt, Getty Images

Jason Merritt, Getty Images

Has anyone seen Fabo since, like, 2010? Can you prove that Suge Knight hasn't tried anything? We really just wanna know what Fabo's been up to and whether or not he still sees spaceships on Bankhead.

Public Enemy was the biggest act in hip-hop until The Chronic, so maybe Suge would've wanted to send a message. There's no way he'd have the nerve to go after Chuck, but maybe he tried to take Flav out? But we checked and...nope. No Suge attempts on Flavor Flav. We all know Flav isn't going anywhere anyway.

Naughty By Nature was one of the biggest acts of the 90s and they were straight up East Coast. Even though Treach was cool with 2Pac, maybe Suge would've wanted to get rid of all competition east of the Mississippi. He wouldn't go after Pac's homie, but what about the guy who always looked like a 7th grader?

Ethan Miller, Getty Images

Ethan Miller, Getty Images

Scoff if you want, but Father MC was one of Sean "Diddy" Combs' early successes. As Death Row was on the rise, Suge may not have known that Biggie was coming--but he could have possibly wanted to take out Diddy's last big artist from his Uptown days. There's levels to this.

After doing some research, we've determined that Suge Knight did not ever make an attempt on Drag-On's life--nor did he have any idea who Drag-On is.

Frank Micelotta, Getty Images

Frank Micelotta, Getty Images

Maybe Suge Knight, deep down, just really loves hip-hop. Maybe he's the purist, most passionate hip-hop head in the game and no one knows it. And maybe, in the era of Silkk the Shocker, Suge Knight had just had enough. Maybe he couldn't take that mumble-mouthed delivery, that offbeat rat-a-tat flow, the non-existent lyricism. Maybe Suge decided Silkk had to go--for the good of hip-hop.

But no--we checked. Suge never came after Silkk. He left that to rap critics and the IRS.