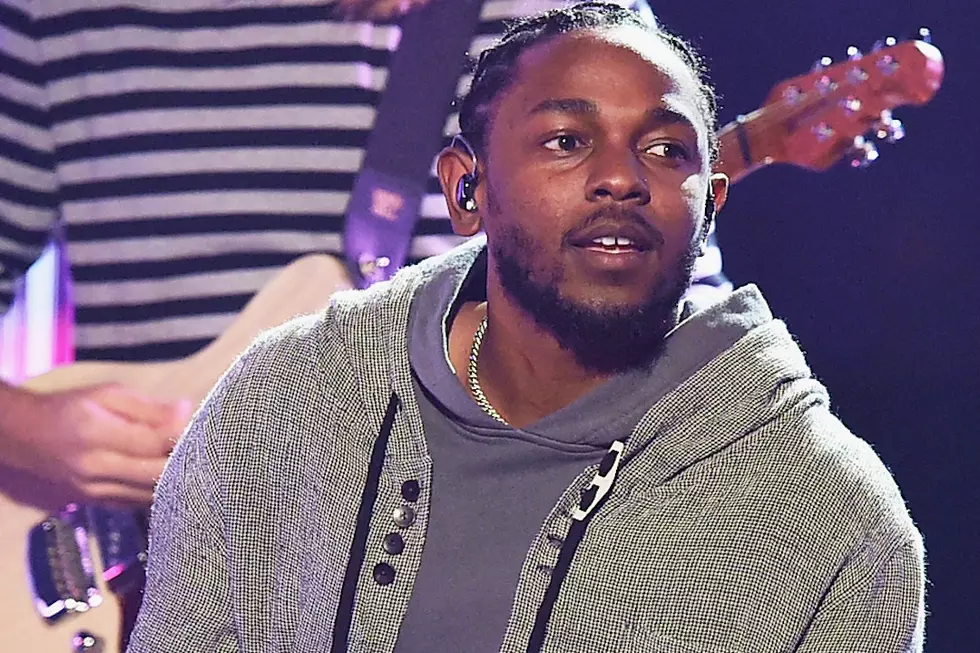 20 Times Kendrick Lamar Stole the Song From Your Favorites
Kevin Winter, Getty Images
Kendrick Lamar is among the greatest talents to pick up a microphone. There was a two year gap between his new album Damn. and his previous studio LP, 2015s To Pimp A Butterfly, but his name has never left the tongue of rap fans and critics, despite somewhat shunning the spotlight that many of his contemporaries crave. He's become one of the more intriguing figures in all of music.
Lamar has also built a reputation for being one of the more formidable scene-stealing guest stars in hip-hop. Since his 2012 major label debut, good kid, m.A.A.d. city, the celebrated Compton rapper has consistently been in demand as a guest artist, appearing on records with pop stars like Taylor Swift and Robin Thick, as well as on numerous tracks with rappers like Kanye West and Eminem. Kendrick's competitive fire and hunger for excellence doesn't subside regardless of setting, thus his healthy amount of standout verses that steal the show.
With Kendrick Lamar's third studio album dropping Friday (April 7), we're highlighting Kendrick's better guest spots. Here are 20 of Kendrick Lamar's most murderous guest appearances. Did your favorite kill make the cut?
"Autumn Leaves"

Chris Brown Featuring Kendrick Lamar

Kendrick does most of his damage on rap records, but he is also money when it comes to complimenting artists from other genres, which he showed with his performance on "Autumn Leaves." Assisting Chris Brown, Kendrick goes for broke with an intense verse that caught more than a few folks' attention and continued his winning streak.

"Nosetalgia"

Pusha T Featuring Kendrick Lamar

Pusha T may be one of the more formidable rhyme spitters, but the VA hustler met his match in Kendrick Lamar when the two sparred on "Nosetalgia," from Pusha's My Name Is My Name album. One of the highlights from Pusha's first solo set, "Nostalgia" finds Kendrick dropping a flurry of couplets that should silence anyone debating his salt as a MC.

"Goosebumps"

Travis Scott Faturing Kendrick Lamar

One of the more exceptional Kendrick Lamar verses from 2016 can be found on Travis Scott's Birds in the Trap Sing McKnight single "Goosebumps." Swooping in for a scintillating performance, at the song's end, Kendrick asserts his dominance on this fan favorite.

"Illuminate"

Ab-Soul Featuring Kendrick Lamar

Ab-Soul has featured Kendrick Lamar on multiple occasions, but their most riveting war of wits occurred on "Illuminate," from Ab-Soul's Control System album. Going berserk over the production, Kendrick puts the nail in the coffin of on of the better songs in TDE's catalog.

"Fucking Problems"

ASAP Rocky Featuring Kendrick Lamar, 2 Chainz, Drake

Kendrick is more associated with introspection than club-hopping, but his appearance on A$AP Rocky's "Fucking Problems" is one for the ages. Flexing his rhyme skills while getting loose over the lively track, Kendrick rises above the pack and catches yet another bodybag.

"Power Circle"

MMG Faturing Kendrick Lamar

In 2012, Kendrick Lamar appeared on the MMG posse cut, "Power Circle," as the only guest MC on the track. Tapped to end the song with a vicious verse, Kendrick goes ballistic with no remorse for the bodies left in his wake, making "Power Circle" one of K.Dot's finest appearances.

"Street Dreaming"

Bridget Kelly Featuring Kendrick Lamar

Bridget Kelly linked up with Kendrick Lamar for her 2013 single "Street Dreaming," which was an unexpected pairing that proved to be a prefect match. Unloading a stellar slew of bars, Kendrick compliments Bridget's vocals with a bit of Compton grit and finesse.

"Never Catch Me"

Flying Lotus Featuring Kendrick Lamar

Kendrick Lamar has countless collaborations under his belt, but one of the more recently popular is his appearance on Flying Lotus' "Never Catch Me." With Flying Lotus' expansive soundbed serving as a backdrop, Kendrick Lamar goes for blood and turns in a magnificent display of verbiage.

"Push Thru"

Talib Kweli Featuring Curren$y & Kendrick Lamar

Talib Kweli's song "Push Thru" is a collaboration featuring Kendrick Lamar that may fly under the radar, but its worth the listen. Riding shotgun alongside Kweli and Curren$y, Kendrick impress with another monstrous flurry of bars and comes out on top once again.

"Black Lip Bastard Remix"

Ab-Soul Featuring Kendrick Lamar, Schoolboy Q, Jay Rock

TDE may be a family, but there's a competitive streak that's strong within the crew, as was displayed on Ab-Soul's "Black Lip Bastard Remix." While all members of the clique came with their A-Game, Kendrick Lamar cancels Christmas with a home-run of a verse.

"We Up"

50 Cent Featuring Kendrick Lamar

50 Cent joined forces with Kendrick Lamar in 2013 for "We Up," a loosie that has become one of K.Dot's most bruising features. Still growing into his role as rap's new rhyme animal, Kendrick made the most of the opportunity, pummeling the beat to bits.

"Mandatory"

Jay Rock Featuring Kendrick Lamar & Ab-Soul

In 2009, prior to changing his rap name, Kendrick Lamar was known simply as K.Dot and had yet to catch the attention of the rap world at large. However, Kendrick had been building his stock as a spitter as a member of the TDE roster for quite some time, and his appearance on "Mandatory," from Jay Rock's 30 Day Takeover mixtape, was an early indicator of the rap god that he would eventually become.

"Deep Water"

Dr. Dre Featuring Kendrick Lamar, Justus & Anderson .Paak

When Dr. Dr announced that he was recording an album to accompany N.W.A.'s biopic Straight Outta Compton, many predicted that Kendrick Lamar's presence would be felt. The Compton savior appeared on three songs from the album, including "Deep Water," which he turned into his personal playground, dropping monkey bars all over the track.

"Wat's Wrong"

Isaiah Rashad Featuring Kendrick Lamar & Zerica

TDE is stacked with promising talents, one of them being Isaiah Rashad. Although Rashad's debut project Cilvia Demo didn't include features from his labelmates, Kendrick Lamar blessed the rapper's The Sun's Tirade album with an electrifying verse on "Wat's Wrong," one of Lamar's more potent stanzas in recent memory.

"Sidewalks"

The Weeknd Featuring Kendrick Lamar

One of the best of Kendrick Lamar's more high-profile appearances is his collaboration with The Weeknd, "Sidewalks." One of Kendrick's more recent guest spots, "Sidewalks" captures the rapper's unbridled lyricism and showcases his ability to get off a crafty verse in any context.

"Love Game"

Eminem Featuring Kendrick Lamar

Eminem is viewed as one of the prominent wordsmiths in rap history, so the thought of him and Kendrick Lamar volleying bars back and forth was a listener's wet dream. That pairing manifested on Eminem's MMLP2 album, on the song "Love Game," with Kendrick rising to the occasion and giving Slim Shady a run for his money and making for a hell of a collaborative effort.

"Up Against The Wall"

Consequence Featuring Roc Marciano & Kendrick Lamar

Kendrick Lamar may be considered a mainstream rap artist, but he has no qualms about connecting with some of the more unsung figures in hip-hop. Joining forces with Consequence and Roc Marciano on "Up Against The Wall," from Cons' Movies on Demand II project, Kendrick anchors the track with a vicious outing that still puts the pressure on rewind buttons today.

"Textbook Stuff"

XV Featuring Kendrick Lamar

XV was once one of the more touted prospects to gain a reputation among tastemakers online and beyond, so him matching wits with Kendrick Lamar during both artists' rise to prominence was a no-brainer. "Textbook Stuff," from XV's Zero Heroes project, finds both MCs coming with an ample amount of firepower, but Kendrick Lamar ups the ante with a verse delivered with flawless execution.

"Ball Game"

Smoke DZA Featuring Kendrick Lamar

Harlem meets Compton on "Ball Game," with Kendrick Lamar teaming up with Smoke DZA for a round of refined verbiage. This selection may be relatively short in terms of length, but was long enough for Kendrick to give yet further evidence of his murderous abilities with a pen and a pad and stands as one of Kendrick's more underrated feature verses.

"We Ball"

Dom Kennedy Featuring Kendrick Lamar

At the cusp of the 2010s West Coast resurgence, two names stood out from the pack: Kendrick Lamar and Dom Kennedy. On Dom's landmark Yellow Album, K.Dot joins his South Central bred counterpart on "We Ball," which contains a fiery 16 from TDE's golden child that is full of quotables and helped solidify his rep as one of the more exciting rhymers in hip-hop.