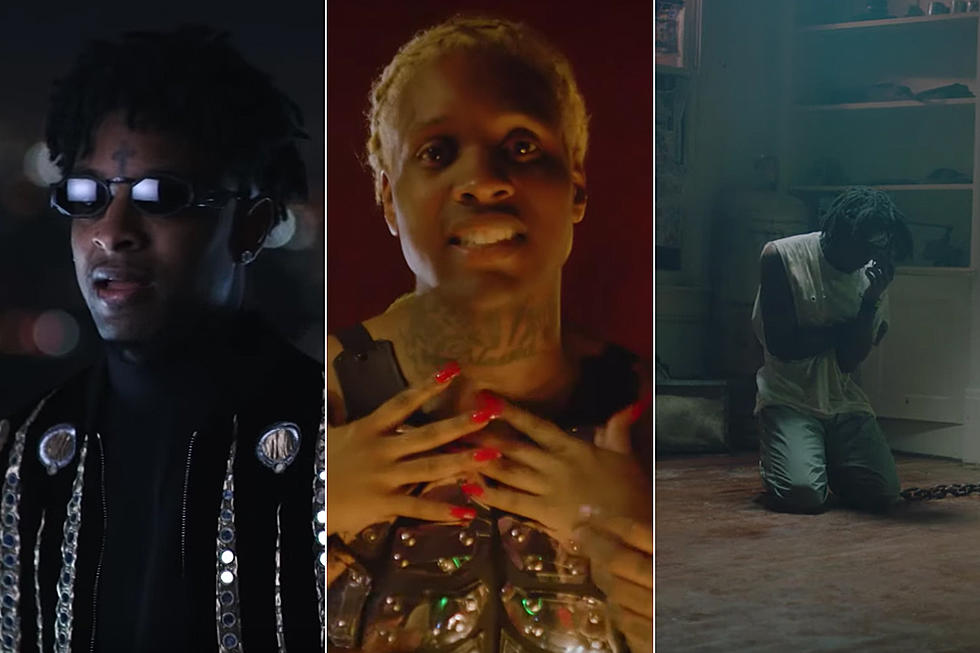 21 Savage, Lil Durk, J.I.D and More: Videos This Week
21 Savage / Lil Durk / J.I.D via YouTube (3)
There's always a new rap video on the way; as a fan, it's worth keeping up with the latest and greatest. XXL rounds them up onto one page, each week, making your search nice and easy.  Since rap is such a huge genre and spans so many different styles and approaches, you never know what the videos will look like. Enjoy this week's video roundup.
21 Savage has only gotten bigger as the years have gone on, especially after his latest album, I Am > I Was, became the No. 1 album in the country for two weeks straight. The latest track to get the video treatment is the somber "Ball w/o you," where 21 reflects on a former relationship. The visual follows a girl on a wild night out at the club, seemingly trying her best to forget about her time with 21. She passes out that night, then later riddles social media with selfies, attempting to prove she's perfectly fine and past her relationship.
Lil Durk's versatility has served him well throughout his career. One of his newer songs is the remix to "Home Body,"  adding Teyana Taylor to the Signed To The Streets 3 cut. The video shows a Eyes Wide Shut-esque party where Durk and Teyana are two kindred souls, seemingly looking for each other throughout the night. When they cross paths, Teyana seems to be running the ceremony, as she takes control of the meet-up.
While XXL is very familiar with J.I.D, even we can't predict what to expect from his videos. His latest one is "151 Rum" and it's a doozy. It starts out with a chained-up J.I.D in a living room., seemingly under the control of an evil captor with studio engineer skills. He forces J.I.D to rap and record and he still manages to get it done, even after being stabbed and water tortured. He decides he's fed up and makes his grand escape, fleeing the creepy house.
"Home Body (Remix)"

Lil Durk featuring Teyana Taylor

"Dying To Live Freestyle"

Calboy

"Blitz"

AllBlack and Kenny Beats

"Feel The Same"

Suigeneris

"Slang Dope"

Hoodrich Pablo Juan

"Shooter"

Papoose featuring Casanova

"Aloha"

10K.Caash featuring GUN40

"My Town"

Baka Not Nice featuring Giggs

"Alright"

Wiz Khalifa featuring Trippie Redd and Preme

"Live A Lil"

Good Gas featuring UnoTheActivist and FKi 1st

"Devil's Work"

Joyner Lucas

"Always Want More"

Larry June

"Woke As Me"

Open Mike Eagle featuring Phonte

"Disparagement"

Tech N9ne featuring Krizz Kaliko and King Iso

"Geronimo"

BLVK JVCK featuring Ace Hood

"Backyard"

Kota The Friend

"Can't Fall N Luv"

Hoodrich Pablo Juan featuring Smooky Margielaa