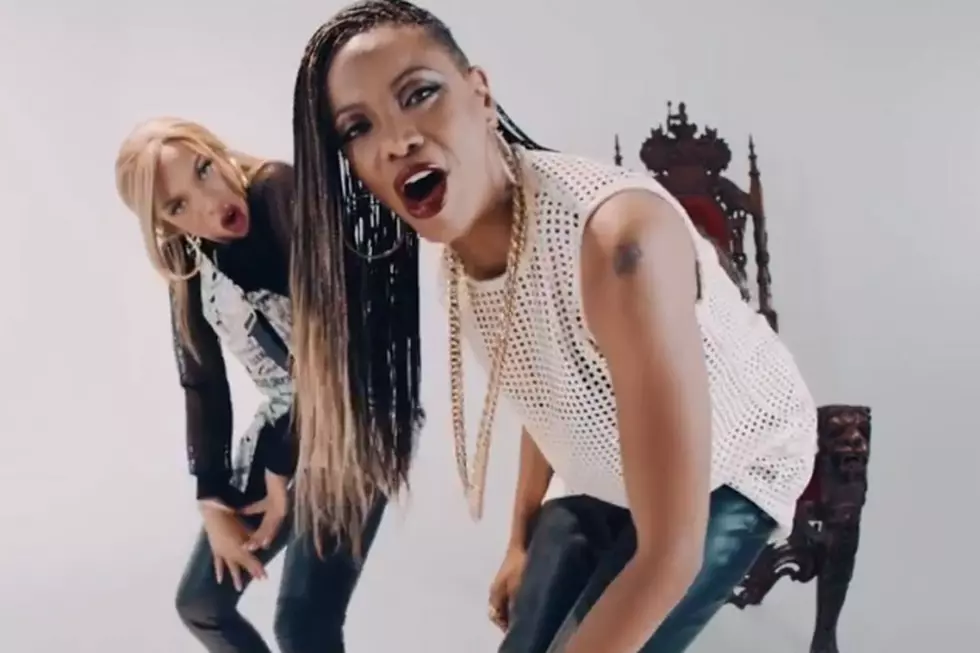 'I Ain't Afraid of the Sweat': 5 Times MC Lyte Got Raw, Real and Raunchy Wit' It
YouTube
MC Lyte is one of the most respected emcees in hip-hop; but too often, her legacy gets oversimplified. Was she the brash rhymer of "10% Dis?" The spunky b-girl of "Cha Cha Cha?" Or the topical storyteller that gave us "Poor Georgie?" She was all of those things--but she was also a lot more.
There's a tendency amongst casual hip-hop fans to consider Lil Kim's emergence in the mid-90s to be the beginning of "raunchy" women in hip-hop--female rappers who were unafraid to be as brash as the guys with their sexual exploits. But Lyte was no PG-rated rhymer by any means--both before Kim and after. Kim's sexy, glamorous image was undoubtedly groundbreaking--but make no mistake, as far as subject matter, L-Y-T-E made it clear she wasn't "afraid of the sweat."
When she first emerged in the late 1980s, MC Lyte was a teenaged battle rapper; more concerned with rocking the mic than knockin' boots. After all, she was a high school-aged emcee--too many songs about sex would've raised a few eyebrows. But Lyte was a grownass woman by the 1990s and despite what some may think--she wasn't against dropping sexually-explicit verses on the regular. Especially if it was an opportunity to flip gender roles, biases and tear down any sort of madonna/whore nonsense her male contemporaries were on.
So here are five examples of MC Lyte being as explicit, raw and raunchy as she wanna b.
One aspect of Lyte's more sexual songs is assertiveness. She clowns dudes post-coitus and leaves them alone--bragging about conquests as much as your favorite male rapper does. This is one of the best examples of Lyte flipping the gender script.

"We hit the door, did the booty in the slow mo'
I like to spank 'em, gave 'em bacon on the down low
But that's all, that's it, see ya later, hops
I gave ya props but I'm gonna drop ya at the bus stop
'Cause you was on it like a hornet, doggone it
Got me heated
Then ya beat it, now you know just how to treat it
You kinda slow tho when it comes to brain cells
But you can go 'cause I came--and I did it well"

Lyte's ode to thug love was her first crossover hit and it divided fans, but it's another song where she dropped a few bars dedicated to gettin' it in. And not in that "candle light and dinners" sorta way, either.

"I need a man that's quick and swift
To put out the spliff and get stiff
Boxer shorts and everything is fitting large
But he don't gotta be large to be in charge
Pumpin' in and out and out and in and here we go
He knows exactly how I want my flow and that's slow
Never questioning can he get buck wild
He's got smack it, lick it, swallow it up style"

"Can't Hang" by Xscape

(1997)

Xscape and MC Lyte were connected in 1996 by Jermaine Dupri, who was producing Lyte's Bad As I Wanna Be album. Before dropping her own Xscape-assisted single (more on that later), Lyte guested on this track for the Atlanta quartet--once again dropping a verse warning horny dudes not to come unless they came correct.

"You talk a lot of this and you talk a lot of that,
Is it all fact, brotha man--are you phat?
Cause if it's on the real I come with mad sex appeal,
Flip Lyte delicious, you know the deal.
Hey that's me, I be the sleek
The one with the physique,
I freak you in the sheets.
I take a nigga deep down under,
I make him wonder,
How to make the lighting come before the thunder.
That's the pleasure I bring,
I make a nigga get up and sing"

This Jimmy Jam and Terry Lewis-produced track was featured in the forgettable Damon Wayans flick Mo' Money. The song's not-at-all-subtle extended metaphor is a girl comparing the man of her dreams to an ice cream cone. Seems kinda harmless--until you realize her last two verses are prolly about fellatio. And is she mumbling at the end because...her mouth is full?

"Smooth and rich--he's looking real nice
Cool as ice, but then again not quite.
This kind of honey is the type I like looking at.
He can scoop me up twice cuz he's all that.
So imma ease up, no time to waste
Forget the chase--I'm prepared to get a taste
Licky here, licky there cuz I like it
Too much to eat--so I guess I'll bite it."

"Keep On Keepin' On"

(1996)

Another one of Lyte's mid-90s crossover hits, this Jermaine Dupri produced single was released just as Kim and Foxy Brown had risen to prominence. Lyte may not have been rocking stilettos and bustiers in the video, but she got down and dirty in the lyrics.

"B-Boy, where the fuck you at?
I been looking for your ass since a quarter past.
Hot peas and butter, baby, come and get ya supper.
Before I make you suffer
That's when you had enough-a
Can I get hot when you hit the jackpot?
Surely I can, if you the man
I get loose and produce large amounts of juice
Can you get used to that? Or do you need a boost
Of energy
To enter me and get it on."