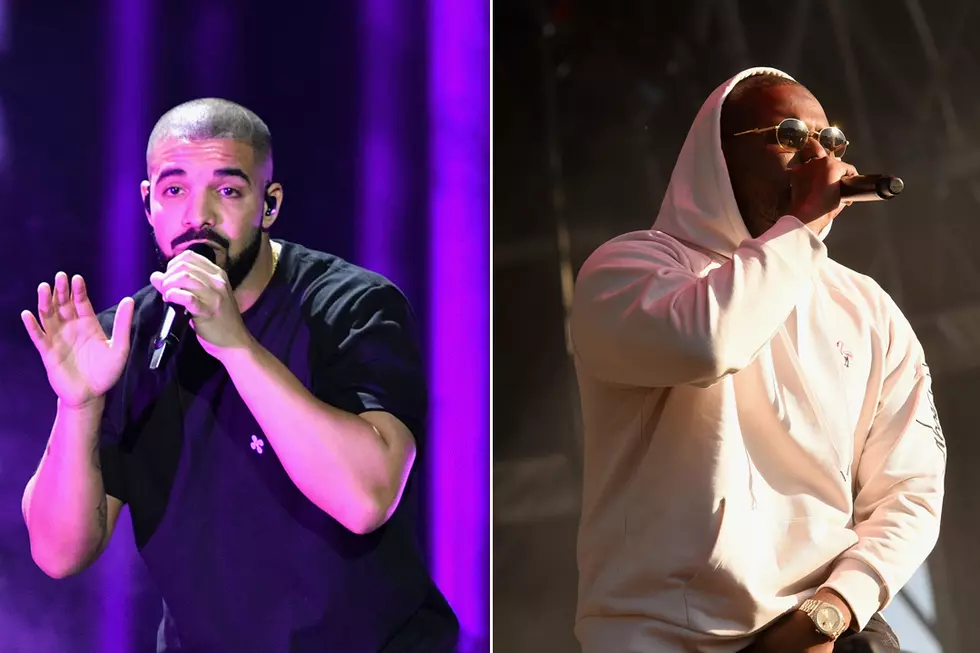 Best Songs of the Week Featuring Drake, Schoolboy Q and More
Mike Windle / Noam Galai, Getty Images (2)
We're onto the second week of February, and it's been a great week for music, with solid work from all sorts of artists. This time around, two very familiar names dropped some crazy new songs: Canadian supernova Drake and Schoolboy Q, one of the most consistent artists out.
Drake is already killing 2018, and it just started. He's done it again, this time featuring on Memphis rapper BlocBoy JB's new song "Look Alive." The 6 God is super comfortable over the understated Tay Keith production, and raps like this is the song he always wanted to be on. "I'm not to blame, man/The fuckin' industry is cutthroat, I'm not the same man," he rhymes, knowing his popularity makes him a target. "And I could let you check the tag, now, I'm rockin' name brand/I'm only chasin' after bags, now I got a game plan."
Schoolboy Q hasn't put out a lot of music lately, so hearing him snap on the song "X," off the Black Panther soundtrack is refreshing. The soundtrack has appearances by Kendrick on most of the songs, and the same is true here; 2 Chainz and Saudi are also featured. Q sounds as sharp as ever, rattling off lines like, "Are you on 10 yet? (hol' up, hol' up), do you have Henn' yet?/Jewelry on Windex (woo!), 80, my Rolex."
Never forget that he's rich and famous, either: "Might Maybach the Benz, 2-door comin' out, black on black again/I might gold the trim, I might built the wind, I don't exit here/Too much flexin' here, too much bread to get."
Everyone's favorite sibling duo Rae Sremmurd are also back, with the ChopSquad/Metro Boomin-produced "T'd Up." The menacing beat is a little darker than a typical song from Jxmmi and Swae, but works for them. Swae's verse is full of trademark playful bragging: "I'm so fresh I need a fuckin' lint brush/I don't want the truck if it ain't lifted up/Drink so fast, I just done got the hiccups (hic, hic, hic)."
Slim Jxmmi doesn't slouch either, getting lines like, "These girls comin' in teams, we drinkin' CÎROC, not lean/Young niggas so hot like steam, can't go out sad, not me/Colorblind, I'm seein' blue-green, blue-green? Blue-green."
We take another stop at the Black Panther soundtrack this week; it's that good. "Paramedic!" features some spot duty from Kendrick, but is really an SOB x RBE song. The Bay Area crew may have had their star turn, dropping such a catchy song on an album full of them. Slimmy B has the first verse, and he shows he's as real as it gets. ".22 or .23, I'm heavy with the heat/Hit you with this chop paramedics can't save you," he spits menacingly. "Really in field c'mon boy, know that ain't you/2018, hell nah I ain"t gon fade you, gon' paint you."
Yhung T.O also stands out, remembering the old times. "I don't really like to talk/I remember we was broke and I don't really like to walk, nigga/Now I ride around in foreign cars/And I put on for my team who was with me from the start, nigga," he rhymes.
This week, 2 Chainz released a new EP, The Play Don't Care Who Make It. One of the four tracks on it is the song "Land of the Freaks." The first thing you hear is the infectious hook: "I hop on the beat/Her body on fleekMy pockets obese/My partner gon' eat." 2 Chainz delivers on the rest of the song too, getting lyrics like, "Nigga, my crew, we came with Berrettas/Nigga, my car, it came with umbrellasNigga, put that shit on acapella, head to toe in DonatellaNigga know my old school, a motherfuckin' Panamera" off cleanly.
We close this week with Detroit's Molly Brazy, who recently got Trina to guest on the remix of her song "Naan," which is a modern reworking of Trina's hit song with Trick Daddy, "Nann Nigga." Molly tears through the song, rapping slick lines like, "Flex on a bitch, and have a nigga call me/Then play that pussy nigga for some dollars."
Trina's verse is fresh, and she takes advantage of getting another shot at an updated version of her track: "Got the most expensive bag/Hermes leather, G-Wag/I been ballin all my life/I call my life the Baller Brand."
Check out the best songs of the week below.
See New Music Releases for February 2018