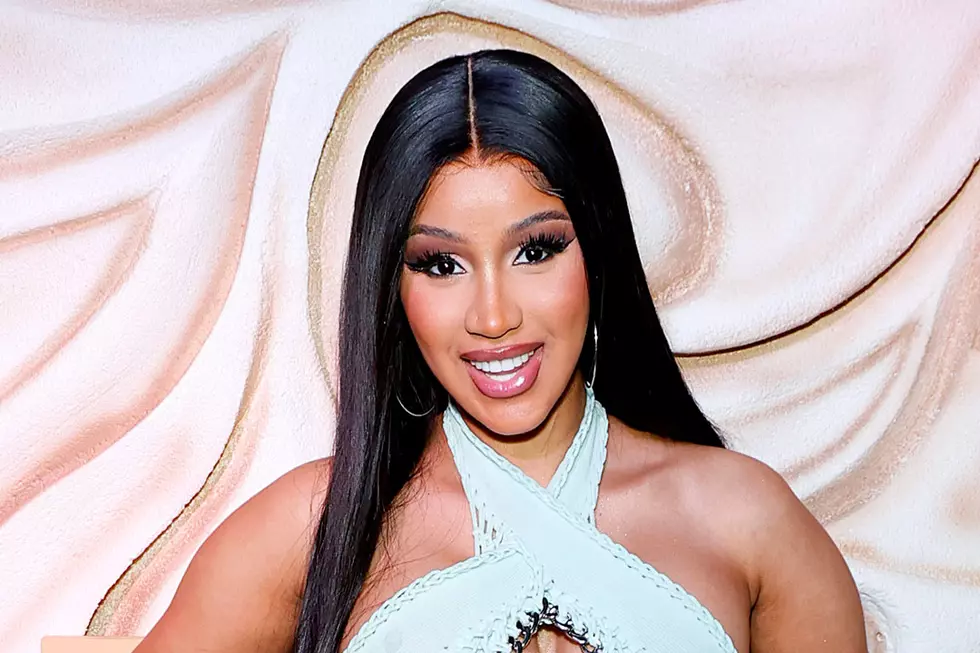 Here's a Look at Cardi B's 30 Awesome Accomplishments
Arturo Holmes/Getty Images for Whipshots
Is it too early to say that Cardi B is a rap legend? Some may argue it is, but based on her historical accomplishments over the years, that title feels more fitting than not. And the scariest part is that she's just getting started in her career.
Cardi B broke out with the 2017 release of "Bodak Yellow," a mercurial banger that was equally as potent on a commercial level as it was in the streets. The chart-topping track eventually went diamond, making Cardi the first female rapper to reach that height. She now has three diamond songs under her belt, thanks to the additional releases of "I Like It" with Bad Bunny and J. Balvin, plus her feature on Maroon 5's "Girls Like You."
When it was time for Cardi to release her debut album, Invasion of Privacy, in 2018, she shook the game with that project as well. For starters, it made history as the first album to have every song certified platinum. The firepower of tracks like the 21 Savage-assisted "Bartier Cardi," "Be Careful" and "Bickenhead" earned her a Grammy in 2019 for Best Rap Album. With that win, she became the first female solo spitter to secure that feat.
Her impact goes far beyond music as well, a notion that Time magazine cosigned in 2018 by naming her as one of the world's most influential people. Back in 2019, Cardi also became the first rapper to cover Vogue in the U.S. These days, her imprint is everywhere, down to big screen appearances in R-rated movies like Hustlers (2019) to kids shows like Baby Shark's Big Show!.
Overall, winning is something that's become synonymous with Cardi B's name. So, in honor of her birthday (Oct. 11) and in light of her early but flourishing resume, here, XXL highlights 30 of her accomplishments for her 30th trip around the sun. Check them out below.
1

Makes History as the First Woman Rapper to Have Every Song on Album Certified Platinum

Cardi B's debut album, Invasion of Privacy, reached enough milestones for it to be considered a classic. About four years after it came out, each of the 13 songs were certified platinum. With that, Bardi became the first woman rapper to accomplish a victory of that type.

2

Becomes First Woman Rapper to Go Diamond Multiple Times

Not one, not two, but three diamond records are in Cardi B's possession. With "Bodak Yellow," she became the first woman rapper to secure a diamond plaque. Now with the inclusion of Maroon 5's "Girls Like You," in which Cardi was featured, and the Invasion of Privacy cut "I Like It" with J. Balvin and Bad Bunny, she made history as the first woman rapper to go diamond several times.

3

Has Three Diamond Songs to Her Name

Diamonds are clearly Cardi's best friend, as the Bronx superstar has already tallied three diamond songs in just a seven-year career. Her first was the breakthrough hit, "Bodak Yellow," which she released in 2017. The next two diamond certifications came via Cardi's verse on Maroon 5's "Girls Like You" in 2018, followed by "I Like It" with J Balvin and Bad Bunny just a few months later. All three songs were certified diamond in 2021, further cementing how large Cardi looms over hip-hop. No female rapper has more diamond songs than Cardi, either.

4

First Woman Rapper to Appear in the Fast & Furious Series

The racing-turned-action-adventure series Fast & Furious has had rappers as actors in it from day one. Ja Rule, Ludacris and Bow Wow have all had roles, but a female rapper never appeared until Cardi B's spot as Leysa in F9. She's already set to appear in Fast X, the 10th film in the series, next year. Cardi's stardom exists outside of rap; opportunities like these illustrate just how far her reach goes.

5

Wins 2019 Best Rap Album Grammy Award

At the 2019 Grammy Awards, Cardi B made history. That night, she became the first solo woman rapper to win a Best Rap Album Grammy for her critically acclaimed debut album, Invasion of Privacy. Up against Travis Scott's Astroworld, Nipsey Hussle's Victory Lap, Pusha T's Daytona and Mac Miller's Swimming, the competition was thick, but the Queen of the Bronx prevailed.

6

First Woman Rapper with Five Billboard Hot 100 No. 1 Songs

Someone's used to winning. Cardi B got her fifth Billboard Hot 100 No. 1 song last March due to the ascent of her single "Up." No other woman rapper has five Hot 100 chart-toppers. The songs that led to the feat are "Bodak Yellow," her feature on Maroon 5's "Girls Like You," "WAP" with Megan Thee Stallion and "I Like It" with Bad Bunny and J Balvin.

7

Achieves Many Billboard No. 1 Hot 100 Songs

In addition to Cardi having the most No. 1 hits of any woman rapper, simply getting each of those hits is a feat in itself. Her hot streak started in 2017, with her first hit, "Bodak Yellow." By 2018, Cardi was a certified star, catching two No. 1s in the same year with Maroon 5's "Girls Like You" and "I Like It," her song that featured Bad Bunny and J Balvin. She was back for more in 2020, reaching the top of the Hot 100 with the Megan Thee Stallion-assisted "WAP," then notched another No. 1 with "Up" in 2021.

8

Invasion of Privacy Debuts at No. 1 on Billboard 200

Cardi B's debut album was highly anticipated, as she was the biggest new woman in rap that the genre had seen in a long time. Plus, her music is fun, and charisma combined with a sense of humor shines through her songs. When Invasion of Privacy dropped in April of 2018, everything changed. She landed on the top of the Billboard 200 chart with 225,000 units sold out the gate. Cardi had officially arrived. There were questions if she could deliver with a full-fledged project, and people wondered if she had more tricks up her sleeve. Years later, every song she's on becomes a moment in itself and the runaway success of Invasion of Privacy is what got her here.

9

Chosen as Part of Time Magazine's Most Influential People

Chosen in 2018, Cardi B was a part of Time magazine's Time 100, a selection of the 100 most influential people from that year. Each honoree has a dedicated to them done by another celebrity. Cardi's writer was renowned actress Taraji P. Henson. In Taraji's words, she shared her admiration for Cardi, seeing herself in the young rapper in how they both are committed to being their true selves.

10

Wins ASCAP Songwriter of the Year Award Twice

In 2019 and 2020, Cardi B was awarded the Songwriter of the Year award by ASCAP, the American Society of Composers, Authors and Publishers company that licenses artists music and gets them their royalties. The 2019 win made her the first woman rapper to ever receive the honor, then the second made her the first woman to win it twice.

11

Owns Six Different Guinness World Records

Cardi B's career has already been amazing; her entries in the Guinness World Records summarize just how extraordinary things have been. She has six Guinness records, spanning things like Billboard placements to how well her music is streaming. Cardi has both the most simultaneous Billboard Hot 100 entries by a woman record (13 songs, which is all from Invasion of Privacy), along with the most simultaneous Billboard U.S. Hot R&B/Hip-Hop Top 10 entries by a female. Those entries are G-Eazy's "No Limit," Bruno Mars' "Finesse (Remix)," "Bodak Yellow," "Bartier Cardi" and Migos' "Motorsport." The rest of Cardi's Guinness records are the most streamed album on Apple Music in one week by a female artist with Invasion of Privacy, most No. 1 singles of five, first solo female rapper to win Best Rap Album at the Grammys and lastly, most diamond singles with three.

12

Wins $4 Million Libel Lawsuit Against Blogger

Fame brings attention, some of which will come from people who wish you the worst. Cardi B sued blogger Tasha K through a libel lawsuit in 2019. Tasha, who specializes in celeb gossip, had been levying all sorts of accusations at Cardi through YouTube videos, from saying that she contracted herpes, was a prostitute, practiced infidelity in her marriage to Offset and more. The case concluded in 2022, with Cardi winning and Tasha K being found guilty of libel. Overall, the money Cardi is set to be award is slightly over $4 million for her troubles, the libel itself, lawyer fees and more.

13

Becomes First Woman Rapper on Vogue U.S. Cover

Fashion and hip-hop go hand-in-hand, but some rappers reach another level of style. Cardi B is certainly amongst the upper ranks of the fashion world, as she became the first woman rapper to make the cover of Vogue U.S., appearing on their January 2019 issue. On the cover, she wore the labels Jimmy Choo and Michael Kors, with her daughter Kulture in tow.

14

In addition to her loads of platinum plaques, Cardi B has a sizable amount of songs that went gold, most of which are features. Cardi pulled it off with three 2018 releases: Jennifer Lopez's "Dinero," Lil Yachty's "Who Want The Smoke?" and Meek Mill's "On Me." She did it again in 2019, with Ed Sheeran's "South of The Border" and French Montana's "Writing on the Wall." Cardi won another gold plaque for Anuel AA's 2020 single "La Bebe (Remix)," then got two more for Normani's "Wild Side" and Lizzo's "Rumors," both released last year.

15

Cardi B has enough platinum for everyone. With 28 platinum singles, her career has been an unquestionable success. Within that tally lies every song from her debut album, Invasion of Privacy, her Lil Nas X collab "Rodeo," "Backin It Up" with Pardison Fontaine and a litany of other tracks. Nearly everything Cardi touches turns to platinum, a testament to how strong her fan base and reach is.

16

Invasion of Privacy Is Certified Triple Platinum

Invasion of Privacy is triple platinum, a feat many artists will never see in their careers. The LP even went gold on the very first day of its release thanks to the success of its singles "Bodak Yellow" and "Bartier Cardi." It's also the best-selling female rap album of the 2010s; not half bad for a relative newcomer. Every song on Invasion of Privacy is at least platinum, which explains both the album's meteoric rise and staying power.

17

Wins Best New Artist at 2018 MTV Video Music Awards

Cardi has won a mind-blowing 162 awards in her career, with a lot of standouts in that number. One of those award wins is her Best New Artist win at the 2018 MTV Video Music Awards. Taking the award in the same year that she had truly risen to another level, getting Best New Artist on such a big night was symbolic of all the success that was ahead of her.

18

Becomes First Woman Solo Rapper to Win Best Rap Album at Grammys

The Best Rap Album category at the Grammys was launched in 1996, but it wasn't until 2019 that a solo woman rapper won the honor. Cardi B earned the award for her debut album, Invasion of Privacy, beating out Mac Miller's Swimming, Pusha T's Daytona, Nipsey Hussle's Victory Lap and Travis Scott's Astroworld.

19

Cardi B has been taking her brand from people's headphones to their closets. The rapper has her own sneaker with Reebok, deemed the Cardi B Club C. There are currently two versions of the shoe, with the second being released in mid-October. Having her own collection makes her one of the few rappers in the game to be the face of their own footwear line.

20

Makes Multiple Appearances in Movies and on TV

It's not just music with Cardi B. Over the last few years, she's appeared in movies like Hustlers as the character Diamond and F9: The Fast Saga as Leysa. When it comes to TV, she's done voiceovers for kids shows like Baby Shark's Big Show!, on which she played Sharki B. Plus, she secured a role on Being Mary Jane as Mercedes.

21

Achieves 1 Billion Spotify Streams for "I Like It"

Spotify has asserted itself as a go-to streaming giant as of late, and Cardi B is winning over there as well. On the heels of her smash "I Like It" with Bad Bunny and J. Balvin, Bardi became the first woman rapper to get one billion streams on the platform. She eventually doubled up on that victory as well when "WAP" with Megan Thee Stallion hit a billi, too.

22

First U.S. Woman Rapper to Have Multiple YouTube Videos With Over 1 Billion Views

Fans can always count on Cardi to add some worthwhile cinematics to the bangers she drops. Among two of her most successful music video are ones for "I Like It" and "Bodak Yellow." Both have surpassed more than 1 billion views each, earning Cardi the bragging rights of being the first U.S. woman rapper to have multiple videos do that well on the platform.

23

Becomes First Cohost of The Tonight Show

In 2018, Jimmy Fallon recruited Cardi B to be the first-ever cohost of The Tonight Show. She did so in episode 103 of season five. Cardi also served as the musical guest for the evening, something that she had done two times prior.

24

Fastest Rapper to Hit 100 Million Followers on Instagram

Since the very beginning of her career, Cardi B has always been a prominent internet figure. Her following is huge for that reason, and it surely grows at a rapid pace. That idea is backed by the fact that Cardi was the fastest rapper to hit 100 million followers on Instagram. She's the 12th artist to soar that high, and the 28th person overall in Instagram's user history.

25

Executive Producer of Multiple Shows

Cardi B not only appears in shows, but she produces them as well. For starters, the Bronx rapper produced her own series called Cardi Tries, where she engages in a number of random activities from magic to tennis. Megan Thee Stallion was actually one of her famed guests. She also executive produced Netflix's music competition show Rhythm + Flow, which was won by rapper and singer D Smoke.

26

Invasion of Privacy Is Longest-Charting Album by a Woman Rapper on the Billboard 200

Back in 2020, Cardi B's Invasion of Privacy made history as the longest-charting album by any woman rapper on the Billboard 200. The title was previously held by Nicki Minaj's The Pinkprint, which spent 123 weeks on the chart. As of October of 2022, IOP has been on the charts for 222 weeks and counting.

27

"WAP" Becomes First All-Female Rap Collaboration to Debut at No. 1

Megan Thee Stallion and Cardi B's "WAP" caught fire right out of the gates. It became the first all-female rap collaboration to debut at No. 1 on the Billboard Hot 100 chart upon its release in 2020.

28

Obtains Highest Streaming Week by a Female Artist With "WAP"

"WAP" pulled in a record-breaking 93 million streams in the first week of its release. With that, Cardi and Meg swiped the record for having the most first-week streams in the U.S. The feat was previously held by Ariana Grande's "7 Rings," which had 83.5 million streams in the first seven days of sales.

29

Made $1 Million in a Day With Her Fashion Nova Collection

Cardi B's partnership with Fashion Nova turned out to be a fruitful one. She has multiple collections and with the second in 2019, Cardi reportedly made $1 million within the first 24 hours of its debut. Fashion Nova expected the demand to increase, ordering five times more than what they did for Cardi's first collection in 2018. It paid off, that's for sure.

30

Becomes First Rapper to Perform Pregnant at Coachella

In 2018, Cardi was booked to perform at Coachella. Six months pregnant, she hit the stage and delivered one of the most memorable performances throughout both weekends. Bjork had previously performed at Coachella while pregnant back in 2002, but Cardi is the first rapper to do so.