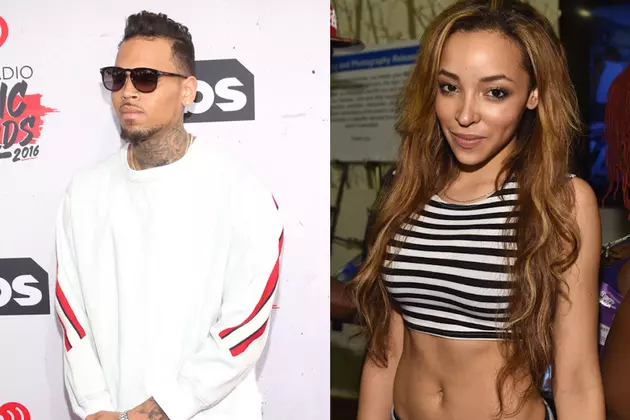 Chris Brown Slams Tinashe on Instagram: '16 Year Old Hobbit Face'
Jesse Grant/Alberto E. Rodriguez, Getty Images
Chris Brown's dismissive comments about Kehlani's suicide attempt drew a significant online backlash, but he seemed to take exception to one fellow singer's reaction to his reaction. Tinashe and Breezy worked together on her latest single "Player," but after his Kehlani tweets, Tinashe quietly unfollowed the R&B bad boy. But, of course, when he realized it, Brown couldn't just let it go as quietly.
"Notice that I'm not the one asking to get on anyone's record, this is them thinking they are standing up for something," he posted on Instagram.
He continued ranting after seeing screenshot of a Tinashe interview.
"I hope she talked about 'HER' career for most of this interview 'WHOISHAE' TINASHAE," he ranted in a lengthy post captured by Baller Alert. "I hope they rehearsing for those performance (power 106 charity basketball game halftime show) give her credit though, 30 16 year old hobbit face ass. WE WANT MUSIC, WE WANT MUSIC, WE WANT MUSIC!! TEACH ME HOW TO JERK FACE ASS."
In an April 5 interview with 06KMEL, Tinashe downplayed the beef. "I felt like it was just so unnecessary. I just think it's silly. Petty … It's not even worth it, it's not a big deal to me. I don't think that follows on Twitter are a big deal. If I see him, I would love to speak to him. I would love if he would reach out. I have absolutely nothing against him. We're on good terms, as far as I knew."
Check out some screenshots of Angry Chris below: