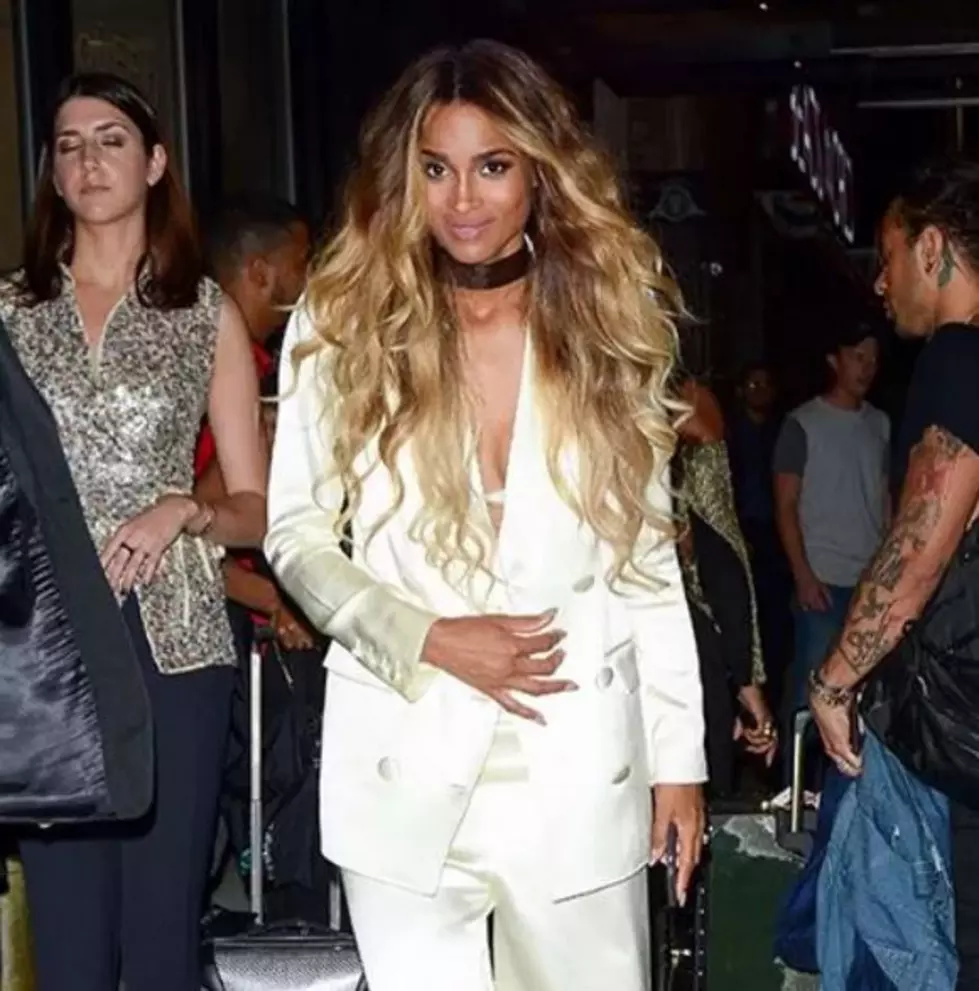 Ciara Confirms She And Russell Are Expecting – Tha Wire
Ciara - Getty Images
Today in Tha Wire looks like rumors of Ciara being pregnant are true! On the heels of being named Revlon's newest Global Brand Ambassador, the makeup giant held a celebration and pre-birthday bash for the singer last week at the Refinery Hotel in New York City.  Ci Ci was decked-out for the occasion, sporting an all-white pant suite, by Houghton. Throughout the night the songstress tried to conceal what appeared to be a baby bump, but fans are way to slick for that and took to social media to post about their assumptions.
One commented, "Baby bummpin," while another clapped back "Exactly..."  The songstress made no announcement at the time, but as turns out her fans were on the money.  E! News reported the singer and her hubby let the cat out of the bag yesterday on her 31st birthday.  Yep...it's true, the happy couple is expecting.  Sharing the same photo happy couple revealed the special news to the world on their individual social media pages.  Russell's caption read, "The Greatest Blessing of All. Forever Grateful. #BabyWilsonOnTheWay"
The two haven't disclosed how many months Ciara is, but I'm sure we'll get all the details in the coming days.  Word has it the Seattle Seahawks quarterback is ecstatic and wants a big family, with hopes of adding two or three more kids to their family before it's all over. Though he's on marriage number two, this will be Russell Wilson's first child and of course baby number two for Ciara.  She has one child with ex-fiance', rapper Future, 2-year old Future Zahir Wilburn.
After dating for a year, Ci Ci and Russ tied the knot three months ago.  Like her middle name, the R&B diva had a princess wedding at the legendary Peckforton Castle in Cheshire, England.
The pro baller has had a lot of practice being the proud step dad to little Future and he's having a ball.  He told E! "It's a blessing. He's such a special kid and he's so smart. He's active as can be. He loves sports—loves running around," he continued. "I love kids. She does, too, and hopefully God willing..as long as they're healthy, that's what we pray for whether it's a boy or girl—who knows—but we've got some time for that."
Peep the video below and listen as he talks about their magical wedding and the love they share.