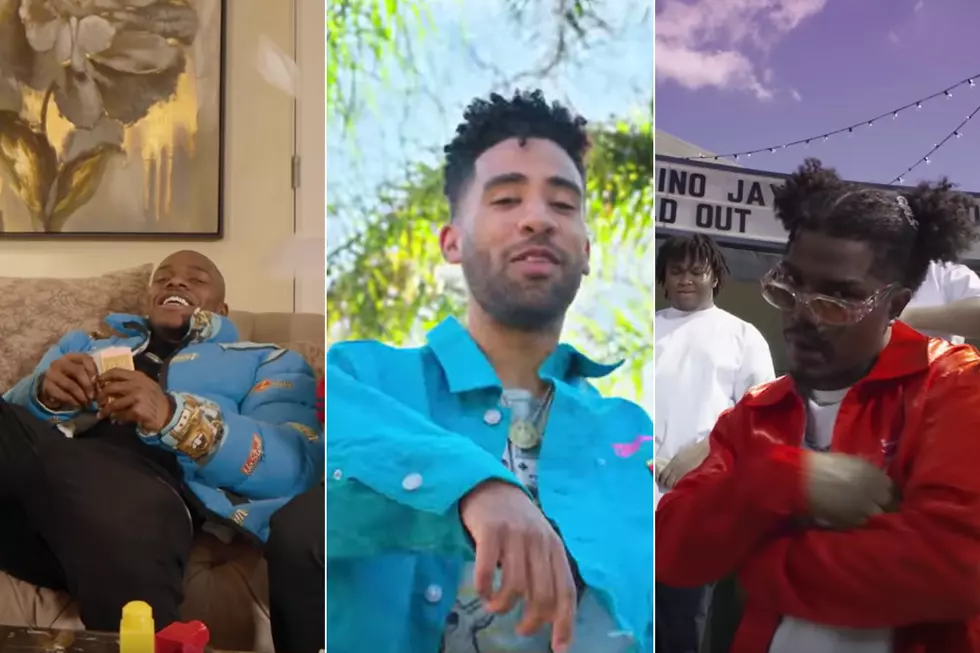 DaBaby, Kyle, Smino and More: Videos This Week
DaBaby / WORLDSTARHIPHOP / Smino via YouTube (3)
Rap videos have become a popular place to debut new songs over the last few years. They are also vehicles to get to know more about up-and-coming names, from their style to the very image they want to share with the world. As a fan of the genre, it pays to stay aware of the latest hip-hop videos. Enjoy this week's video round-up.
DaBaby's been on fire recently, dropping video after video that lets his off-kilter sense of humor shine. In the visual for the Offset-assisted "Baby Sitter," the two rappers play bad kids left at home with a new caretaker. Of course, 'Set and DaBaby misbehave, via pillow fights, rampant cereal-eating and other mischief. The outtakes on this one are wild, too.
In 2016, Kyle had a huge song by the name of "iSpy," a collaboration between him and Lil Yachty. Fast forward to 2019, after both have been XXL Freshmen, and they might have another one on their hands with "Hey Julie." The song's video packs the same fun energy of their hit single from a few years ago. In the visual, Yachty and Kyle get rejected by some girls in the past, then are living a totally different life once they become famous rappers. It's good to see these two guys together. They haven't lost any of their chemistry.
Smino has always made supporting his friends an important part of his career. This week, he liberated his new single and video, "Z4L," featuring Bari and Jay2. The video follows the trio's travels via Sprinter on the day of a show. They do everything but the actual show, from dancing on top of the venue, throwing a party and kicking it backstage. Overall, the whole crew makes life on the road look fun.
"Baby Sitter"

DaBaby featuring Offset

"Hey Julie"

Kyle featuring Lil Yachty

"Z4L"

Smino featuring Bari and Jay2

"Roll My Weed"

Don Q featuring Jay Critch

"Misery Needs Company"

Kid Buu

"For Keeps"

Rich The Kid featuring YoungBoy Never Broke Again

"Lil Boat (Remix)"

88GLAM featuring Lil Yachty

"Billion Dollar Baby Freestyle"

Stunna 4 Vegas featuring DaBaby

"Make It Better"

Anderson .Paak featuring Smokey Robinson

"Champion"

Wiley From Atlanta

"Rockstar Lifestyle"

Famous Dex

"Wish I Was High"

Rufus (Bizarre)

"Wild Girl"

Yung Baby Tate featuring bbymutha

"Return of the Mack"

Kid Vishis

"Red Pill, Blue Pill / Glock Box Pt. 2"

Fijimacintosh