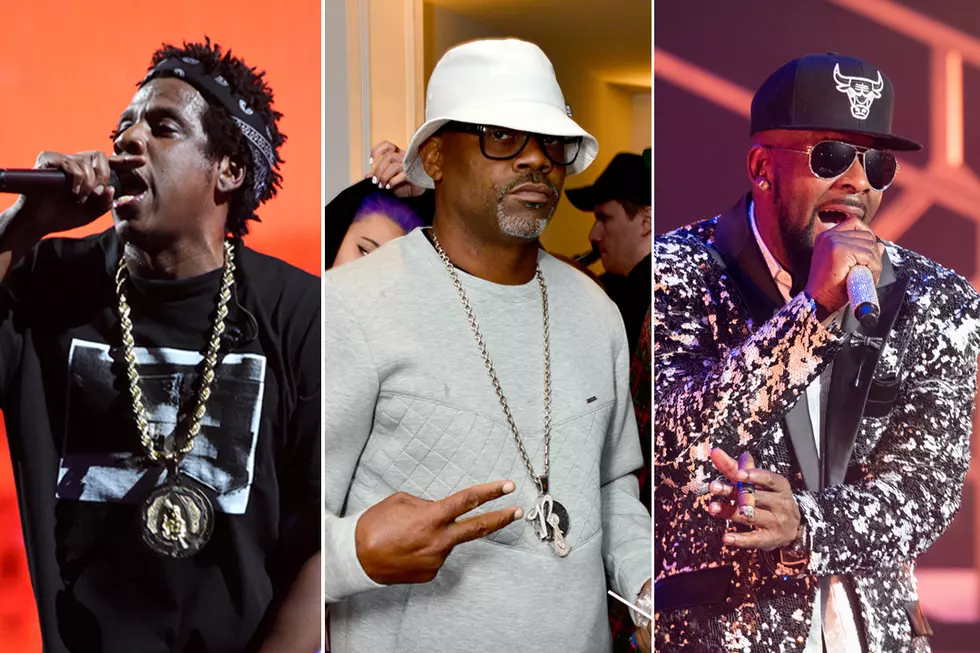 Dame Dash Insists He Only Appeared in R. Kelly's "Fiesta" Video Because Aaliyah Told Him to
Kevin Mazur / Jerod Harris / Noam Gala, Getty Images (3)
Just last week, Memphis Bleek suggested that Dame Dash was more involved with R. Kelly and Jay-Z's joint album Best of Both Worlds than he let on. Now, Dame himself has disputed that claim while also saying that the only reason he appeared with Jay-Z in R. Kelly's "Fiesta" video was because his late ex-girlfriend Aaliyah wanted him to be in it.
Speaking with Hip Hop Motivators' Kenyatta Griggs earlier today (Jan. 17), Dame dismisses the idea that Bleek was even privy to conversations revolving the joint album before offering his reason for being in the "Fiesta" visual.
"I really am not on the Best of Both Worlds. I didn't go to a show. I didn't have my name on any of that. I was in 'Fiesta,' but only because Aaliyah said she wanted me to do it that way.'"
If you recall, people began pointing to Dame's appearance in the video for "Fiesta" when he first said that Jay-Z's alliance with Kelly—a person who'd married Dame's then-girlfriend Aaliyah when she was 15 years old six-to-seven years prior—was a factor in the dissolution of Roc-A-Fella Records.
Just days later, Bleek, who had been signed to Roc-A-Fella at the time, said Dame was flat-out lying. "Everyone knows I fuck with Dame Dash, this is my guy, Roc-A-Fella history. But somebody gotta tell him, he's buggin'," Bleek said. "You buggin. And then you gonna really say, you wasn't there with niggas? You was opposed to it? You fucking lying."
Watch Dame speak on Memphis Bleek's claim for yourself in the video below. The bit about "Fiesta" comes in at around the five minute mark.
Here's the Ultimate Guide to Rappers With Acronyms in Their Name