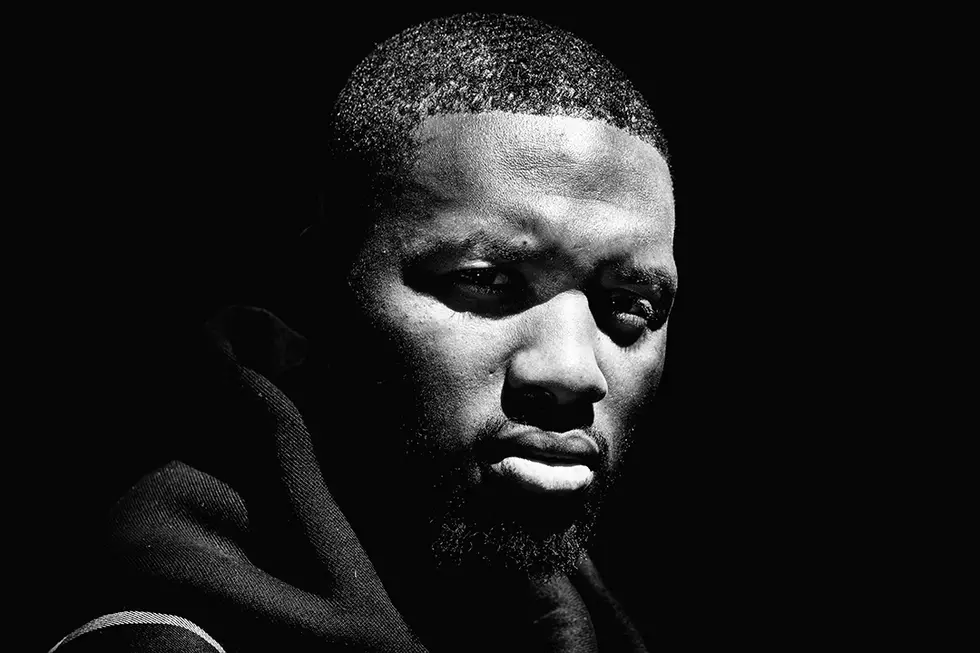 Damian Lillard Is Beyond Competing for Best Rapper in the NBA
Akira Ruiz
Double Up
NBA All-Star Damian Lillard makes defenders look silly on the basketball court, yet it's his crossover as Dame D.O.L.L.A. that has hip-hop turning heads. Can he blaze his own trail as the greatest rapping athlete ever?
Interview: Kai Acevedo
Editor's Note: This story originally appeared in the Fall 2019 issue of XXL Magazine, on stands now.
Widespread acclaim has been a long time coming for Portland Trail Blazers player Damian Lillard. Once viewed as an underdog, the four-time NBA All-Star, who has become synonymous with highlight-filled playoff runs and game-winning baskets, has established himself as a top-tier player in the NBA. However, before his hoop dreams became a reality, the Oakland-bred star point guard had visions of rocking the mic. "I didn't know I was going to get scholarships or go to the NBA or any of that," admits Lillard, who began kicking freestyles during his high school days. "I would always be like, Man, I'm going to get a record deal and I'm going to rap."
Whether battling on the hardwood or in the booth, the 29-year-old (known in hip-hop circles as Dame D.O.L.L.A.) has never been one to back down from a challenge. "I love my life," he says. "But my favorite part of everything has been the whole process of having to earn my way and prove to people that I belong." Back in 2013—the same year Lillard was crowned NBA Rookie of the Year—he premiered #4BarFriday. Launched via Instagram, the freestyle rap challenge garnered attention from fellow basketball superstars like LeBron James and Paul George, becoming a platform for aspiring rappers and rap lovers to showcase their skills. It was also a chance for Lillard, who dropped his debut single, "Bigger Than Us," in 2015, to prove just how serious he was about his own music.
While many ballers have moonlighted in hip-hop—from Kobe Bryant to Ron Artest to Iman Shumpert to Shaquille O'Neal—Dame has proven to be an MVP-caliber MC, thanks to a growing catalog that merges a ballplayer's swag with that of a rapper. He's got a cadence that often recalls Ludacris and wordplay that feels as effortless as sinking a free throw. While many have championed him as the best rapper in the NBA, he clearly gets respect outside of the league as well: Dame's three albums (2016's The Letter O, 2017's Confirmed and 2019's Big D.O.L.L.A.) feature the likes of 2 Chainz, Mozzy and Lil Wayne, the latter of whom appears on each one.
Ahead of the 2019-2020 NBA season, Dame D.O.L.L.A. trekked up to 1520 Sedgwick Avenue in the Bronx—the birthplace of hip-hop—to sit down with XXL and discuss his quest to become a legend in two games like he's Pee Wee Kirkland.
XXL: When did you decide to pursue a rap career seriously?
Dame D.O.L.L.A.: When I was in high school, I did mixtapes. We came out to warm up for our basketball games to our own music. Back then, it wasn't looking great for hoops, so we were really interested in music. We continued that into college; I kept making mixtapes every summer. When I got to the league, I kept trying to come up with stuff. I couldn't write hooks, [but] I could come up with some clever bars. I started writing freestyles and putting them on SoundCloud. Then I dropped the album [and] started doing shows. After my first album, that's when I [realized] I could really crossover because the way my life is, I'm constantly seeing new things. It's a lot for me to rap about and share my reality that people really want to know. They see me playing and they see me on camera, but they want to know, "How is this dude living?"
What are some things that inspire you as a hip-hop artist?
That feeling. Being able to paint that picture. From being a kid hearing music and being inspired by what I heard, I know that there are a lot of people coming from where I'm coming from and people that could listen to my stuff and say, "This dude is playing in the league, doing music, experiencing all of these things in his life. Maybe I can do the same things." For me, it's just sharing my thoughts and my feelings through the music.
Do you remember the first rap song that you heard?
Probably "Thuggish Ruggish Bone" by Bone Thugs-N-Harmony. I was like 4 or 5 years old and my cousins from Rochester was up in Oakland. They kept playing it over and over, and I started liking it. That's how I became a fan of not just rap, but Bone Thugs.
You've come a long way since you started dropping music. What do you think when people call you the best rapping basketball player in the league?
I've always thought that, so I don't really care to be titled that. My thing is that I'm trying to be in a pool with the rest of the artists. It's cool if they say that, but my goal is not to be the best basketball player/rapper.
Why did you name your third album Big D.O.L.L.A.?
I called it Big D.O.L.L.A. because this was my first time leveling up and kind of flexing. It was almost like, I'm big time. And I had a son since my last album. On the cover you see me in the big Bentley and him in the little kid Bentley. It's like, Big D.O.L.L.A. and Little D.O.L.L.A. I just signed a supermax [contract] extension so it was Big D.O.L.L.A. It was just a bunch of plays on Big D.O.L.L.A. The acronym for my name stands for Different On Levels the Lord Allows. There were really so many different angles.
You've garnered support from rappers like Lil Wayne and 2 Chainz throughout your rap career. Do those types of co-signs still matter a lot to you?
For sure, especially because now when you talk about an athlete doing music, the artists are not offended. Wayne has been on every one of my albums. I got, like, six songs with Wayne that people haven't heard. When he's sending me songs in private, that ain't just no favor. It's more like, "You'd sound good on this record."
What's one freedom that you have as an artist that you may not have as an athlete?
As an athlete, everything is more clean-cut. It's a commercial: a very commercial product where it's like, Don't curse, say the right thing, do the right things and conduct yourself this way. I think it's a billion-dollar product and you got to act accordingly. When it comes to music, it's much more grimy and more real because of where it was born. It was born in the neighborhood and around a culture of people that's like, "This is our reality, this is how we express ourselves and this is the flavor that we put on to it." It's acceptable to maybe say a curse word or two or maybe share some things that you wouldn't share doing a post-game interview. It's more of a natural and real thing.
In June, you and Sacramento Kings baller Marvin Bagley exchanged diss tracks after he claimed to be the best MC in the NBA. What was your first thought when you heard him throw jabs at you on his song "No Debate"?
I was like, He really went for it. I was thinking he might send a shot, but he ain't going to make a diss track. And he sent a real diss track. I think he can rap. I don't think he's trash. People usually say NBA players are trash. But when I was listening to it, I was like, This is a thing that I have to respond to. It was fun because after I did the first track ["Marvinnn???"] I knew I had him. I put the first one out and I didn't see him topping it bar for bar.
What are you currently listening to?
A lot of the stuff I listened to growing up: Juvenile, Common, Nas, Lil Wayne, André 3000, Biggie, Tupac. 'Pac is probably my favorite of all time, but right now I listen to J. Cole. J. Cole is probably my favorite current artist.
What is it about Tupac Shakur and J. Cole that makes you a fan?
The authenticity—I can hear a genuine person in the music. They just give me a feeling. When I hear their music, I can tell that we come from the same things. That's inspirational to me. When I do my music, I want people who maybe share a background like mine to be able to picture the things that I'm speaking on and say, "Man, I feel him. That's my situation." Those are the vibes I get from both of them.
What was it like working with Juvenile?
One of the first songs I wrote on my first album is called "Legacy." When I wrote the hook, I was rapping like Juvenile. I literally wrote the hook out for Juvenile to rap. I texted him like, "I wrote this hook in your voice, I need you to say it for me." He said, "No problem," sent it back the next day. That's when my respect and love for him went through the roof. I ended up making a 400 Degreez colorway of my shoes through Adidas.
What's something you've learned as an independent artist running a record label?
The thing that I've been forced to learn is how difficult it is to launch a career. I'm an NBA All-Star, a signature athlete with Adidas—people know who I am and it's been hard for me to launch a career. The fact that I have millions of fans already and it's still hard for me to get that respect, that buzz and that attention in the music industry shows you how hard it could be for somebody who got 300 followers on Instagram or Twitter. I've also learned that partnerships are important. You damn near have to get in bed with people and allow them to assist you because the music industry is so much easier and so much better when you got that machine behind you.
What's your key to successfully managing multiple careers?
There are a lot of lazy people in the world and when they see people doing a bunch of stuff, they are offended. They're like, "Stop doing so much stuff." These are the things I want to do, so I make sure I do both of them 100 percent. I'm there for my son 100 percent. I go hard in everything I do, so it's not like one thing is taking away from the other. I've been putting out music since 2014, and I keep rising as a player. All it's doing is giving me better balance.
See Photos From Lil Baby and Juice Wrld's Fall 2019 XXL Magazine Cover Shoots