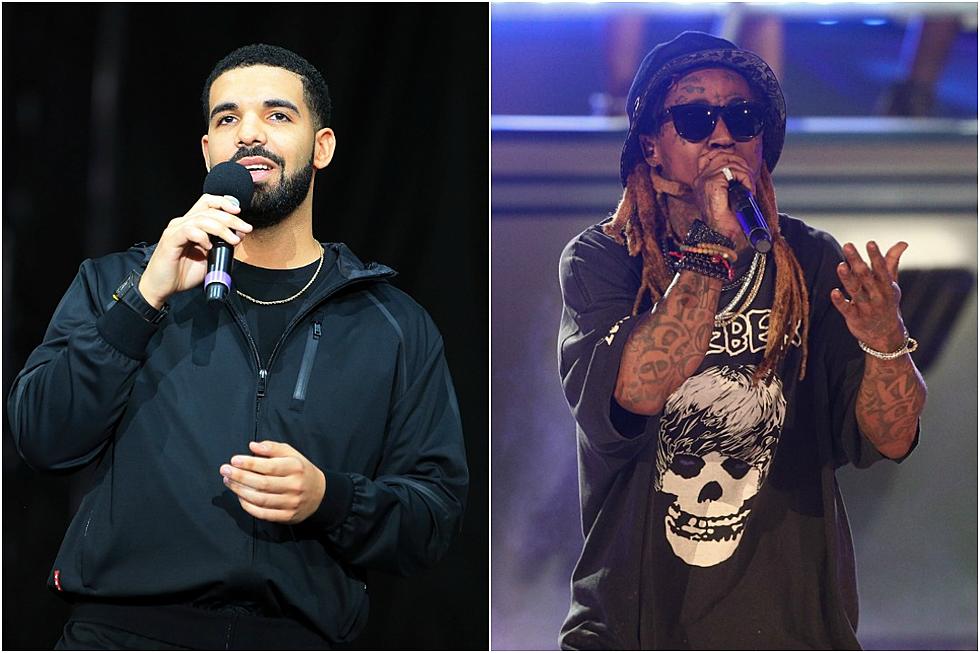 Drake Teases Possible Collaboration With Lil Wayne on 'Dedication 6' Mixtape
Vaughn Ridley/Frederick M. Brown, Getty Images (2)
Lil Wayne's highly-anticipated Dedication 6 mixtape is finally dropping later this month and the project may include a collaboration between Drake and Weezy.
On Monday (Dec. 11), the More Life rapper hopped on Instagram to post a black-and-white photo of himself and Wayne. While Drake didn't explicitly mention a collaboration between the two, his caption of "D6" does hint that the artists may be working together on the mixtape.
Although Wayne hasn't been featured on Drake's last two projects—Views and More Life—the two did link up on Nicki Minaj's 2017 single, "No Frauds."
After months of teasing, Wayne's Dedication 6 tape is set to drop on Dec. 25. The rapper announced the release date earlier this month on Twitter, writing, "It's time! Sign up for updates and music before drop date! To My fans, I do this for y'all! #D6 MERRY CHRISTMAS."
In November, Weezy had previously confirmed the project was ready to be released, telling his fans, "Happy Thanksgiving! I'm so thankful for all my fans for standing by while I'm enduring this fight with this label. I ain't shit without y'all! D6 is coming y'all way soon! Thank you."
It's been over two years since Wayne last released a solo project. The rapper previously dropped the mixtapes No Ceilings 2 and Sorry 4 the Wait 2 in 2015. Weezy also released the Free Weezy Album the same year.
Check out Drake's Instagram post below.
See New Music Releases for December 2017