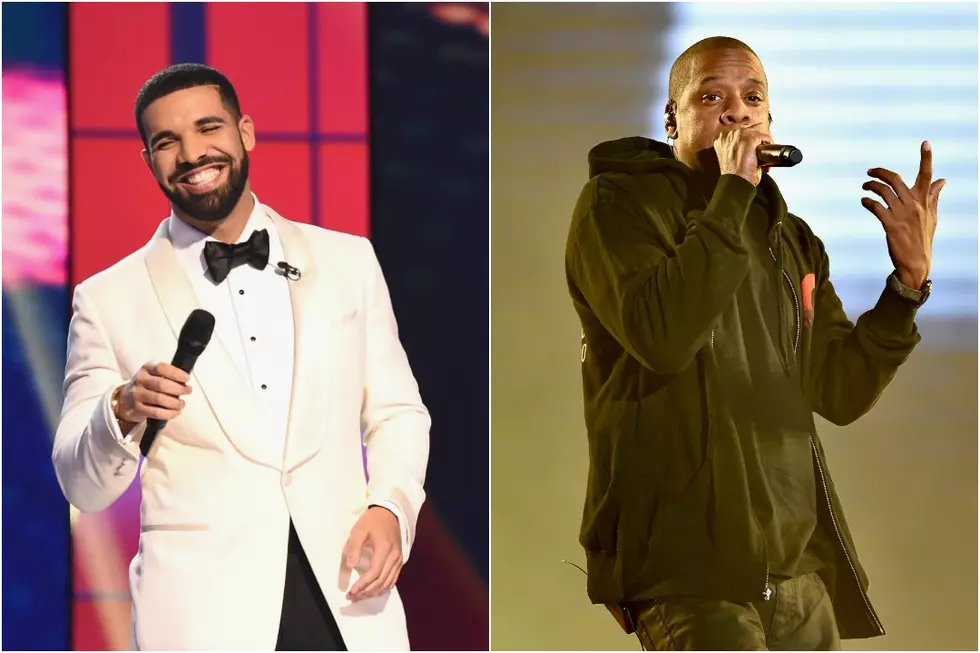 Drake Asks Restaurant He's Eating at to Play Jay-Z's New '4:44′ Album
/ Theo Wargo, Getty Images (2)
If you're like us, you sat on the couch at midnight last night and pressed play on JAY-Z's new album 4:44. If you're Drake, you walked into a Baltimore restaurant and asked them to play it over the speakers. If you're the restaurant, you do what Six God asked.
Drake was dining at Azumi in East Harbor Thursday night (June 29) with five of his friends and requested to sit on the outside patio, according to The Baltimore Sun. The crew munched on grilled octopus, Rock Shrimp Tempura and Lobster Tempura, while Drake ordered the Lychee Martini, the Maryland Signature Roll, and the A-5 Wagyu Ribeye. Then, they asked management to play 4:44, which was released only minutes after Drake and co. arrived at the restaurant, over the establishment's speakers.
"While we normally have our own DJ's music playing through the speakers, we were able to accommodate him and they listened to Jay Z's 4:44 album in its entirety," Joe Sweeney, spokesman for the Atlas Restaurant Group which owns the Japanese restaurant, told the Sun. "Several people walking along the Harbor East promenade approached him for photos and he was more than happy to take pictures with them."
There have been whispers of ill will between the two rappers, with some people even taking certain bars on 4:44 as potential jabs at Drake ("All this old talk left me confused/You rather be 'old rich me' or 'new you'"), but one thing is for sure—Drizzy's a lifelong Hov stan.
Here's What People Are Saying About JAY-Z's New 4:44 Album