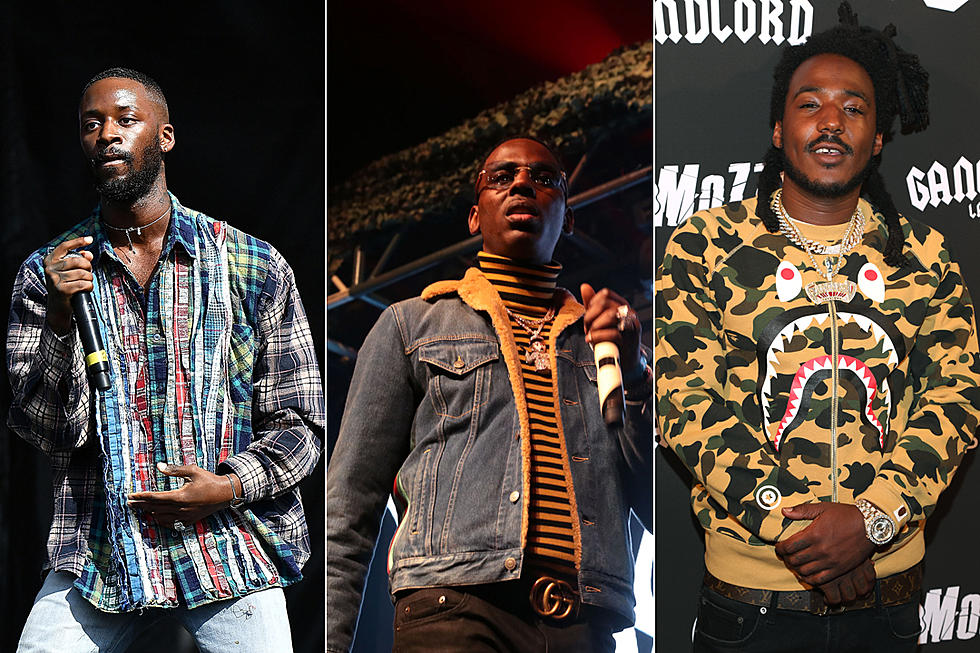 GoldLink, Young Dolph, Mozzy and More: Bangers This Week
Paras Griffin / Jerritt Clark, Getty Images (2) / Johnny Nunez, WireImage
The new music floodgates are wide open now. There's quite a few big projects releasing today, all featuring songs that will likely become your new favorites. Hip-hop is in a great space, with good music out now and even more to look forward to. As always, we make it nice and easy for you to stay up-to-date on what's out this week. Check out this week's roundup.
It's been a little while since GoldLink dropped a new single, but the spring is here and so is he. His new song, "Zulu Screams," which features Afropop star Maleek Berry and Bibi Bourelly, is a different sound from his previous fare. The track is full-on Afrobeats, with GoldLink sounding like an absolute natural in this new arena. The song is sharp and should do well as more people become aware of it.
Young Dolph is never really on break, but he just let a new song fly out of nowhere. His new track is the crawling "Crashin' Out," which in simplest terms, is a banger. Dolph is all charisma on this one, selling every line convincingly and getting off some hilarious flexes, including one about not being friends with rappers because their girlfriends want him. Turn up then.
It's important to value your loved ones, as the people who love you help dictate the person you'll become. Mozzy released the song "Legal Guardian/Guardian Angel" this week, a moving dedication to his grandmother. On the track, Mozzy reveals just how many times she looked out for him, from standing by his side through his legal problems, to showing him the right way through life, even with the negativity around him. The song is very touching; it's clear why Mozzy has become such a respected rapper.
"Zulu Screams"

GoldLink featuring Maleek Berry and Bibi Bourelly

"Crashin' Out"

Young Dolph

"Legal Guardian/Guardian Angel"

Mozzy

"Creep Behind"

JayDaYoungan and Yungeen Ace

"Throw Fits"

London On Da Track featuring G-Eazy, City Girls and Juvenile

"I Did"

DJ Luke Nasty featuring DaBaby

"Zero Fux"

Kool Keith featuring B-Real

"Where Was You At"

Good Gas & FKi 1st featuring Matt Ox

"Headlines"

DJ Premier featuring Westside Gunn, Conway and Benny The Butcher

"Simon Says"

Megan Thee Stallion featuring Juicy J

"Higher"

DJ Khaled featuring Nipsey Hussle and John Legend

"I Look Like Bae (Freestyle)"

Bow Wow

"Igor's Theme"

Tyler, The Creator

"On That Sht Again"

Ghostface Killah and RZA

"Keepin It Movin"

Andy Mineo featuring Guvna B

"Unjudge Me"

Calboy featuring Moneybagg Yo

"Death of Me Freestyle"

Lud Foe

"GroCERIES"

Chance The Rapper featuring TisaKorean featuring Murda Beatz

"All Night Long"

YFN Lucci featuring Trey Songz

"Aliens Are Ghosts"

$uicideboy$ and Travis Barker

"Places + Faces Freestyle"

Aminé

"Sucka Free"

Jozzy featuring Lil Wayne

"Super Villian"

Steven G.