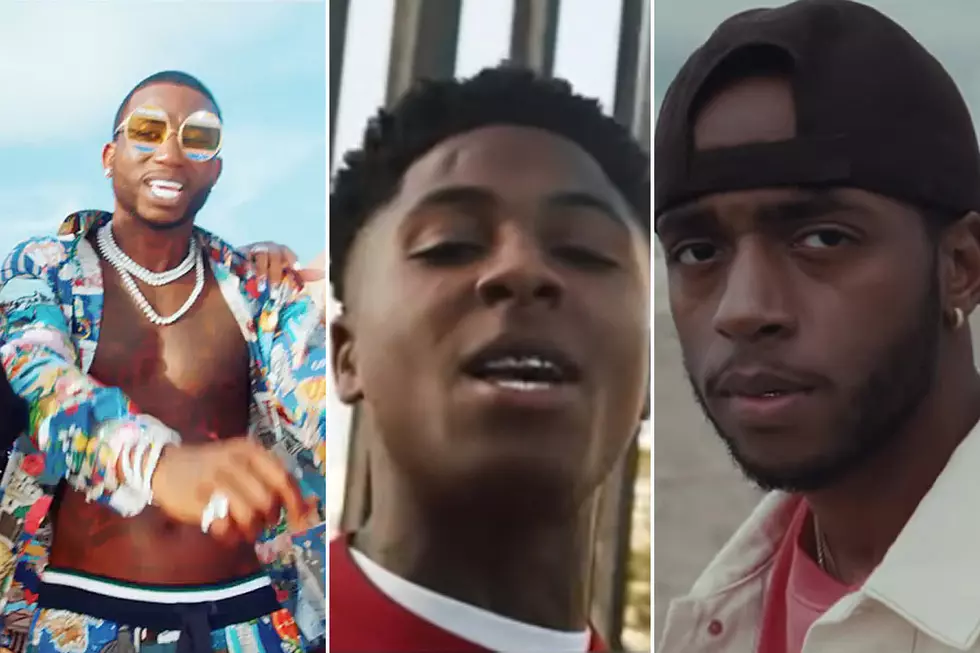 Gucci Mane, YoungBoy Never Broke Again, 6lack and More: Videos This Week
OfficialGucciMane / YoungBoy Never Broke Again / 6LACK, via YouTube (3)
There's nothing quite like a cool visual to match to a song. This week has plenty of new stuff from lots of hip-hop heavyweights.
6lack's star has shined bright for some time, but his latest album East Atlanta Love Letter has nudged him into more favorite-artist conversations. The album's latest single is "Pretty Little Fears," which features a strong verse from J. Cole. The video shows both artists living in a small-town while showing love to the women in their lives. The song is heartfelt, as is the visual.
Gucci Mane and Lil Pump seemed like an unlikely pairing at one point, but Gucci wanting to sign the young Florida rapper quelled all of that. Now they have a new video for their collab "Kept Back," complete with a yacht and plenty of beautiful women. The two have good chemistry and as always, it's good to see Wop back and loving life.
YoungBoy Never Broke Again has been on a tear over the last few months, dropping new songs and videos left and right. His latest visual is "I Am Who They Say I Am," features Quando Rondo and Kevin Gates, two of his good friends. YoungBoy walks through a neighborhood, reflecting on his life up to this point, while Quando and Gates finish their verses in front of expensive whips.
"Kept Back"

Gucci Mane Featuring Lil Pump

"I Am Who They Say I Am"

YoungBoy Never Broke Again Featuring Kevin Gates and Quando Rondo

"Let Me Find Out"

Jordan Hollywood Featuring Lil Baby

"Pretty Little Fears"

6lack Featuring J. Cole

"Sisko and Kassidy"

Kweku Collins Featuring Ajani Jones

"Cause I Can"

Tru Life Featuring Velous

"The Weekend"

T.I. Featuring Young Thug and Swizz Beatz

"Drippin Not Slippin"

Sauce Walka

"Cheat On Me"

Tommie Featuring Blac Youngsta

"Heavy Metal"

Lil Uzi Featuring Lil Keed and Lil GotIt

"We Got Everything"

Dave East and Styles P

"Juice"

Bhad Bhabie Featuring YG

"Death Row"

Freddie Gibbs Featuring 03 Greedo

"XYO"

Drumma Boy Featuring DJ XO

"We Can Make It Feel Like It Will Never End"

Bexey

"Excuse Me"

Mozzy Featuring Too Short, Yhung T.O. and DCMBR

"Goals"

Tyla Yaweh Featuring Preme

"Sicko Mode"

Travis Scott featuring Drake