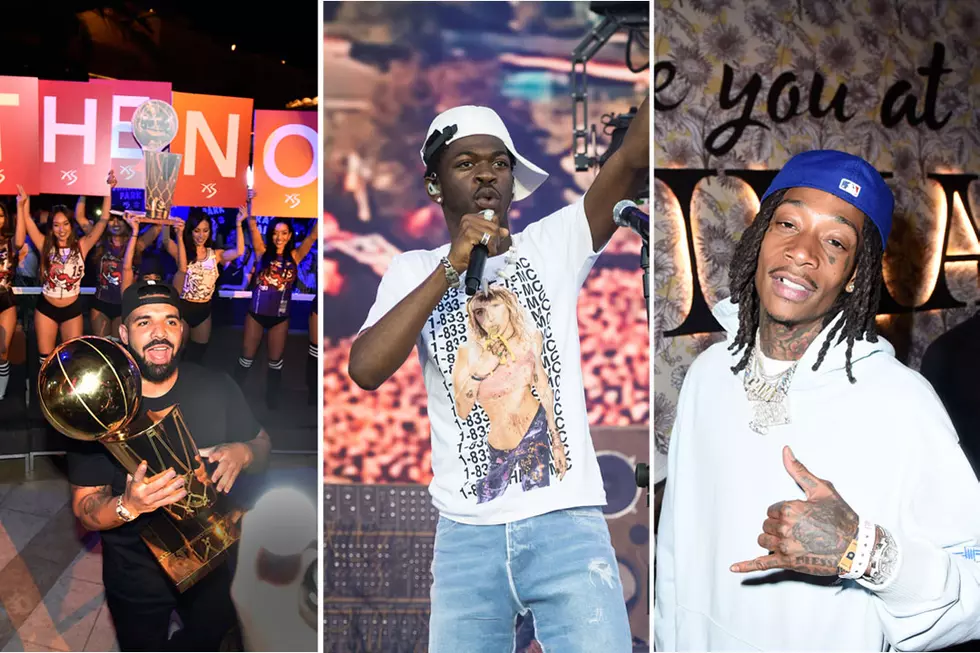 Here Are the Hip-Hop Songs With the Longest No. 1 Streaks
David Becker/Ian Gavan/Vivien Killilea, Getty Images (3)
Lil Nas X still reigns supreme. The country rap artist's mega hit "Old Town Road" first skyrocketed to the top of the Billboard Hot 100 in late April and has held down its position ever since. After 16 weeks in the top spot, the "Panini" maker's first hit has joined "Despacito," the international hit from Luis Fonsi that features Daddy Yankee and was remixed by Justin Bieber, and somber mid-1990s Mariah Carey and Boyz II Men collaboration "One Sweet Day," as the longest-running No. 1 songs of all time.
Not only a milestone for the young artist, his historic run has lead to the hip-hop and country mash-up becoming the longest-running No. 1 hip-hop track in the singles chart's 61-year history. The platinum single, which is responsible for catapulting the Atlanta native into stardom, has also made noise on both the Hot R&B/Hip-Hop Songs and the Hot Country Songs charts. Earlier this summer when "Old Town Road" entered its 10th week as the No. 1 song in the country, it achieved a feat so rare that less than 5 percent of the chart toppers throughout the history of the Hot 100 have been able to accomplish it.
The 20-year-old artist, who has collaborated with Billy Ray Cyrus, Cardi B and Young Thug is the latest rap star to have ascended to the peak position on the Billboard Hot 100 and made a home there. The shortlist of hip-hop artists who have locked in double-digit stays atop Billboard's singles chart includes Drake, Kanye West, Eminem, Puff Daddy, Wiz Khalifa, The Black Eyed Peas and Flo Rida.
As Lil Nas X's "Old Town Road" attempts to claim the title of the Billboard Hot 100's sole longest-running No. 1 single ever, XXL takes a look at the hip-hop songs that have held down the No. 1 spot for the longest consecutive periods of time.
"Old Town Road" (2018)

Lil Nas X

First Reached No. 1: Week ending April 13, 2019
Consecutive Weeks at No. 1: 16

"See You Again" (2015)

Wiz Khalifa featuring Charlie Puth

First Reached No. 1: Week ending April 25, 2015
Consecutive Weeks at No. 1: 12

"Boom Boom Pow" (2009)

The Black Eyed Peas

First Reached No. 1: Week ending April 18, 2009
Consecutive Weeks at No. 1: 12

"Lose Yourself" (2002)

Eminem

First Reached No. 1: Week ending Nov. 9, 2002
Consecutive Weeks at No. 1: 12

First Reached No. 1: Week ending Feb. 3, 2018
Consecutive Weeks at No. 1: 11

"I'll Be Missing You" (1997)

Puff Daddy and Faith Evans featuring 112

First Reached No. 1: Week ending June 14, 1997
Consecutive Weeks at No. 1: 11

"In My Feelings" (2018)

Drake

First Reached No. 1: Week ending July 21, 2018
Consecutive Weeks at No. 1: 10

"One Dance" (2016)

Drake featuring WizKid and Kyla

First Reached No. 1: Week ending April 23, 2016
Consecutive Weeks at No. 1: 10

"Low" (2007)

Flo Rida featuring T-Pain

First Reached No. 1: Week ending Jan. 5, 2008
Consecutive Weeks at No. 1: 10

"Gold Digger" (2005)

Kanye West featuring Jamie Foxx

First Reached No. 1: Week ending Sept. 17, 2005
Consecutive Weeks at No. 1: 10

"Dilemma" (2002)

Nelly featuring Kelly Rowland

First Reached No. 1: Week ending Aug. 17, 2002
Consecutive Weeks at No. 1: 10