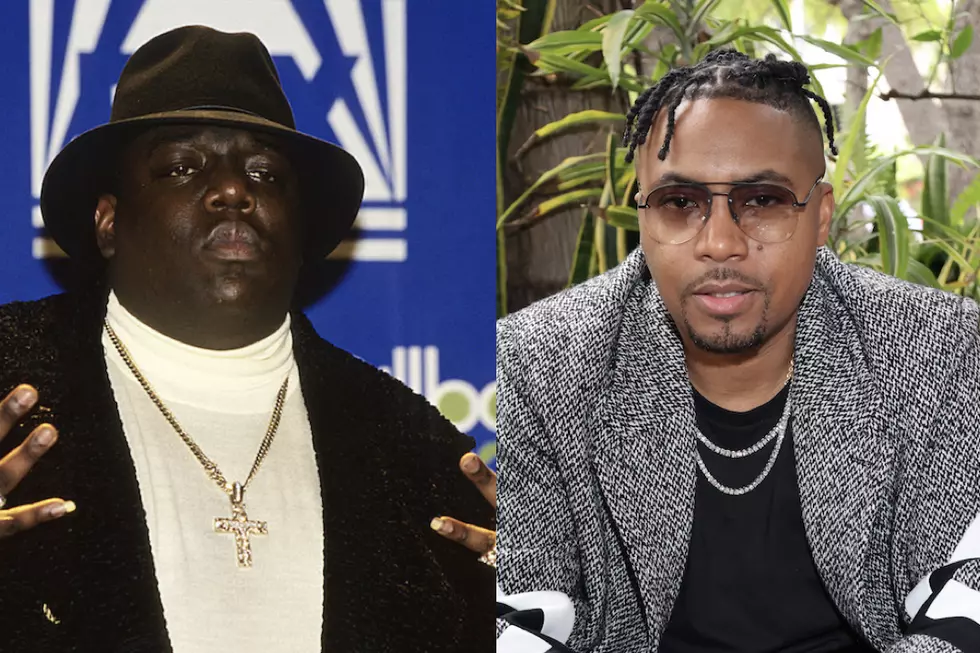 The Notorious B.I.G A.I. Rapping Nas' 'N.Y. State of Mind' Draws Mixed Reactions from Fans
Larry Busacca/WireImage/Arnold Turner/Getty Images
Artificial intelligence has struck again. A new A.I. voice-generated song featuring the late Notorious B.I.G. rapping Nas' lyrics on "N.Y. State of Mind" has sparked mixed reactions from fans.
Last week, an A.I.-generated song of the late Notorious B.I.G. rapping Nas' "N.Y. State of Mind" surfaced on social media and it has generated plenty of talk on social media. The fake song sounds as if Biggie is trying to impersonate the Queens, N.Y. rhymer as opposed to delivering his own unique flow on it. As such, the A.I. song is leaving fans with mixed feelings about it.
"Just listened to a Biggie AI version of Nas' 'N.Y. State of Mind,'" wrote one fan. "Made me realise Nas has the greatest flow of any rapper ever."
Another person was shocked at hearing Biggie rapping Nas' classic song.
"Bruh..Biggie rappin 'NY State of Mind' Is insane," he tweeted.
A third person opined, "I don't need to hear Ny State of Mind with a Ready to Die flow. I need '97 Biggie with some new lyrics from whoever could write it."
Another fan wasn't feeling the fake Biggie song at all.
"This is bulls**t and this why I don't like this AI s**t," the person tweeted.
This is the latest deep-fake versions of songs that have hit the internet. Voice-generated A.I. songs like the fake Drake and The Weeknd tune "Heart on My Sleeve," created by the mysterious TikTok user Ghostwriter977, has the music industry up in arms over copyright issues as it pertains to the music artists' creative voice.
For now, A.I. is not going anywhere. The future is now.
Listen to Biggie A.I. Rapping Nas' Classic Song "N.Y. State of Mind" Below
See 50 of the Greatest Hip-Hop Album Covers