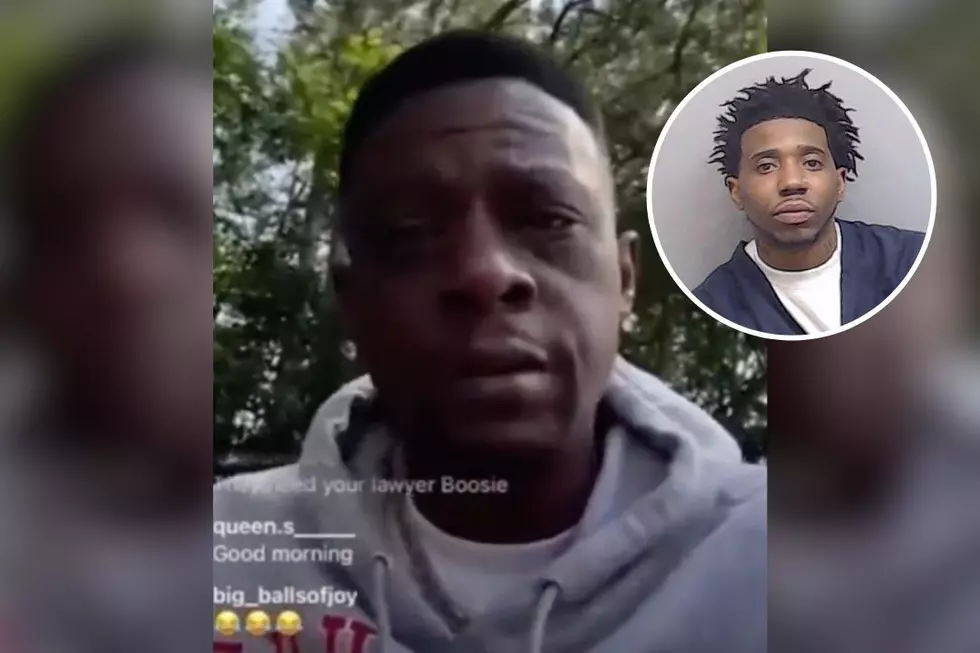 Boosie BadAzz Suspects Reasonable Doubt in YFN Lucci's 20-Year Plea Deal Offer
nojumpermedia/Twitter/Fulton County Sheriff's Office
YFN Lucci has an ally in his corner and that's Boosie BadAzz. The outspoken rapper offered his unsolicited opinions about Lucci's reported 20-year plea deal offer and suspects reasonable doubt in his RICO case.
Boosie BadAzz Questions YFN Lucci's 20-Year Plea Deal
On Saturday (June 10), Boosie BadAzz jumped on Instagram Live to chat with his followers. During his Live, he reacted to the news that YFN Lucci received a 20-year plea deal in his racketeering case. The Best Album of 2023 creator expressed his frustration that Lucci is in jail on RICO charges. He was also adamant the Atlanta rapper didn't do the crimes he's being accused of.
"I f**k with Lucci bruh this dude ain't running no f**kin' RICO n***a and I'mma say that," he declared. "It's a bad RICO, dawg."
Boosie also seemed to question Lucci's involvement in an alleged drive-by shooting in December of 2020 in which witnesses saw a man who was shot in the head pushed out of a car allegedly driven by Lucci and left for dead on the road. Boosie suspects the witness didn't see anything and raises reasonable doubts.
"How can a witness see from the outside if you get pushed out from the inside, think about it?" he asked. "Reasonable doubt I'm fighting it. He coulda opened the door his damn self. Ain't no what tellin' when you get shot."
"Rest in peace to Lucci boy," Boosie continued. "But they got that man f**ked up."
"[Sounds] like a paid witness to me, that's what it [sounds] like," he added.
What Did YFN Lucci's Attorney Say About YFN Lucci's 20-Year Plea Deal?
In a statement provided to XXL on Friday (June 9), YFN Lucci's attorney Drew Findling confirmed his client received an "absurd plea offer" from prosecutors. Undeterred, Lucci, born Rayshawn Lamar Bennett, is now waiting to go to trial.
"The absurd 'plea offer' being reported is accurate," reads the statement. "However, a plea offer is not any indication of the likelihood of a plea and in fact, Mr. Bennett is still waiting—after two and a half years in custody—to be given a potential trial date."
"The Fulton County District Attorney's Office has decided to instead focus on other, newer, high-profile cases that have completely monopolized the Court's resources and have illustrated the Fulton County District Attorney's Office's utter inability to prosecute complex cases," the statement continues. "Despite the obstacles consistently placed in the way of Mr. Bennett's constitutional right to a speedy and fair trial, we continue to be ready and prepared to defend these false allegations."
YFN Lucci is still locked up at the Fulton County Jail in Atlanta. He's being accused of murder, aggravated assault, weapon possession and other charges stemming from a gang-related drive-by shooting in December of 2020. Additionally, Lucci is also under a 100 count indictment under the RICO act for allegedly being part of a criminal organization.
Watch Boosie BadAzz React to the News of YFN Lucci's 20-Year Plea Deal Below
See Rappers Currently Dealing With RICO Cases