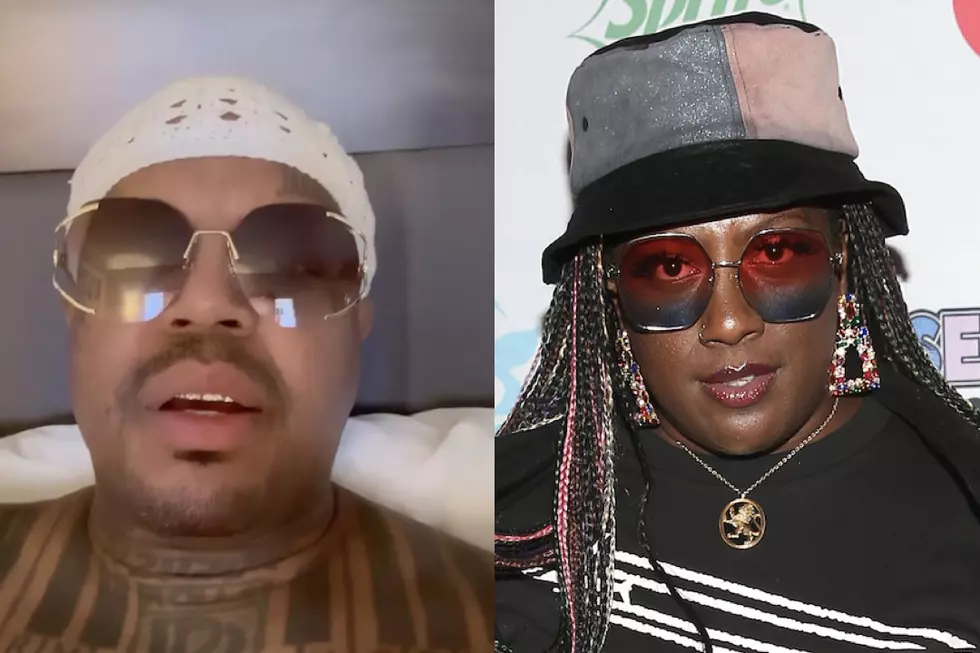 DJ Paul Responds to People Asking Why He Didn't Attend Gangsta Boo's Funeral
djpaulkom/Instagram/Jesse Grant/Getty Images
DJ Paul has responded to people who asked why he didn't attend Gangsta Boo's funeral over the weekend.
On Sunday (Jan. 15), DJ Paul, of Three 6 Mafia fame, jumped on his Instagram page and posted an angry video aimed at people who were questioning why he didn't attend Gangsta Boo's funeral, which took place at Brown Missionary Baptist Church in Southaven, Miss. on Jan. 14.
In the clip, DJ Paul explained that he didn't attend Boo's funeral service because he was on tour and that he doesn't attend funerals in general. However, despite his absence, the veteran rapper said he paid for her funeral services.
"Lemme explain something to y'all bitch-ass niggas out there who got something to say about me not coming to Boo funeral," he snapped. "Nigga, I paid for the funeral, hoe! I'm on muthafuckin' tour and even if I wasn't, I don't do funerals, nigga."
"The last time I was at a funeral, it wasn't nothing but a bunch of groupie-ass muthafuckin' niggas up in that muthafucka," he continued. "Boo know how much I loved her, I know how much she loved me, nigga. I ain't got nothin' to prove to none of you punk-ass, groupie-ass niggas up in there."
DJ Paul also reminded viewers that he discovered Gangsta Boo and enlisted her to join Three 6 Mafia.
"'Cause it wouldn't be nothin' but about four or five muthafuckas in there if it wasn't for who I created. Nigga, what I created," he stated. "The teenage girl I found. Nigga, I'm the one that wrote 'Where Dem Dollas At' hook, nigga."
"I'm the one who was writing and producing that shit," he continued. "Yeah, she did her verses, she did some hooks. Juicy [J] was doing beats, he was doing hooks. But I discovered her, nigga. I went to school with her, she went to school with me."
DJ Paul also addressed people criticizing the coffin for Gangsta Boo, which many felt that it looked plain and cheap. According to the "Stay Fly" rapper, Boo's family decided to cremate her body after the funeral, as part of their family's tradition, so there wasn't a need for an expensive coffin.
DJ Paul delivered another shot at his critics in the caption. He wrote: "I Don't Owe None Of You Goofs The 2 Minutes It Took Me To Make This [Video] But You Betta Keep My Name To The Upmost‼️ Especially Bout My Love Ones!!! U Complainers Just Wanted To Pour Ya Fake Love On Me! Naw Bih‼️"
He continued: "And I Paid For #lordinfamous & #koopstaknicca Funerals‼️ And @snootiewild Funeral & Still Talk To His Family Every Month! We Family Now! Attending A Funeral & A Church Makes Some Of You Sinners Feel You Did Something Special Don't It…. What Did U Do For Them Before Death???"
DJ Paul concluded: "[PS]: The Producers Of Boo Funeral Tried They Best To Make Her Not Have Any Mafia Ties, Good Job! Rest Up Queen!!! #riplola #ripgangstaboo #mafia [prayer hands emoji]."
Memphis rap legend Gangsta Boo, born Lola Mitchell, passed away unexpectedly on Jan. 1 during a trip home to Memphis for the holidays. The cause of death has not been disclosed. She was 43 years old.
Watch DJ Paul Address People Asking Why He Didn't Attend Gangsta Boo's Funeral Below
See Hip-Hop Artists We Lost in 2022
Rest in power to these beloved artists.