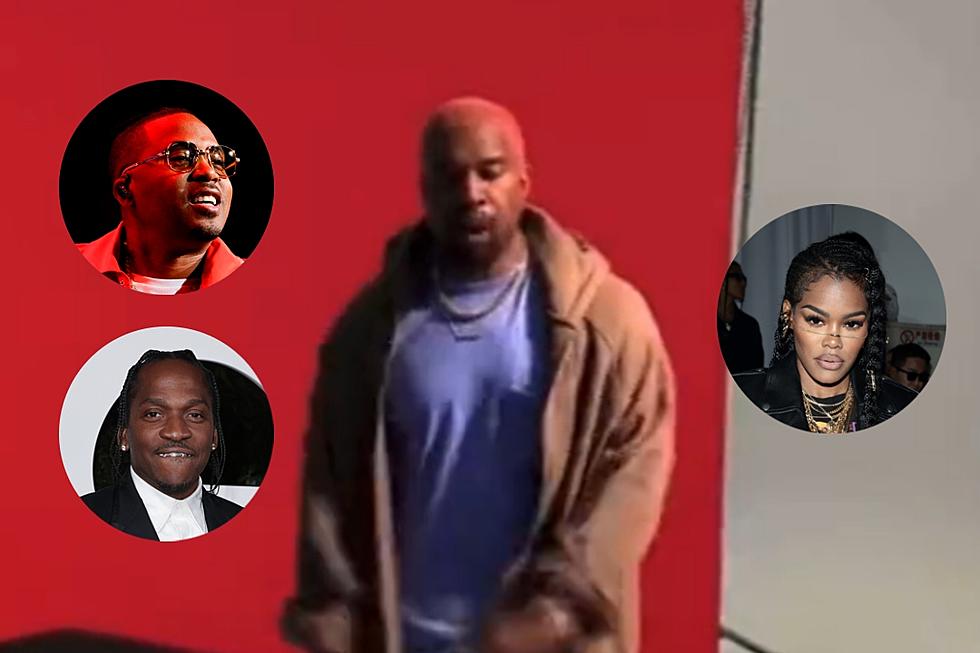 Kanye West Goes on Wild Rant About Nas, Pusha T and Teyana Taylor in Leaked Documentary Video
chainsnatcherstv/Twitter/Brett Carlsen/Momodu Mansaray/Dimitrios Kambouris/Getty Images (3)
Documentary video of Kanye West going on a wild rant about Nas, Pusha T and Teyana Taylor has leaked.
Kanye West's Goes Off on Nas, Pusha T and Teyana Taylor
On Sunday (Oct. 1), multiple clips from a purported Kanye West documentary leaked online. In one clip, Ye is in the middle of a wild rant during a photoshoot where he goes off about regretting giving music to the likes of Nas, Pusha T and Teyana Taylor.
"It ain't gon' be in this situation. It's gon' be a 'get me out this G.O.O.D. Music s**t now,'" Ye tells someone on a phone call in the leaked video, which XXL is unable to share due to copyright. "And Scooter, it ain't gone be no I'm still putting my name on it s**t. I need to get rid of G.O.O.D. Music because I'm great. Guess what? Good is the enemy of great."
"What the f**k I'm doing giving ['Gonna Love Me'] to Teyana?" he continued. "What the f**k I'm doing giving that Daytona album to Pusha? What the f**k I'm doing, bro? That s**t was three [My Beautiful Dark Twisted Fantasy]'s that I gave away. 'Cop Shot the Kid,' Nas rapping all off beat on it. Don't even want to shoot a video. Then shoot the video [and] don't even tell me. These muthaf**kas don't appreciate me. All these muthaf**kas is trying to use me. I'm the greatest muthaf**kin' artist living and I can do everything."
Kanye seems to be referencing the time in 2018 when he released several albums from artists on his G.O.O.D. Music roster in back-to-back weeks, including the solo album Ye.
Kanye West Calls Cardi B an Industry Plant in Second Leaked Video
The video of Kanye's rant comes after another video of him calling Cardi B an industry plant also leaked.
"Cardi B is a plant by the illuminati," Kanye casually says during a phone call in the clip. "She don't write her own raps. She just there to sound as ignorant as possible. And then makes songs like 'f**k 'em and then get some money,'" Ye adds, referencing Cardi's verse on G-Eazy's "No Limit (Remix)." She literally replaced Nicki Minaj. Purposely, they put her there."
Cardi B has since responded to the claim. It is unclear who is leaking the Kanye videos. They are purported to be from a documentary filmed in 2018.
See Rappers' Most Wildest Insults They've Said During Beefs