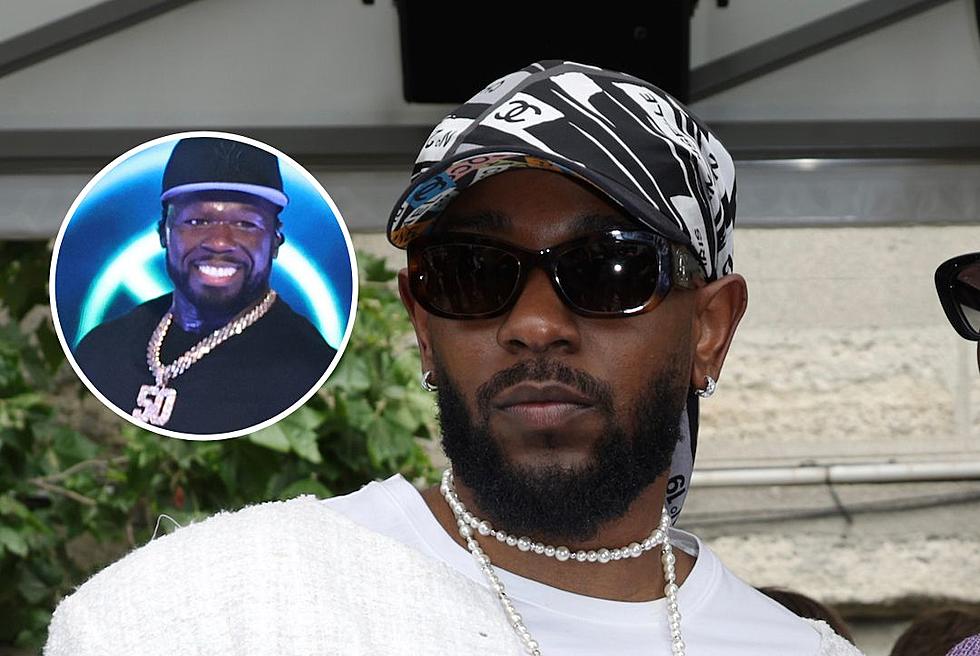 Kendrick Lamar Reveals the Words 50 Cent Said That Blew Him Away
Pascal Le Segretain/Jamie McCarthy/Getty Images (2)
In a recent interview, Kendrick Lamar saluted 50 Cent and revealed some words that the Power co-creator said that blew him away.
Kendrick Lamar Gained New Insight from 50 Cent's "Jewel" to a Question
In a feature for Interview magazine, published on Tuesday (Aug. 29), Kendrick Lamar sat down with Nigeria-born singer Tems to discuss music, songwriting among other things. At one point, the Compton, Calif. rhymer mentioned 50 Cent and how he studied his career from the very beginning. He added that Fif is always dropping "jewels" that blow him away.
"Now, I've always studied 50 Cent's music and watched his interviews, and someone asked if he was a conscious artist," he explained. "He said, 'Yeah, I'm a conscious artist because I have a conscience." That s**t blew me away. It gave me a different perspective—50 drops a lot of jewels that give me perspective, but that one right there gave me a sense of, OK, a lot of artists live and know how to project duality."
"That's the true gift, because that's what life is about in its wholeness," he continued. "When I seen that I said, 'I can relate to that,' and what you're saying is confirmation that that's still alive. It's really dope to hear another artist say it. Lets us know we not crazy."
Tems seemed to agree with Kendrick's assessment.
"Nah, we're not," she replied. "That's why I'm always learning, because I want to know how to simplify things to the point where I have peace of mind. Your mind is the first place that you have to overcome."
50 Cent Admires Kendrick Lamar
Although Kendrick and 50 Cent haven't done any recent collaborations, they did team up in 2013 for the song "We Up." In an XXL interview in December of 2013, 50 said he really admired how K-Dot carried himself despite their artistic differences.
"I love Kendrick," he said in the video below. "Obviously, there is a huge difference in the two of us, in our characters, and the way we present ourselves 'cause to me he possesses the ability to appear like he didn't know this was going to happen."
"Like, 'I knew it was going to work, because it took you so long to figure it out," he added, in reference to their "We Up" collabo. "I told you it was 'hot.' And Kendrick will give you that energy that's like, 'This is great. This is really happening.' Every time I'm around him, that's what it feels like."
See 50 Cent speaking on Kendrick Lamar below.
Watch 50 Cent on Kendrick Lamar: "There's a Huge Difference in the Two Of Us" Video
Watch 50 Cent's "We Up" Video Featuring Kendrick Lamar Below
See 30 of the Greatest Rapper-Producer Duos