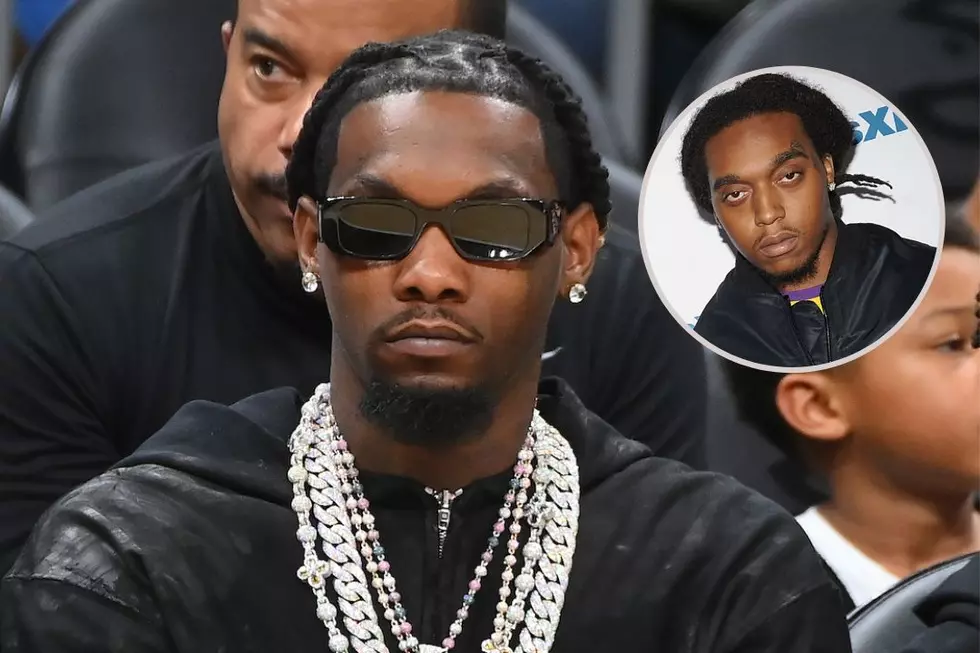 Offset Gets Massive Back Tattoo of Takeoff
Paras Griffin/Brad Barket/Getty Images (2)
Offset has honored Takeoff in a way that will permanently be a part of his life. The Migos member had a massive portrait of Takeoff tattooed on his back.
On Saturday (April 15), Offset shared on his Instagram account photos of his commemorative back tattoo of Takeoff. In one pic, which you can see below, the tattoo covers Set's entire upper and lower back. It features the late Migos rapper wearing a leopard print jacket, which reveals several of his diamond necklaces. Above Takeoff's head are the planets Saturn and the moon, as well as the spiral galaxy the Milky Way.
In the caption, Offset writes, "Love you 4L & after" and added a rocketship, a white heart and a peaceful dove emoji.
Offset's tattoo follows his heartfelt written tribute to Takeoff that he shared on his IG page back in November 2022. In his elegiac tribute to his cousin and partner in rhyme, he shared a series of photos and videos of priceless moments between the two rappers.
In his letter, Offset wrote, "Dear Take, doesn't feel real posting you like this. I've been searching for the right words to say, but there aren't any that will suffice. Until we meet again, rest in power. I love you."
Takeoff was tragically killed in Houston on Nov. 1, 2022. According to authorities, Quavo and Takeoff were among the 40 other people standing outside 810 Billiards & Bowling Houston when an argument erupted following a private party. The fight escalated to gunfire and Takeoff was struck in the head. He was pronounced dead on the scene. Police said that Takeoff was an innocent bystander and was not involved in the melee.
In December of 2022, Patrick Xavier Clark was charged with Take's murder along with another man, Cameron Joshua, who was charged with felony possession of a weapon.
Check Out Offset's Massive Tattooed Portrait of Takeoff on His Back Below
See Hip-Hop Artists We Lost in 2022
Rest in power to these beloved artists.