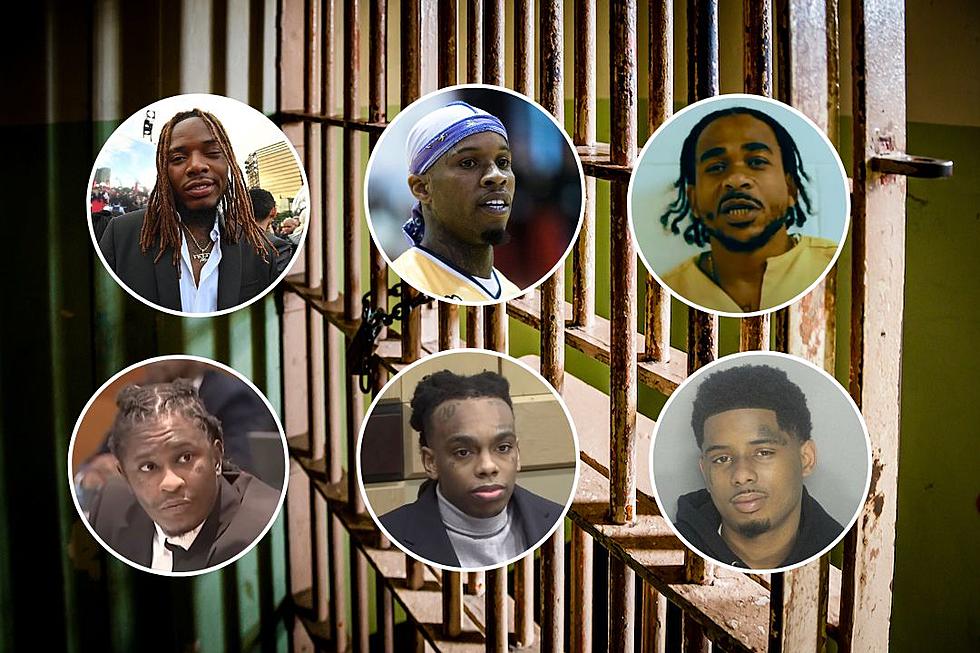 Here's Why These 25 Rappers Are in Jail or Prison Right Now
DanHenson1/iStock/Getty Images Plus/Dia Dipasupil/Greg Doherty/Getty Images (2)/Max B/11Alive/Law&Crime Network/Miami-Dade Corrections and Rehabilitation
Rappers and the legal system have a long and complicated history. Frequently, they find themselves on the wrong side of the law and are locked up in jail or have to serve a lengthy prison bid. XXL looks at over two dozen rappers who are in jail or prison right now.
Some of the most notable artists who are currently in jail while fighting their legal battles are Young Thug and YNW Melly. Both men are fighting for their freedom in the judicial system. Thugger is on trial facing serious racketeering charges in his YSL RICO case. Meanwhile, Melly had a mistrial in his double-murder case and is likely to face a retrial in October of this year.
And then there are legendary cases where rappers found themselves behind prison bars for life. Former hardcore rapper Big Lurch is serving a life sentence for murdering his female roommate and consuming her body parts in a grisly April 2002 incident. Rapper Tay-K, who is famous for his 2017 viral song "The Race" that dropped while he was on the run from the police, was hit with a 55-year prison sentence for involvement in a 2016 robbery that left one man dead.
Unfortunately, one of the downsides of being in the spotlight is that rappers often get caught up and have to sit in jail or prison. Some artists can avoid this fate, while others are not so lucky. So to bring you up to speed, read why all these rappers are in jail or prison right now below.
See Why All These 25 Rappers Are in Jail or Prison Right Now