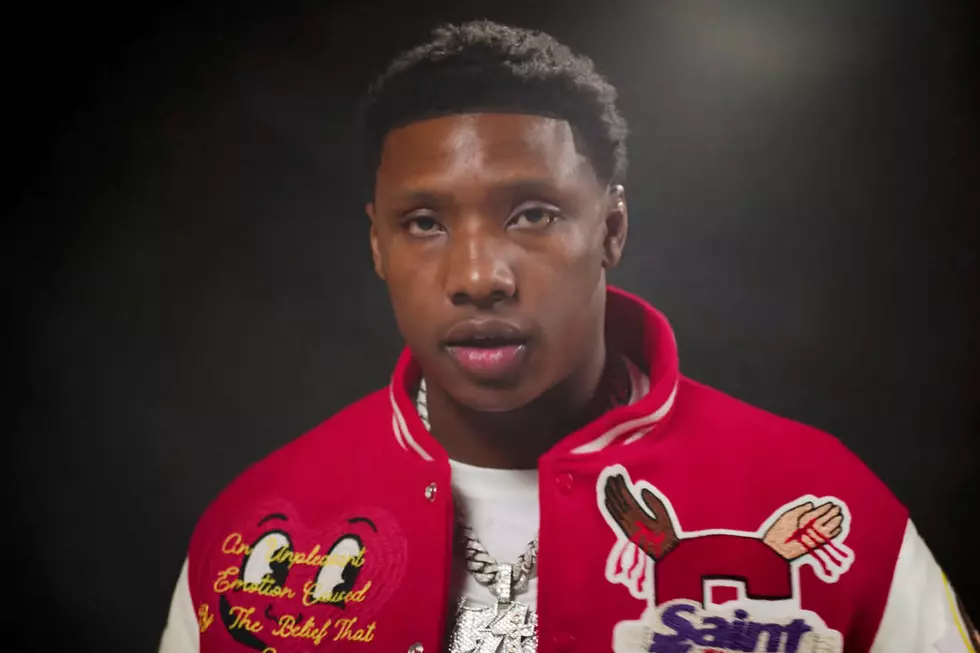 Rob49's 2023 XXL Freshman Freestyle – Watch
XXL
Rob49 hasn't been rapping very long, but that isn't evident in his music. His year-long career as an artist has already earned him nods from some major hip-hop heavyweights—Birdman, Kevin Gates, Lil Baby, G Herbo, Lil Durk and much more. The Louisiana native has a gift when it comes to delivering rhymes, and it's a craft he doesn't take lightly. Right now is his time, and he's basking in this moment as a fresh face, but a name that is familiar to many. Hailing from New Orleans' 4th and 9th wards, areas plagued with violence, Rob has used his personal story to paint on his rap canvas. Among the many musical portraits he's made, his 2023 XXL Freshman freestyle can now be added to the list.
The 2023 XXL Freshman has seen tragedy strike on several occasions, but his tenacity and faith has allowed him to see a different outcome for himself. "Man, I wonder how my haters feel/I'm goin' hard 'til I can't breathe/They say I'm great, but I can't see potential in myself/Drugs ain't doing half as much (S**t)/I been high off life/Taking all my wrongs and tryna make 'em right," raps Rob, who released his new album, 4GodII, in early June.
Reminiscing on a friendship that apparently went sour, Rob49 spits, "Yeah, in a Hellcat Charger, thinking about my dog, but he ain't here/We were touchin' work in high school/First week, make s**t disappear/I feel like he went too far/We was locked in, that was my dawg/I guess when some n***as get some money, that s**t change their heart (Yeah)/F**k, I paid the cost/Gotta pay the cost to be the boss/I don't never say nothin', but I still feel a way every time you talk."
The survival of the fittest story isn't one that's unfamiliar to Rob49 as he transparently shares some of the losses he's experienced in his life. "I ain't need no n***a to turn me up/I came from out the dirt (Yeah)/I came from out the street, n***a/Puttin' all them n***as I see envy on a tee (Yeah)/I'm out here with vibes now/My bro bro a live wire/He'll get you stepped on, s**t (Alright)/N***a used to look down, I ain't never said nothin'/Guess that's why I'm turnt up, s**t (Alright)/I keep tellin' bro to put them percs down, s**t/He keeps sayin' he got them from out the store, but that s**t's stepped on/I'm still in the hood 'cause I just love home (Alright)/I don't ride around too, too deep 'cause most of my n***as died young," he raps.
In addition to his recent LP, Rob's growing catalog also includes 4God, Vulture, Krazy Man and Welcome to Vulture Island. With his second annual Vulture Weekend taking over the city he calls home in mid-June, singles hitting DSPs left and right, and a currently untitled project due by the end of the year, Rob49 is undoubtedly putting in work.
Check out Rob49's 2023 XXL Freshman freestyle below.
Watch Rob49's 2023 XXL Freshman Freestyle
The Freshman issue of XXL magazine hits stands everywhere on July 18. See Finesse2tymes, Rob49, Fridayy, GloRilla, 2Rare, SleazyWorld Go, Lola Brooke, Central Cee, Real Boston Richey, Luh Tyler, TiaCorine and DC The Don's official Freshman pages. In addition to interviews with all 12 artists in the 2023 Class and Freshman cyphers producer Pi'erre Bourne, it includes interviews with Lil Baby, NLE Choppa, Boosie BadAzz, Toosii, DDG, Saba, producer Go Grizzly, engineer Jaycen Joshua, singer Coco Jones, SinceThe80s' President Barry "Hefner" Johnson and AEW wrestler Swerve Strickland, plus a look back at what the 2022 XXL Freshman Class is doing, hip-hop's love for golfing featuring Scarface, OMB Peezy and pro golfer Harold Varner III, conversations with 10 new artists making noise and a deep dive into A.I. hip-hop songs. You can also buy the 2023 XXL Freshman Class issue here.
See the 2023 XXL Freshman Class