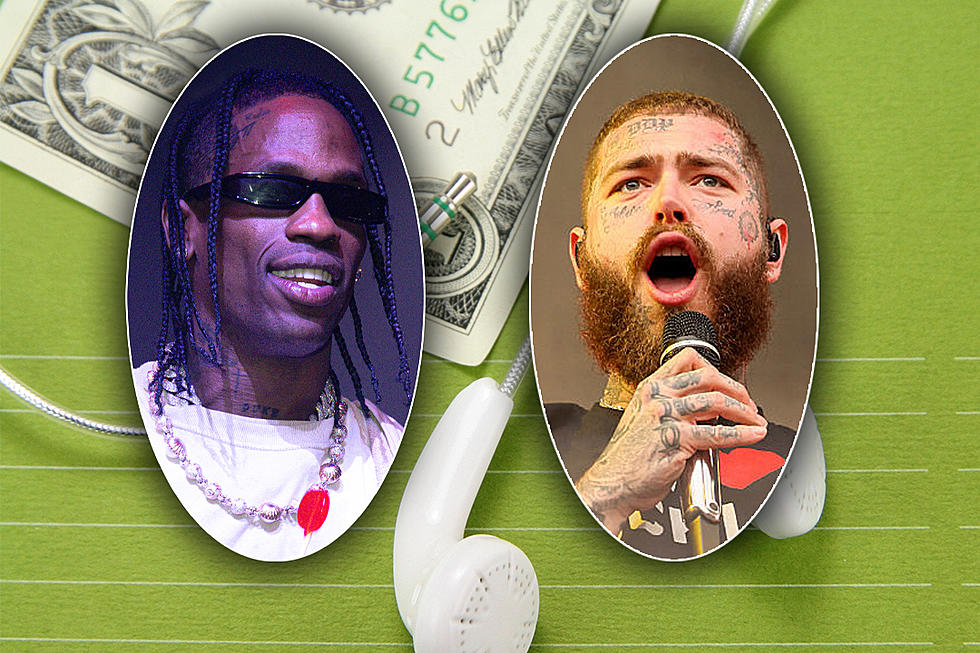 Will Travis Scott or Post Malone Have Higher First-Week Album Sales?
Devonyu/Alexander Tamargo/Dave Simpson/Getty Images (3)
Who will sell more units with their new albums in the first week: Travis Scott or Post Malone?
With Travis Scott and Post Malone both set to release highly anticipated LPs this Friday (July 28), Utopia and Austin, respectively, each of the two artists can certainly make a solid case for which one of them could outpace the other when it comes to first-week sales. Since the onset of their relatively parallel music careers, both Cactus Jack and Posty have seen tremendous success within the first seven days of releasing full-length solo albums.
When comparing each of their debut studio LPs, Travis Scott's 2015 offering, Rodeo, raked in 85,000 album-equivalent units in its first week up against Post Malone's Stoney, which mustered up a respectable 58,000 units when it dropped in 2016. Also in 2016, Travis' sophomore album, Birds in the Trap Sing McKnight, put 88,000 album sales on the board in its first week primarily on the strength of the project's multiplatinum smash single, "Goosebumps."
When 2018 rolled around and both artists had become superstars on a global scale, Travis Scott and Post Malone each dropped albums in the same year. However, despite Posty's Beerbongs & Bentleys moving 461,000 album-equivalent units in the first week, Malone was once again bested by Travis Scott and his magnum opus, Astroworld, which had a debut week that saw a staggering 537,000 albums sold.
Now, as the hype across the whole game ramps up ahead of the new albums Utopia and Austin, check out the respective first-week sales for all of Travis Scott and Post Malone's previous albums below and decide for yourself who will come out on top.
See First-Week Sales for All of Travis Scott and Post Malone's Albums
See 20 of the Best-Selling Hip-Hop Albums of All Time