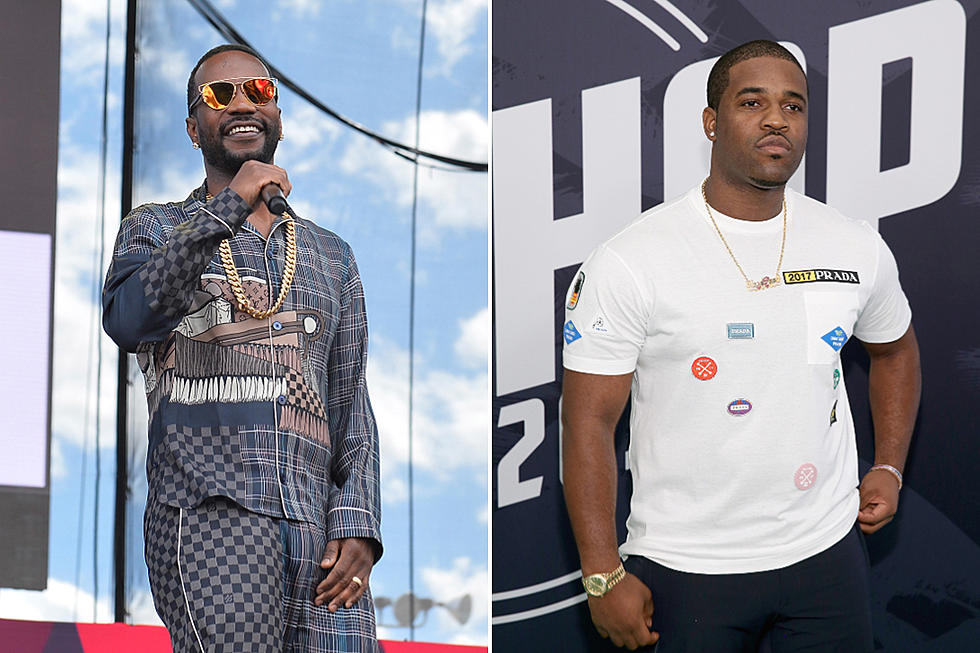 Juicy J Shares Unreleased Verse From ASAP Ferg's "Plain Jane (Remix)"
Bryan Steffy / Bennett Raglin, Getty Images (2)
Last year, A$AP Ferg dropped the video for "Plain Jane" and included a snippet of a Juicy J verse that wasn't featured on the original song. Now, the Three 6 Mafia member shares his full verse that was supposed to be included on a "Plain Jane" remix.
Just like in the "Plain Jane" video, Juicy's verse features him rapping, "I remember comin' up from Memphis in the trenches/North Side hopping fences to ridin' Benzes." But instead of getting cut off at the Benz line, Juicy continues spitting, "Either you get a death wish or a sentence/Sell dope or you gang bang or you pimpin'."
It's uncertain why Juicy J's verse was left off a "Plain Jane (Remix)," but the song did get an official remix from Nicki Minaj, who hopped on the track in December. "Here is my unreleased verse to plane Jane remix," Juicy tweeted along with a clip of his verse.
In related news, Juicy J recently teamed up with producer Marshmello for the James Arthur-assisted song "You Can Cry." The track blends Juicy J's raps with Arthur's vocal over an energetic instrumental.
The Memphis rapper also linked with the $uicideboy$ earlier this year to drop their ShutDaFukUp mixtape. The 21-track project includes guest appearances from Wiz Khalifa, Project Pat, Cardi B, Lil Pump and the late Lil Peep.
Listen to Juicy J's unreleased "Plain Jane" verse below.
See New Music Releases for May 2018