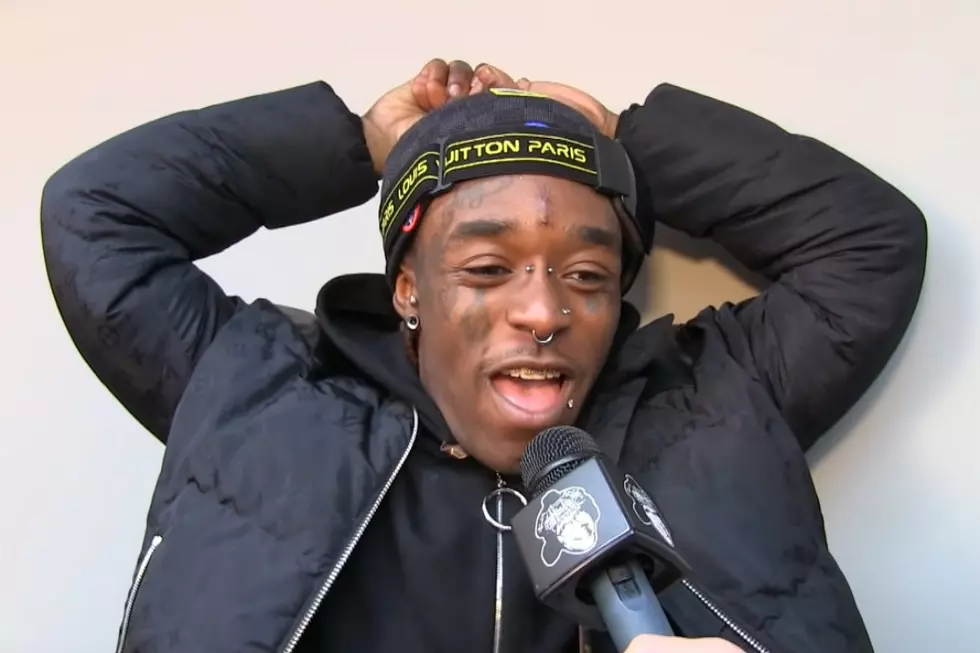 Lil Uzi Vert Abruptly Ends Interview With Nardwuar Because Host Knows Too Much
NardwuarServiette via YouTube
Lil Uzi Vert ran up against omniscient interviewer Nardwuar over the weekend in Canada, resulting in what has to be one of the host's shortest and most entertaining interviews to date.
Uzi was in town to headline The Breakout Winter Festival in Vancouver, BC, on Friday (Dec. 14) and afterward posted up for an interview with "The Human Serviette." Nardwuar almost didn't make the cut, and is shown waiting outside the rapper's dressing room. He is eventually allowed to talk with Uzi who appears to have just finished his set.
Nard always comes with gifts. On this occasion he provides Uzi with a zombie bust of outrageous rocker GG Allin, who LUV is clearly a fan of. He also gifts Uzi with a GG Allin promo poster. A short time later, Nard digs into his figurative bag and pulls out information from Uzi's early career. "That era of Lil Uzi, I was just finding out about everything," the rap star reveals.
Throughout the interview, Uzi asks Nardwuar if ecstasy is illegal, having been handed some by a friendly fan during the show.
When Nardwuar gives Uzi a Rob Zombie poster, the rapper starts to get a little suspicious, as is the norm.
"How you know [I like] this?" Uzi questions. "I'm glad I'ma a good guy 'cause if I was under investigation for something I'd be scared right now. How you know that? They don't even know that."
After Nard brings up the name Guns Garcia, Uzi gives him an awkward look and says, "Yo, he know too much. I can't do this," before running out of the building to his awaiting ride. He is eventually tracked down by Nardwuar who gets him to do his famous outro, minus the awkward stare.
It turns out Guns Garcia is a DJ from Philly. The internet has done some sleuthing and is speculating that the two are old flames. Many people have even gone in on her comments, accusing her of being the person who is holding up Uzi's Eternal Atake album.
This is not the first time Uzi and Nardwuar have chopped it up. They conducted an interview in 2016, where the "New Patek" rapper talked about his life as a middle school trumpet player, how Marilyn Manson inspired him to get grills and more.
In music-related news, Uzi fans are patiently waiting for his Eternal Atake album. The Philly rapper has been updating fans on the project. Recently, during the Lil Uzi Vert & Friends show in Philadelphia, he told fans, "I'm finally done with that joint, I'ma drop that joint."
Check out Lil Uzi Vert's hilarious interview with Nardwuar below.
See Behind-the-Scenes Photos of Lil Uzi Vert at the 2016 XXL Freshman Shoot