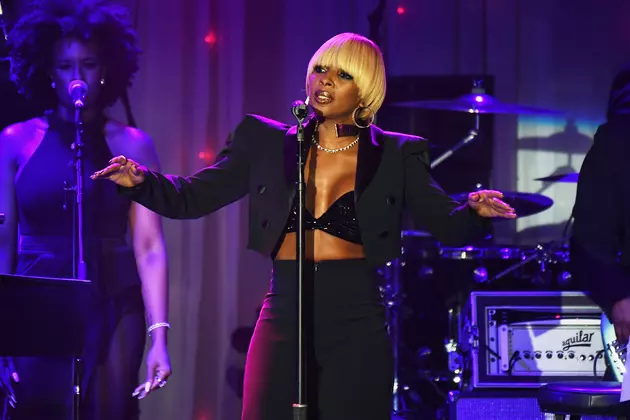 Mary J Blige Goes Back To Basics With Her Latest Album Strength Of A Woman [VIDEO]
(Photo by Kevork Djansezian/Getty Images)
Generally when I hear of R&B artist from back in the day working with hip hop artist of today. I occasionally frown because I feel they are sometimes compromising their talents for the money. But when I heard the new album from Mary J Blige, I feel like she did everything but compromise.
The new album is called "Strength Of A Woman" and it catches her at possibly her most vulnerable time in her career. She is currently going through a divorce with her husband Kendu Issac who was not only her husband but also brokered a lot of the deals that she has done over the past years. I have to admit a lot of her latest albums haven't been at the potential that I felt like she could deliver, but this latest one is back to the Mary that we all remember.
On this latest album she has plenty of features including Kanye West, Quavo of Migos and even DJ Khaled who does his signature spill on the track. Don't get it twisted this album is the one that the fans have been waiting on. She speaks vividly about the hardships of her marriage and the disappointment that she felt from it not working. Some of the standout tracks are "U + Me", "Love Yourself", "Thick Of It" and "Indestructible". If you are a Mary fan then you will love this latest album. She was featured on The Steve Harvey Morning Show and the album shot to number one on the R&B Charts, and I am sure she will see some great numbers from sales.
Check out a few of the videos from the latest album and make sure you get your copy today. This is definitely certified by yours truly.
Mary J Blige- "Thick Of It":