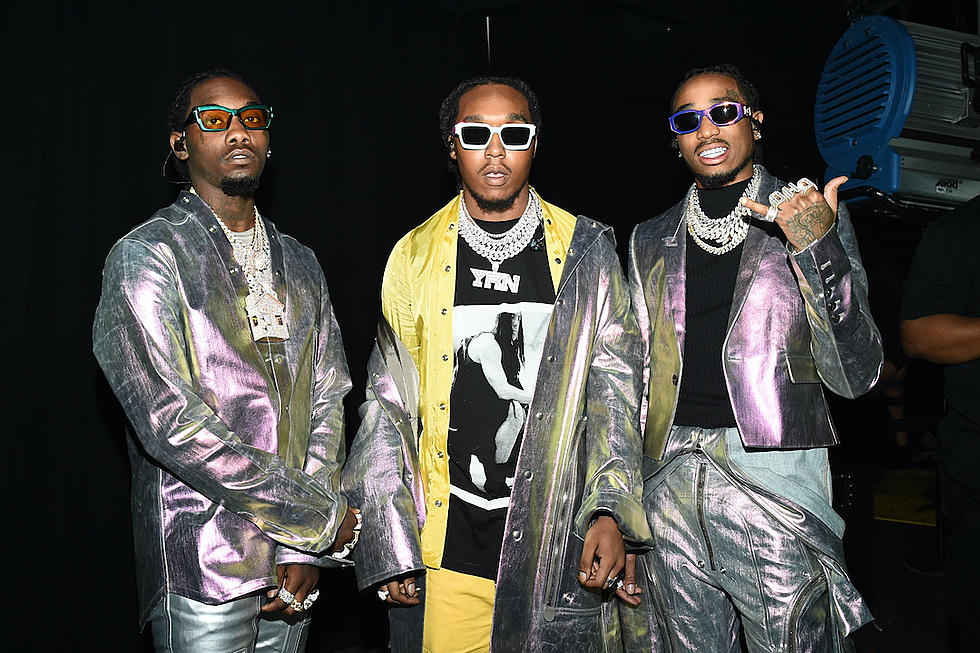 Migos Get Their Own Menu Items at Popeyes
Ilya S. Savenok, Getty Images
Migos have been all over the charts in recent years, but now they find themselves in their most unexpected place yet: a Popeyes menu.
On Thursday (Dec. 5), food journalist Mike Jordan posted photos of Uber Eats' new Migos-centric menu. The Atlanta trio has teamed up with Uber Eats and Popeyes to introduce a Migos menu featuring items from the popular fast-food chain. Customers will have a choice of four meals to choose from: The Tour Rider, The Quavo, The Takeoff and The Offset.
The Tour Rider consists of twenty crispy chicken tenders, one large container of mashed potatoes with gravy, two large orders of fries, five biscuits, one-gallon drink of lemonade and a collection of their sauces, including their Bold-B-Q sauce. The price: $46.99.
The Offset meal consists of eight BIC (bone-in-chicken) pieces, one large fries, one large mashed potato with gravy and four biscuits for $21.99.
The Quavo menu boasts two chicken sandwiches, two regular fries, one regular mashed potatoes with gravy, two apple pies, two small drinks for $17.99.
Finally, the Takeoff consists of five chicken tenders, two sauces, one regular mashed potatoes, two biscuits, one apple pie for $9.99.
The Popeyes x Migos Menu is available exclusively on Uber Eats nationwide from Dec. 6 through Jan. 2.
Interestingly, this partnership comes after Migos member Quavo's attempted to capitalize on the initial Popeyes chicken sandwich wave back in August. The Migos member, who dropped his solo album Huncho in October 2018, was reselling the sandwiches, which retail for $3.99, for $1,000 a pop. Now he's making sure Popeyes get delivered to your doorstep.
You can check out photos of Migos' The Tour Rider meal from Popeyes below.
See 50 Hip-Hop Albums With No Weak Songs