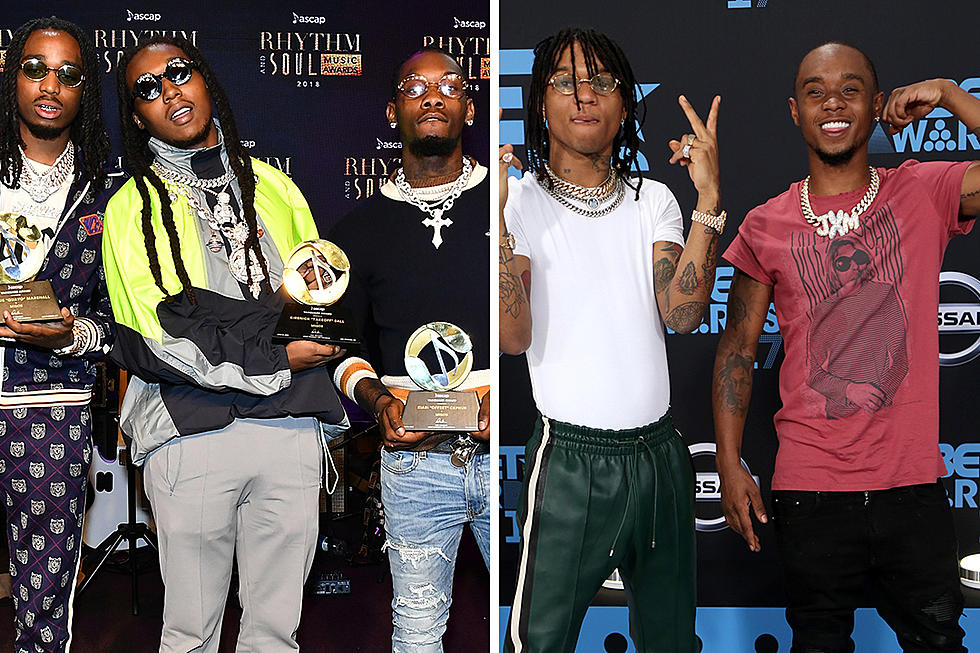 Migos Deliver Dripped-Out Version of Rae Sremmurd's "Swang (Remix)"
Paras Griffin / Maury Phillips, Getty Images (2)
Migos continue to unload their slew of remixes by taking on Rae Sremmurd's smash hit "Swang." The track, which originally appeared on SremmLife 2 last year, surfaced on Quality Control's YouTube page early Monday afternoon (July 23).
On the bouncy single, Slim Jxmmi and Swae Lee's original verses are still very much intact whereas the Atlanta hitmakers, minus Offset, up the ante by adding a dash of their signature flows. The beat itself also has a light remix, keeping the backbone intact but adding some noticeable keyboard sounds.
"I told my mama, I'ma change the game/So, I bought a Lamborghini just to swang/And, I know I can't take the fame to the grave/So, I'm gonna go hard, ball like the Braves," Quavo raps melodically.
True to his name, Takeoff takes flight on his verse as he showcases his lyrical abilities. "Beat a nigga with a Ferragamo, but that nigga callin' me Pooty Tang/Got a super-freak called Mary Jane/When she with me, she act like I'm Rick James," he rattles off effortlessly.
Press play on Migos' remix of Rae Sremmurd's "Swang" below.
See New Music Releases for July 2018