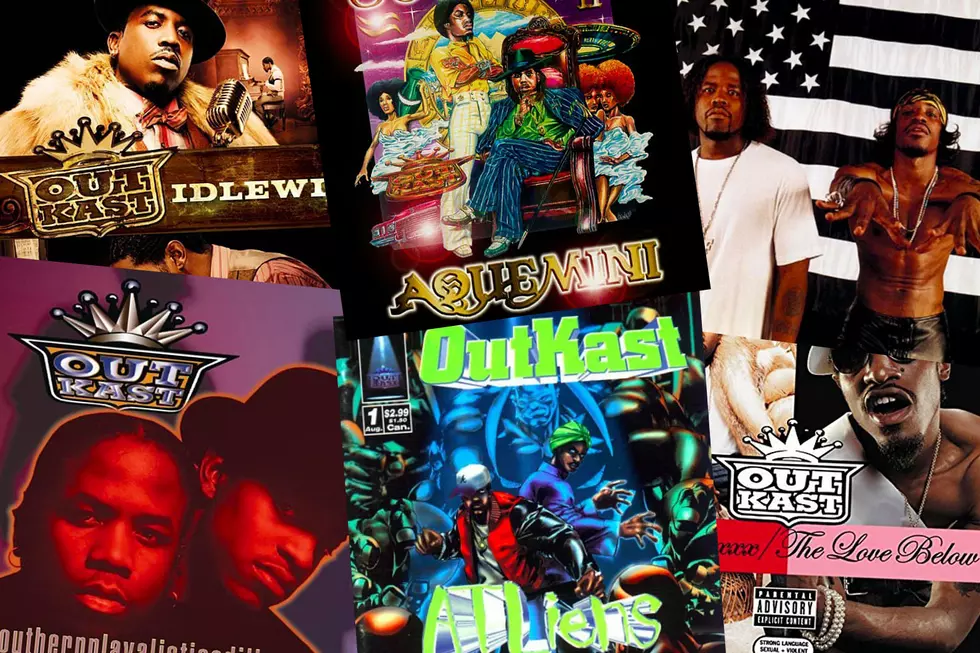 OutKast Albums, Ranked Worst to Best
LaFace Records
There's no denying OutKast's place as one of the most innovative, ground-breaking groups to emerge not just in hip-hop, but in any genre. We're ranking all of the albums by Big Boi and Andre 3000 from worst to best below.
Their sound was futuristic in scope but firmly grounded in the realities that permeated the streets of their native Atlanta, a mixture that was potent and fresh, nostalgic and piercing. Ever since they put out their 1994 debut album, Southernplayalisticadillacmuzik, it was obvious that 'Kast was bringing something special and different to hip-hop's table.
At first, Big Boi and Andre 3000 presented themselves mostly as a unit, with their individual personalities taking a back seat to the group dynamic of southern players and occasional observers of the block. But by the time their sophomore effort, ATLiens, arrived in 1996, it was clear they were both coming into manhood, and defining their personal perspectives individually.
Dre's other-worldly, internal pondering about himself and the world and Big Boi's street-savvy, futuristic wisdom were coming into clear focus, and would only further on subsequent releases, Aquemini, Stankonia and their double album, Speakerboxx/The Love Below. 
To date, OutKast has sold over 25 million records, and solidified their place as possibly the best rap group of all-time. Certainly they're the most innovative, crafting a lane entirely their own, while influencing countless acts who've come after them. OutKast is the defining voice for southern hip-hop, and a pivotal group in fostering a sound in hip-hop that resonated across genres.
We've raked through their catalog and ranked their albums, from worst to best.