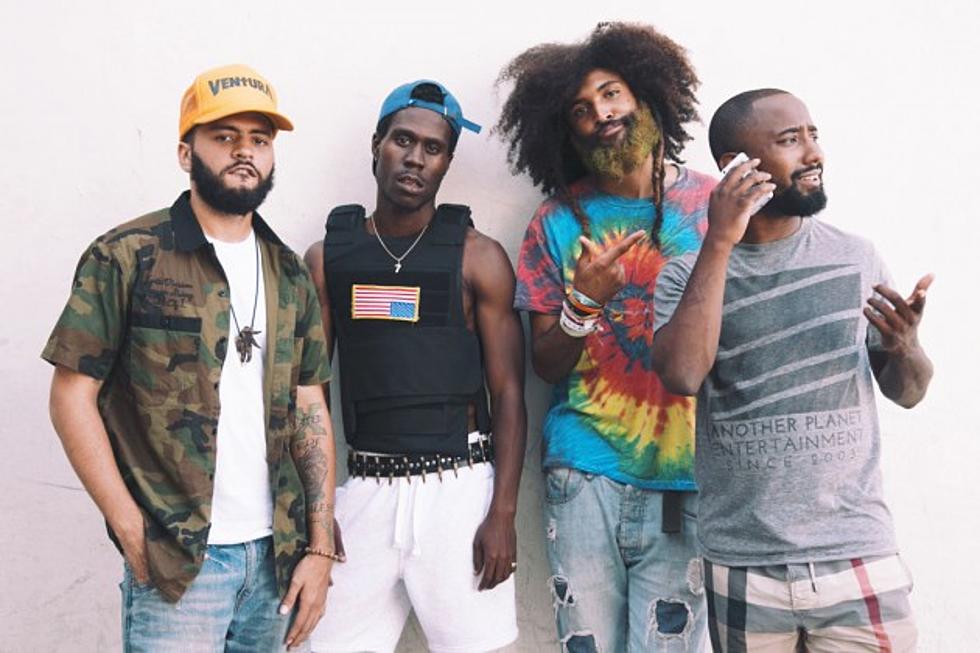 OverDoz. Talk Collaborating With Pharrell and Kendrick Lamar, 'Rich White Friends' and Knowledge of Self [EXCLUSIVE INTERVIEW]
RCA
OverDoz., a group of four rappers out of Los Angeles, are crafting what they hope will be one of the best albums to be released this year -- an LP infused with hip-hop, jazz and pop. It's ambitious, but you don't get the sense that such a project is impossible when conversing with the longtime friends. Kent is calm and direct as he talks about his ambitions, Joon and Cream chime in with color commentary with a hint of seriousness, and P -- the most laid-back of the bunch -- coolly nods in approval. Their juxtaposition of personalities mesh and amalgamate into a solid, albeit slightly overlooked catalog.
It's clear that the group is aware that the best is yet to come as they sit inside a conference room at The Boombox office in New York City. After three mixtapes, including the well-received Boom in 2013, OverDoz. is prepping their debut album for a 2015 release. Their Hit-Boy-produced song "Rich White Friends" -- and its humorous video -- is a good preview of what's to come, but the childhood friends reveal they have a lot more up their sleeve. Find out the important messages in their music, how they landed collaborations with Pharrell and Kendrick Lamar, what the game's been missing, diversity and more in their conversation below.
What are some of the comparisons people have made between you and your influences of artists like OutKast and Pharcyde?
Joon: It's that it's real music. We've been really rapping about stuff that's going on in [people's lives]. Like, "Can't keep running away [from Pharcyde's 'Runnin']." He's talking about how to deal with bullies and s---. He gotta stand up and be a n----.
How do you guys blend your styles for songs that sound cohesive?
Kent: It just does it by itself. I think that's what you find out when you get more popular or when you spend more time working in the public eye. I can't put words to what Joon actually brings to the group aspect. I don't know how it would work without any one of us. We all fill in the holes and gaps.
How would you classify the style?
Kent: I put it pop, I put it rap, I put it hip-hop. I think it's all of that, especially in that new album we have coming out. We want to make sure we touch every corner of the globe as far as sound.
We've been at this for five years. We gotta chill with [producers] a whole day before they even chop up a sample or put drums or something … We've been going for so long, and when you catch up, you'll catch that feeling in a beat form and make a song about it.
We worked with Pharrell, Organized Noize -- all of these people we chilled with first before we made the actual beat. I think that's what a lot of people not necessarily they don't do it, but we glorify ourselves with that relationship.
How did those collaborations come about?
Kent: Well, once we got a budget, we already knew who we wanted to work with. So it was just a matter of just hitting them up. They were already fans of our music. We met Pharrell before we made the deal, but once we got the money to get in the studio to actually work, it was magic.
I'd imagine it must be exciting to hear that Pharrell heard of you.
Kent: We have this blog; it's called Blunn!tTV. We put videos up probably like once a month just to catch people up on what we're going through. One of the previous ones is when we actually met him. He FaceTimed us, invited us to the studio, he played us a song. We played him one song ["Kush and Red Wine"] and he kept playing it back to back to back to back. That's when we knew it was about to take off.
Watch OverDoz. FaceTime With Pharrell
How did getting in the studio with Organized Noize come about? 
Kent: We're fans of OutKast. I used to sing their hooks, but when they stopped making music, that's when I started rapping more. You know, putting that rap on wax. Because it was like that's what we were missing. The groups like OutKast with the type of beats that they had, the subject matters that they were talking about. I was just taking bits and pieces I was getting from them or D'Angelo or something.
After doing all of that, we got the budget once again. That's one of the people we hit up and wanted to go work with. And we went to Stankonia studios. We were there for a week and we just recorded. It was the same thing with Pharrell: just fast and organic. They would give us a lot of pointers on how they thought the music should be structured. To take their advice and see how it really worked, it was like, "Yo, these dudes really know what they're are doing."
Joon: One thing they told me is slow down: "Slow your ass down so I could understand what the f--- you're saying."
Where do you think you guys fit in to today's landscape? 
Kent: I don't think we fit, and that's why it's taking us a long time to where, I guess, our fans want us to get. But since we make music for ourselves — and there's a lot of people who can relate to the situations we talk about — I don't think we fit in hip-hop or any certain category.
You had a few notable features with Childish Gambino on "7,000 Girls" and Kendrick Lamar on "Taking Me Down." Do you think this will overshadow your work? 
P: It can't overshadow because for some reason when we collab with somebody, they bring their best effort on one song.
Kent: Like, I remember Kendrick spitting that verse. He didn't write. He paced around the room for 45 minutes and spit it in another 45 minutes. It was just like, "That's what you've been thinking of?"
How did you come up with the concept for "Rich White Friends"? 
Kent: Once we heard the beat, it just sounded so epic. And that subject matter was just dope. The video just added a whole 'nother level to it. We always had an idea of the song being good, but once we saw the video and the final edit, we knew what we had.
Cream: Plus we went to high school with different races, so we were used to that.
Kent: Plus, we're from California. That's the end of the world. Everybody is over there. That's why I say it's a good subject matter, because from touring, we saw it wasn't like that everywhere. Organizers were telling us … We were like, "Yeah man, white people are saying n---- when we say n----." They're like, what, "Oh hell no?" When you come back over here, there are people in the front row saying n----. It just came from that aspect. It's like, somebody got to talk about this, but let's talk about it in a lighter kind of situation.
But then a lot of current events started happening. A lot of the music that we've made is like years old, but what's been happening in the news just started happening. I don't know. That's how things worked out.
Watch Overdoz.'s "Rich White Friends" Video
Do those current events affect your mindset when making music?
Kent: It has to. If you're black or white or Asian — it doesn't matter. If you're American, you know what's going on. You'll look at it from a different angle. Just because that's what the TV is portraying. That's what social media is portraying. It's like an elephant in the room. It's like nobody is gonna say something about this, we're just going to keep talking about this, we're going to keep saying this. Oh, okay. So I think that's the button we wanted to push. We'll do that. We'll be the loudest people in the room. Or we won't say nothing and people will look at us because of how we smell or how we dress. We chose to deal with subject matter in a lot of our songs because we'll say something everybody thinks, but never say.
A lot of comedians use that logic. 
Kent: Yeah. It's comedy. That's why we got a comedian in the group [Cream]; he influences most of the subject matter. To me, it's one of the most dangerous people to have because if we can make you laugh, we could get as close to you as we need to.
A lot of newer artists say, "They're what the game's been missing." What exactly has it been missing?
Kent: I think self-knowledge. I think a lot of people don't know about what black people have done outside of rap in America to even get to place were we're able to be in the same building with certain people. I think it's really self-knowledge. We don't know where we come from. We don't know what to do to make things better.
Joon: I don't think the game's been missing anything. I think it's been looked over; people stopped paying attention to it. N----s make all kinds of music. You just don't hear it.
Do you fear being overlooked? 
Kent: You're supposed to, man. That's what happened to all of the greats. All the prophets, you're supposed to overlook them. Tell them they're crazy. Or chastise them. It's supposed to be like that. That's part of being humble, too. It humbles you as an artist.
What should fans expect from the upcoming project? 
Kent: It's just sincere, man. Sound-wise, it's ahead of it's time in my opinion. We chose our beats carefully and we chose the producers that we wanted to work with, which was THC. Like we said, we worked with Pharrell, Organized Noize, Terrace Martin. We cover every aspect of sound. So we could put a song on a jazz station, we could put one out on a pop station, we could put one out on the next hip-hop station. That's what we wanted to go for with this one.
See 10 Alternative Career Choices for Your Favorite Rappers