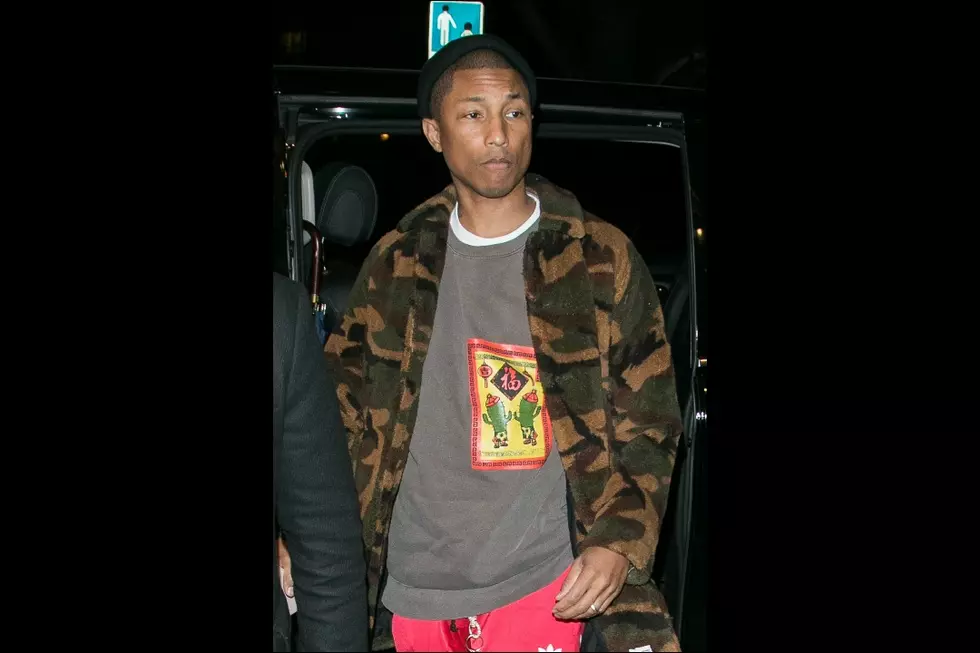 43 of the Best Pharrell Beats
Marc Piasecki, Getty Images
There have been a slew of producers to step through the doors of hip-hop, but few have been as innovative as Pharrell Williams.
One-half of production duo The Neptunes, Pharrell has made a name for himself by concocting some of the most infectious beats listeners have heard for nearly a quarter-century. Getting his start under Teddy Riley, who discovered The Neptunes at a high-school talent show in his native Virginia, Pharrell would earn his first big credit by producing "Rumpshaker," a track from Wreckx-N-Effect. The song was one of the biggest of 1992, proving to be just a glimpse of the magic that Pharrell could bring to a track.
With his foot firmly planted in the music industry, he and his partner Chad Hugo would produce tracks for R&B groups like SWV before making their major breakthrough during the late 1990s. A high-profile appearance on N.O.R.E.'s debut single, "Superthug," would position The Neptunes as the go-to hit-makers in music, lacing everyone from Jay Z to pop stars like Britney Spears with their futuristic soundbeds.
The first-half of the aughts would find Pharrell slowly creep into the role of an artist, with album releases by N.E.R.D., and his propensity to steal the show while co-starring on other people's songs. He continued to raise his profile as a budding star. But when his production partner, Chad Hugo, decided to take a step back from the spotlight, Pharrell decided to take his career into overdrive, releasing his solo debut, In My Mind, in 2006.
Since then, Pharrell has continued to build his solo catalog while also lending his midas touch to records by new gen superstars like Kendrick Lamar and a slew of other rising rappers. In celebration of his birthday, we've compiled 43 of Skateboard P's best produced tracks (whether solo or part of The Neptunes) from the last decade.
Kendrick Lamar's "Alright"

Produced by Pharrell & Sounwave

Pharrell's "Can I Have It Like That" Featuring Gwen Stefani

Produced by Pharrell

Pharrell's "That Girl" Featuring Snoop Dogg

Produced by Pharrell

Jay Z's "Oceans" Featuring Frank Ocean

Produced Pharrell & Timbaland

Schoolboy Q's "Los Awesome" Featuring Jay Rock

Produced by Pharrell

Kendrick Lamar's "Good Kid"

Produced by Pharrell

Mac Miller's "Objects in the Mirror"

Produced by Pharrell

Wiz Khalifa's "Rise Above" Featuring Pharrell, Tuki Carter & Amber Rose

Produced by Pharrell

Rick Ross' "Presidential" Featuring Elijah Blake

Produced by Pharrell

OverDoz.'s "Last Kiss"

Produced by Pharrell

Snoop Dogg's "Drop It Like It's Hot" Featuring Pharrell

Produced by Pharrell

Clipse's "Mr. Me Too" Featuring Pharrell

Produced by The Neptunes

2 Chainz's "Feds Watching" Featuring Pharrell

Produced by Pharrell

Pusha T's "S.N.I.T.C.H." Featuring Pharrell

Produced by The Neptunes

Lupe Fiasco's "I Gotcha"

Produced by The Neptunes

Puff Daddy & The Family's "Finna Get Loose" Featuring Pharrell

Produced by Pharrell

Chiddy Bang's "The Good Life"

Produced by Pharrell

The Cool Kids' "Summer Jam" Featuring Maxine Ashley

Produced by Pharrell

Pharrell's "Number One" Featuring Kanye West

Produced by Pharrell

Baby's "What Happened to That Boy" Featuring Clipse

Produced by The Neptunes

Clipse's "Grindin"

Produced by The Neptunes

Jay Z's "Allure"

Produced by The Neptunes

Snoop Dogg's "Beautiful" Featuring Pharrell

Produced by The Neptunes

Kap G's "Cocaina Shawty" Featuring Fabolous

Produced by Pharrell

N.O.R.E.'s "Superthug"

Produced by The Neptunes

Ludacris' "Moeny Maker" Featuring Pharrell

Produced by The Neptunes

Jay Z's "I Just Wanna Love You (Give It 2 Me)"

Produced by The Neptunes

Mystikal's "Shake Ya Ass" Featuring Pharrell

Produced by The Neptunes

Ludacris' "Southern Hospitality"

Produced by The Neptunes

Fabolous' "Young'n (Holla Back)"

Produced by The Neptunes

Jadakiss' "Knock Yaself Out"

Produced by The Neptunes

Busta Rhymes' "Pass the Courvoisier, Part II"

Produced by The Neptunes

N.E.R.D.'s "Lapdance"

Produced by The Neptunes

N.O.R.E.'s "Grimey"

Produced by The Neptunes

Ol' Dirty Bastard's "Got Your Money" Featuring Kelis

Produced by The Neptunes

Nelly's "Hot in Herre"

Produced by The Neptunes

Jay Z's "Excuse Me Miss"

Produced by The Neptunes

LL Cool J's "Luv U Better"

Produced by The Neptunes

Pharrell's "Frontin'" Featuring Jay Z

Produced by The Neptunes

Pharrell's "You Can Do It Too"

Produced by Pharrell

Kelis' "Milkshake"

Produced by The Neptunes

Robin Thicke's "Blurred Lines" Featuring T.I. & Pharrell

Produced by Pharrell