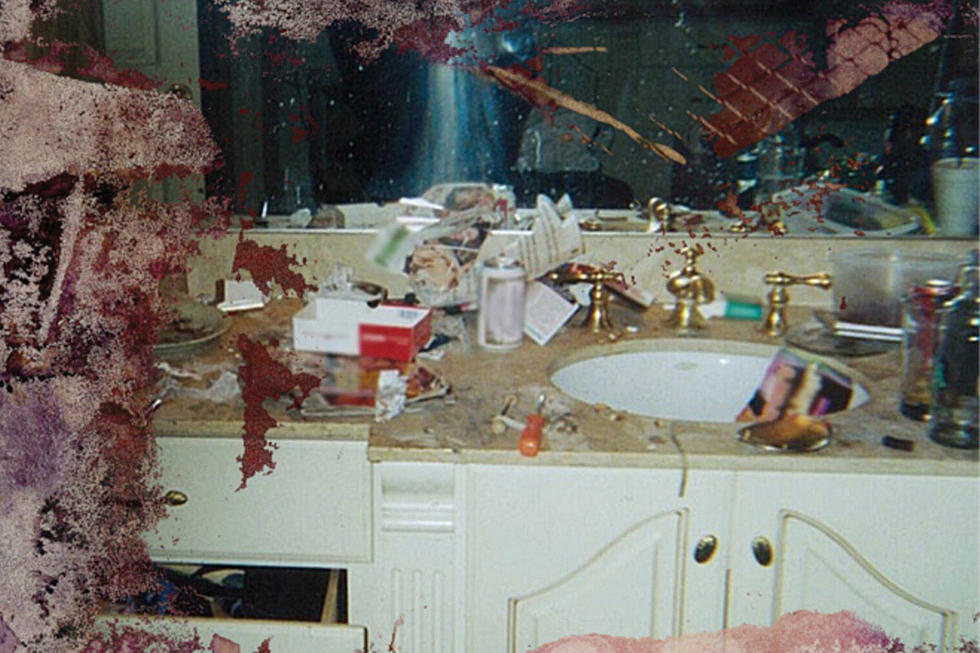 20 of the Best Lyrics From Pusha-T's 'Daytona' Album
G.O.O.D. Music
It ain't hard to tell when Pusha-T dazzles himself with his own wordplay. He'll punctuate a clever quotable with his signature soundbite: "Yugh!" It pops up all over his catalog, but you might expect to hear it even more on his stellar new album, Daytona.
Pusha drops serious serial bars on the seven-song LP, originally expected to be his long-awaited King Push album. Kanye West is at the helm of production on the follow-up to 2015's Darkest Before Dawn: The Prelude, tapping into gorgeous soul samples with a modern production punch. But the star of the show is Pusha's pen—still scribbling the purest of cocaine rap and fly gangsta gab.
From the energizing intro "If You Know You Know" to album closer "Infrared"—a sniping at Cash Money rivals Lil Wayne, Baby and Drake—Daytona is a brilliant exhibition of hip-hop lyricism, which has become Pusha-T's calling card over the course of his career. He spoke about the state of lyricism in XXL's 20th anniversary issue last year.
"Lyricism in hip-hop today, for me, isn't as important. But that's the hip-hop that I know how to make," he said. "Being in the game so long, and being outside so long, I've learned to appreciate other forms of hip-hop, younger forms of hip-hop."
For now, though, fans are appreciating Daytona, which dropped at midnight. After giving the album a few listens, XXL highlighted 20 of the best lyrics that prove—at least for Pusha-T—that hip-hop lyricism is still alive and well.
"Pullin' up in that new toy/The wrist on that boy rockstar like Pink Floyd/Waving at rude boy, I'm waving at you, boy/Ran off on the plug too like Trugoy" —Pusha-T

"A fraternity of drug dealers ringing off/I just happen to be alumni/Too legit, they still lookin' at me with one eye/The company I keep is not corporate enough/Child rebel soldier, you ain't orphan enough/A rapper turned trapper can't morph into us/But a trapper-turned-rapper can morph into Puff" —Pusha-T

"Dance contest for the smokers/I predict snow, Al Roker (If you know, you know)/I only ever looked up to Sosa/You all get a bird, this nigga Oprah" —Pusha-T

"They tweet about the length I made 'em wait/What the fuck you expect, when a nigga got a cape and he's great?" —Pusha-T

"The only kingpin who ain't sinkin'/Chess moves, that means my third eye ain't blinkin'/Stay woke, nigga, or get out/Still pull them whips out, still spread the chips out/Might buy your bitch some new hips and yank her rib out/The message in this music, all my niggas had to live out" —Pusha-T

"Never trust a bitch who finds love in a camera/She will fuck you, then turn around and fuck a janitor/Set the parameters/You either with the pro ballers or the amateurs/I won't let you ruin my dreams or Harvey Weinstein the kid/Good morning, Matt Lauer, can I live? —Pusha-T

"Look at my new digs/The rooftop can host a paint and sip for like 40/The Warhols on my wall paint a war story/Had to find other ways to invest/'Cause you rappers found every way to ruin Pateks" —Pusha-T

"It's a nightmare, yeah/I'm too rare amongst all of this pink hair, ooh!" —Pusha-T

"Between God and where the Devil's at/Had to double dutch and double back/Then hopscotch through where the trouble's at/Exactly what the game's been missin'/This fire burns hot as Hell's Kitchen" —Pusha-T

"My homie amputated but gon' stand for somethin'/I'm dying to find a way to get a Grammy from it/Watchin' my success for some is bittersweet/Always keep the sharpshooter's triggers tweaked" —Rick Ross

"All my dopeboys, we like kinfolk/B-More burnt spoon, D.C. glass pipe/V.A. sent bales, 'bout that trap life/Blew through thousands, we made millions/Cocaine soldiers, once civilians" —Pusha-T

"Who else got the luxury to drop when he want cause nobody else can fuck with me?/What a show off/Nigga wrist for wrist let's have a glow off/Fuck it, brick for brick let's have a blow off/If we go by connections made/I can still climb ladders when complexions fade (yugh!)" —Pusha-T

"They don't miss you 'till you gone with the wind/And they tired of dancing like a Ying Yang Twin/You can't have the Yin without the Yang my friend/Real niggas bring balance to the game I'm in (yugh!)" —Pusha-T

"Niggas talkin' shit, Push, how do you respond?/I'm top five and all of them Dylan" —Kanye West and Pusha-T

"Angel on my shoulder, 'What should we do?'/Devil on the other, 'What would Meek do?'/Pop a wheelie, tell the judge to Akinyele/Middle fingers out the Ghost, screamin' 'Makaveli'/Hail Mary, the scale fairy/Two sides to every coin so we bail ready" —Pusha-T

"If you ain't drivin' while Black, do they stop you?/Will MAGA hats let me slide like a drive-thru?" —Kanye West

"The game's fucked up,Niggas beats is bangin', nigga, ya hooks did it/The lyric pennin' equal the Trumps winnin'/The bigger question is how the Russians did it?/It was written like Nas but it came from Quentin/At the mercy of a game where the culture's missing" —Pusha-T

"Remember Will Smith won the first Grammy?/And they ain't even recognize Hov until 'Annie'/So I don't tap dance for the crackers and sing Mammy/'Cause I'm posed to juggle these flows and nose candy (yugh!) —Pusha-T

"Oh now it's okay to kill Baby/Niggas looked at me crazy like I really killed a baby/Salute Ross 'cause the message was pure/He see what I see when you see Wayne on tour/Flash without the fire/Another multi-platinum rapper trapped and can't retire/Niggas get exposed, I see the cracks and I'm the liar?" —Pusha-T

"Let's cram numbers, easily/The only rapper sold more dope than me was Eazy-E/How could you ever right these wrongs/When you don't even write your songs?" —Pusha-T