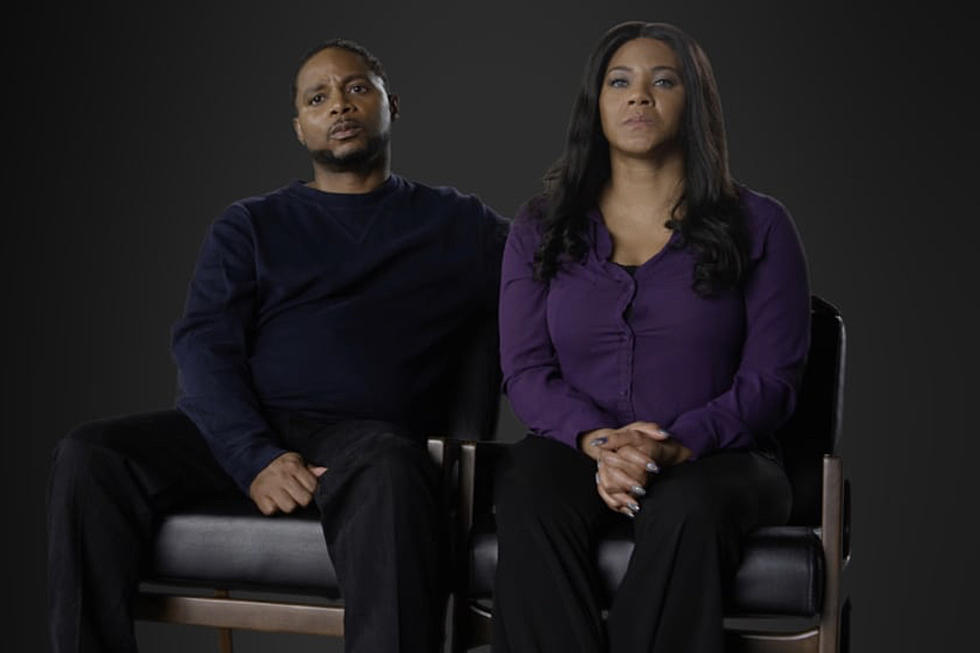 'Surviving R. Kelly' Episodes 5 and 6 Recap: Parents Fight to Get Their Daughters Back
Lifetime via Twitter
Lifetime's documentary series Surviving R. Kelly features survivors and people from R. Kelly's inner circle who have come forward with new allegations about the R&B singer's alleged sexual, mental and physical abuse towards women at different times over the last 20 years. Check out XXL's review of night three of this powerful docuseries.
Episode 5 - "All the Missing Girls"
Lifetime's Surviving R. Kelly concludes with the final two episodes, "All the Missing Girls" and "Black Girls Matter." Both segments featured parents who are desperately trying to get their daughters back from R. Kelly's alleged "sex cult." The documentary also explored more recent allegations of R. Kelly allegedly forcing more women to live with him and the shocking abuse they have suffered from the singer.
In the last episode, Jerhonda Pace, a self-described R. Kelly super fan, would skip school at the age of 14 and go to the singer's child porn trial every day in May 2008. A year after Kelly's acquittal in that trial, Pace would engage in a sexual relationship with the singer.
In episode five, Pace finally reached her breaking point. She recalled a violent incident in which Kelly slapped and choked her until she was unconscious. Pace said she couldn't take it anymore. She turned her phone off and left Kelly's mansion - this time for good. However, she was still worried about Dominique Gardner, the young woman she brought into Kelly's house, and prayed that she gets out as well.
Dominique is still living with R. Kelly, who is dressing her up like a boy, according to an anonymous former employee of the singer, whose image and voice was concealed. "He treats her like his boy toy," the person said.
We are then introduced to Timothy and JonJelyn Savage, parents of Joycelyn Savage.
In July 2017, journalist Jim DeRogatis wrote an investigative story for BuzzFeed News that alleged Kelly was holding women against their will as part of a "cult" in his Chicago and Atlanta homes. Through his attorney, Kelly strongly denied these claims.
One of those women named in the report was Joycelyn, an aspiring singer, who met Kelly when she was 19 years old. Her parents allowed Jocelyn to work with Kelly on a professional basis.
In 2016, the Savages felt a disconnect with their daughter after she wouldn't answer their phone calls and she stopped going to college. It was then that the Savages started to speak out publicly and accused Kelly of kidnapping their daughter. In response, Joycelyn appeared in a TMZ interview and denied that she was kidnapped or part of Kelly's alleged cult.
The documentary then focuses its attention on Michelle Kramer, Dominique Gardner's mother. After seeing another TMZ clip, which featured her daughter standing next to Joycelyn, she traveled with the Surviving R. Kelly producers to Beverly Hills, Calif., in an effort to find her and bring her back home.
Through trial and error, Kramer was able to locate which hotel her daughter was staying at in Beverly Hills. Accompanied by a camera crew and a hotel manager, Kramer finally meets Dominique and urges her to come home. "Nikka, I need you to come home," she tells her using her daughter's nickname. "Nikka, don't do this. If I came this far, Nikka, don't you dare."
Dominique tells her mom to come back at 6 p.m. but when Kramer returned, the hotel manager told her that Dominique called 911 and told them that she was not her mother. The manager informed her that if she doesn't leave the premises she would be arrested. Kramer calls Dominique and her daughter tells her that she never called the police. They both then hatch an escape plan from the hotel.
Kramer snuck back into the hotel and waited for Dominique in the bathroom stall. When Dominique entered the bathroom, they both hurriedly escaped together into an awaiting car. "That's the hardest decision I ever had to make," said Dominique while crying in her mother's arm.
When Kramer was asked what it was like hugging her daughter again, she said it felt like holding a newborn baby.
We then meet Kitti Jones, a former radio DJ from Dallas, Texas, who started dating Kelly when she was 33 years old. During their courtship, Jones' girlfriend asked her if she ever saw the singer's infamous sex tape. She said no. Curious, Jones sought out the tape online and watched it for herself. She was totally disgusted by it.
Jones confronted Kelly and asked him about the tape. Jones claims that Kelly flew into a rage and severely beat her. It was the first time Jones was abused by the singer.
Jones described several other incidents in which Kelly would physically abuse her or as Kelly would call it "training," according to Jones. She also described being punished by the singer with starvation or having her phone taken away.
Jones stayed with Kelly for two years. The final straw was in 2013, after Kelly physically abused her for the last time. She asked the singer for a round-trip ticket to see her son who was then entering high school at that time. She never got on the return flight.
The documentary also featured Azriel Clary, an aspiring singer, who met R. Kelly at the age 17. She convinced her parents, Alice and Angelo, to allowed R. Kelly to mentor her under the supervision of her sister A'Iceis.
That plan goes awry, and in the final episode, the Clarys soon find themselves unable to get in contact with their daughter. They also team up with the Savages who are also trying to locate their daughter in R. Kelly's alleged cult.
Episode 6 - "Black Girls Matter"
In the final episode, we meet more women who lived with R. Kelly and were allegedly physically and mentally abused by the singer. But we resume to the Clarys' story.
Months after assisting her sister Azriel with Kelly at his Chicago studio, A'Iceis called her parents, Alice and Angelo, to tell them she has been unable to find her. She also detailed some horrific things she witnessed in the singer's studio. According to A'Iceis she saw what appeared to be buckets in the corner of every room in which the girls were using it for the bathroom.
"Why would you go from being able to use your own bathroom to going in a room where you have to pee in a corner?" A'Iceis said.
In December 2015, that's when all hell broke loose, according to Alice and Angelo. Azriel, now 18 years old, stopped calling her parents and started living in Chicago with Kelly. "She fell in love with someone that is a predator. It's heartbreaking," said Alice.
Azriel's parents then teamed up with Timothy and JonJelyn Savage, whose daughter Jocelyn is also living with R. Kelly, to call police and conduct wellness checks at Kelly's homes in Atlanta and Chicago. Following the wellness checks, police told the Clary and Savage families that they had contacted their daughters and they both told them they were not in danger.
We then meet Asante McGee, a self-described R. Kelly super fan, who started dating the singer in 2014. She would travel back and forth from Atlanta (where she lived) to Chicago to meet him and he would come down to Atlanta to see her.
Then one day, Kelly's assistant told her that she needed to pack a suitcase because she was going to stay at the singer's newly-bought Atlanta home. She, along with the other girls, were moved into the singer's spacious mansion in Johns Creek, Atlanta.
McGee said that she suffered physical and mental abuse from the singer. She reached her breaking point when Kelly allegedly locked her in a room and let her starve. After that, she packed her bags and left the Atlanta mansion for good.
The documentary also featured Oronike Odeleye of the #MuteRKelly movement, a campaign to boycott Kelly's music. Through her concerted efforts, along with assistance from the Times Up movement, they were able to get Spotify and other streaming platforms to remove Kelly's music from curated playlists. In addition Tarana Burke's #MeToo movement helped Pace use her voice to speak out against Kelly and his alleged abuse of young girls.
Next up is Faith Rodgers who started dating R. Kelly in March 2017 was she was 19 years old at that time. She said sex with R. Kelly was consensual but something she felt she had to do "because he was R. Kelly."
In December 2017, Rodgers recalled having a conversation with Kelly in a hotel where they talked about his harem of girls. The singer then escorted her to another room and introduced her to Joycelyn. Rodgers describes her as a "robot" and was always clinging to Kelly.
Rodgers eventually left Kelly in February 2018 because she didn't want to deal with the singer and his group of girls. She then reached out to the Savages to inform them of Joycelyn's well-being. Tim Savage told Rodgers to check herself for STDs because he knew her daughter had contracted an STD from Kelly. Rodgers got tested and discovered that she contracted herpes.
Since the #MuteRKelly movement, music artists and celebrities have spoken out against R. Kelly and have joined the alliance to boycott the singer's music. Radio legend Tom Joyner was among the radio personalities who stopped playing the singer's songs during his morning radio program. "We need to keep pushing until we get indictments," he said.
"Times up for R. Kelly," said R&B singer John Legend who has been a major supporter of the #MuteRKelly movement.
In the docuseries, Chance the Rapper admitted that he made a "mistake" when he recorded a song ["Somewhere in Paradise"] with R. Kelly in 2015. In a clip, Chano said that in hindsight he regretted working with Kelly. Prior to the airing of the documentary, the Chicago rhymer jumped on Twitter to clarified his comment. He tweeted:
Surviving R. Kelly ends on a somber note. We watch as the Clarys tried to get in contact with their daughter who they believe is staying at Kelly's Chicago studio. Despite calling the police for a wellness check, their attempt to see Azriel had failed. Since November 2018, the Clarys have not seen their daughter in three years.
14 Sequels to Classic Rap Albums That Took Years to Arrive