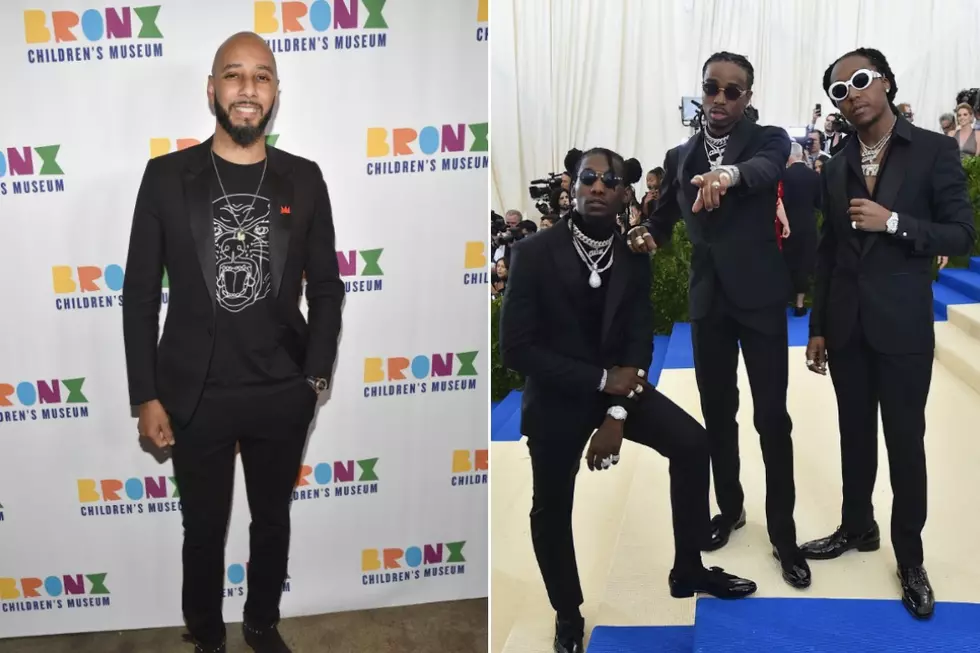 Swizz Beatz Thinks Migos' 'Culture' Will Win Best Rap Album at 2018 Grammy Awards
Bryan Bedder / Theo Wargo, Getty Images (2)
Migos had a massive 2017, and on Sunday (Jan. 28), the group comprised of Quavo, Takeoff and Offset will look to claim one of their biggest accomplishments yet at the 2018 Grammy Awards, where their Culture album nominated for Best Rap Album. For his part, producer-extraordinaire Swizz Beatz believes the clique will take home the trophy.
Speaking with Hot 97 personality Ebro Darden on Beats 1 Radio show back on Monday (Jan. 22), Swizzy argued that the Atlanta trio's wholistic dominance and knack for songwriting will help ensure them the trophy.
"I give it to Migos," Swizzy told Ebro, referring to Culture. "It's very rare that you see a group coming from where the Migos came from, have the consistency, have the chart positioning, have the culture in a very well respected way. They're real writers. They know what they doing, like, you could see that they're real artists.
He continues by dismissing the notion that the group's success is based entirely on internet fame. "You know they're not just here from the internet just playing around and just got a cool factor and a spot," he offered. "I could really see them being here for a long time actually contributing to the change of music which they're doing now. You see what I'm saying. So, I would definitely give them that for that one even though I said what I said about 4:44. We got to be fair here and give respect where it's due."
If Migos don't take home a trophy for Best Rap Album, they'll still get another shot. Their chart-topping hit "Bad and Boujee" is nominated for Best Rap Performance. Looks like it's a win-win.
Elsewhere in the interview, Swizzy acknowledges the greatness of Kendrick Lamar's DAMN. album, even if he'll ultimately give the nod to Culture. He says all the nominees, which also include JAY-Z (4:44), Rapsody (Laila's Wisdom) and Tyler, The Creator (Flower Boy). "I say that they put in work, yes," Swizzy tells Ebro.
He continues, "DAMN. is a hell of an album too. It's kind of unfair with my decision regards to DAMN. but the reason why — Also I give it to the Migos is because I love to see new energy that worked hard finally get something because I know what its going to turn them into hopefully. It's going to elevate that—like Kendrick he's a stone like he's not going anywhere and he got some hardware you see what I'm saying so you know I would like to see Migos get some hardware. He [Kendrick Lamar] going to still dance."
He goes on to say Hov's song "4:44" should get the nod for Song of the Year. Gotta represent Brooklyn, right?
Listen to Ebro's discussion with Swizz Beatz, where he announces his pick for Rap Album of the Year at around the 9:08 mark. Check out Migos' Culture II when you're done with that.

See New Music Releases for January 2018