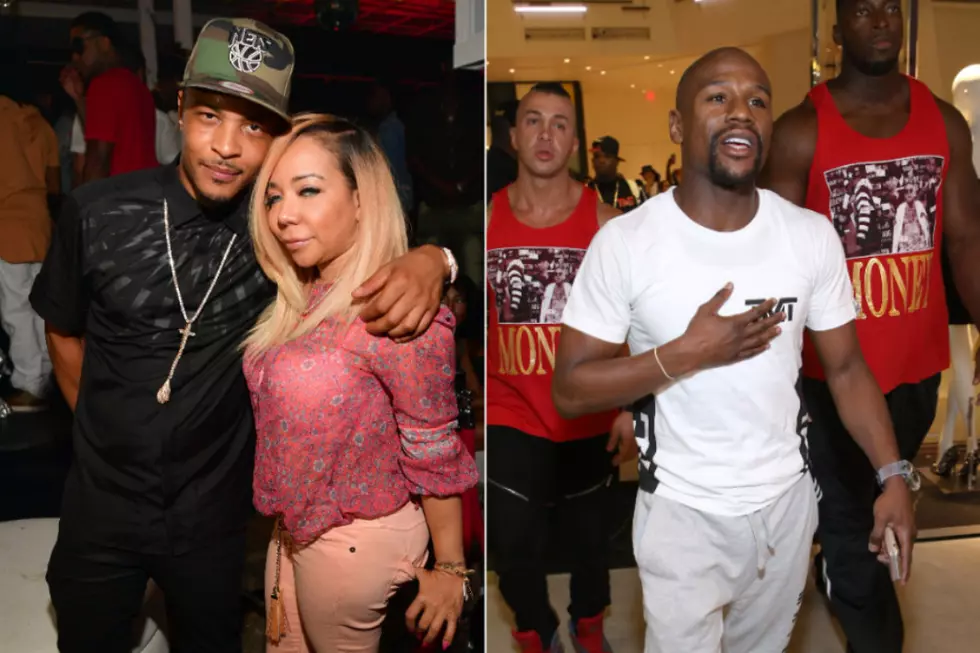 T.I. Denies His Floyd Mayweather Diss Track Was Due to Tiny
Prince Williams / Phillip Faraone, Getty Images (2)
On Friday afternoon (Feb. 15), T.I. took some time out to hop on Instagram Live and address the track with his fans. "Ain't nobody exempt," Tip said of the diss song. "I had real friends that I went against. Real friends. You think you gon' be an exception? You think I'm not gon' say something to you, nigga?"
When comments started to address T.I.'s wife at one point being rumored to be stepping out with Mayweather years back, Tip did not back down.
"This lady right here, she can be wherever she want to be," Tip said of Tiny who was seated next to him. "She want to be there. She can be there. [If] that's where she want to be I ain't got no problem."
He added, "Man listen, if it was anything, I don't give a fuck. If she went over there and had a good time that's damn nice for her."
He continued, "I don't give a fuck one way or another. I say what I said, I mean what I say. This ain't got shit to do with her. When I pulled up on you, it didn't have shit to do with her," referencing the time in 2014 where the Tip and Mayweather got into an altercation in Las Vegas. Floyd later tried to imply that he had something going on with Tiny. She denied those claims.
"It had to do with me, because me and you had something," Tip added. "We had an agreement, we had a discussion. You went against that. I pulled up. I ain't make no song about it. I pulled up."
Check out T.I.'s post below.
See Hip-Hop Fans Name The Most Disrespectful Diss Track of All Time