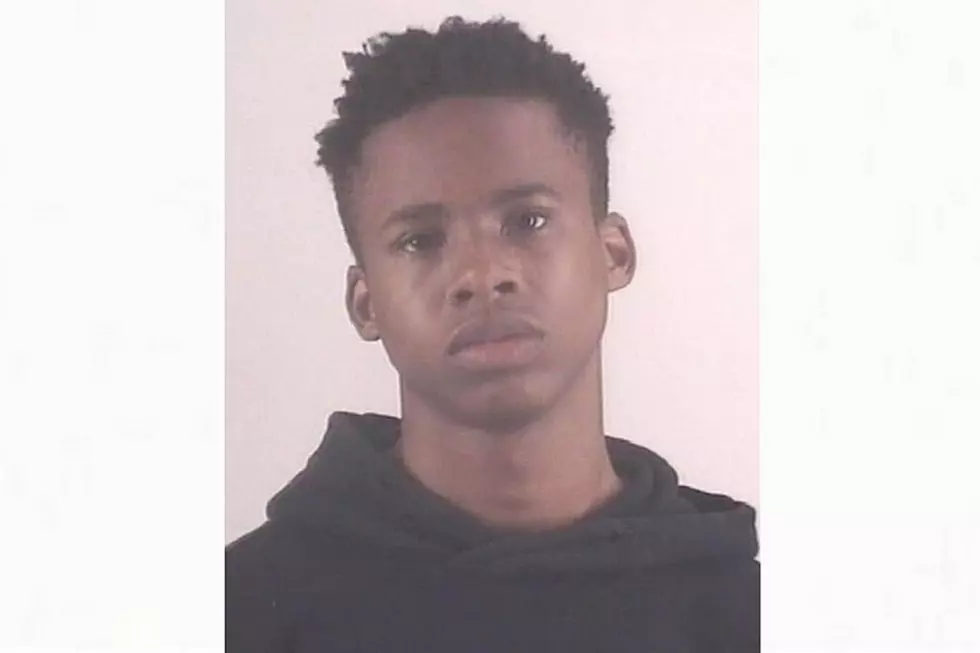 Tay-K Tried to Start Gang in Jail, Prosecutors Say
Tarrant County Sheriff's Office
It looks like Tay-K's activity in jail is being used against him in court.
According to a report published by Texas' Fort Worth Star-Telegram Friday (March 1), prosecutors have submitted documents alleging that the 18-year-old rapper assaulted a fellow inmate and attempted to start a new gang called the Rug-Rats while behind bars.
In the documents, Tay-K, born Taymor McIntyre, has developed a set of rules for the gang, and it's called the Law of Power. The rules include "no snitching, no stealing from other Rug-Rat members, no disobeying high-ranking members" and no "hurting or slaughter of children, unless necessary."
To join the gang, a prospective member must be jumped in or voted in by a gang sergeant. Being jumped in traditionally means surviving a group gang assault. Tay-K's rules also state that a member can't leave the gang unless they are jumped out or given consent by two high-ranking members of the alleged gang.
"Love, respect, protect and cherish your fellow Rug-Rat always," reads one part of the Law of Power, according to the documents.
The exact inspiration for the name Rug-Rat isn't known, but it seems likely that it's a reference to Nickelodeon's famed Rugrats cartoon series that aired from the early 1990s to the 2000s. As the Texas publication notes, Tay-K also has a song called "Rug Rat."
Prosecutors filed this notice in order to offer evidence of other crimes Tay-K committed. The notice was filed by prosecutor Bill Vassar on Thursday, and in the documents, there are 27 examples of crimes and bad behavior, including the two murders he's been accused of committing.
Tay-K has been behind bars since being arrested in Elizabeth, N.J. on June 30, 2017. Before that, he'd been the subject of a nationwide manhunt after being charged with the murder of 21-year-old Ethan Miller. Tay-K had been on the run for three months before being apprehended, and it was during that time that he infamously released "The Race," a now-platinum-selling song about his run from the law. The track established him as an unlikely viral star. While on the run, authorities believe that Tay-K also shot and killed a 23-year-old man named Mark Saldiva at a San Antonio, Texas Chic-fil-A.
Tay-K is still behind bars and awaiting trial. XXL has reached out to Tay-K's camp for comment.
See 22 Hip-Hop-Related Police Raids