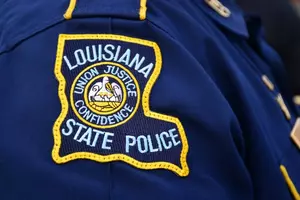 Three People Found Dead In Ascension Parish Bayou By Family Member
Louisiana State Police Patch, Facebook
Three people were found dead in an Ascension Parish bayou by their own family member.
State Trooper Bryan Lee says the family had not heard from 23-year-old Thomas Jones, 22-year-old Austin Kiernan, and 19-year-old Sydney Persac of St. Amant after they went out Wednesday night.
"Troopers were advised by family members that were out looking for the three that did not return home, and they located that vehicle submerged in a canal," Lee said.
It's believed the crash occurred in the early morning hours on Thursday, and the crash site was not discovered until just before midnight Thursday. Lee says when troopers arrived they discovered a grisly scene of the vehicle split in half by a tree.
"They were travelling northbound on US 61 when for unknown reasons they ran off the roadway, and the vehicle became airborne and struck a tree, which caused it to split in half," Lee said.
Lee says this was a gruesome discovery for a family member to make, as the bodies of all three victims were found outside the vehicle. He says the investigation is ongoing, and troopers still have a lot of unanswered questions in this case.
"We have not yet determined who was actually driving this vehicle. We also don't know at this time if they were restrained or if impairment was possibly a factor," Lee said.