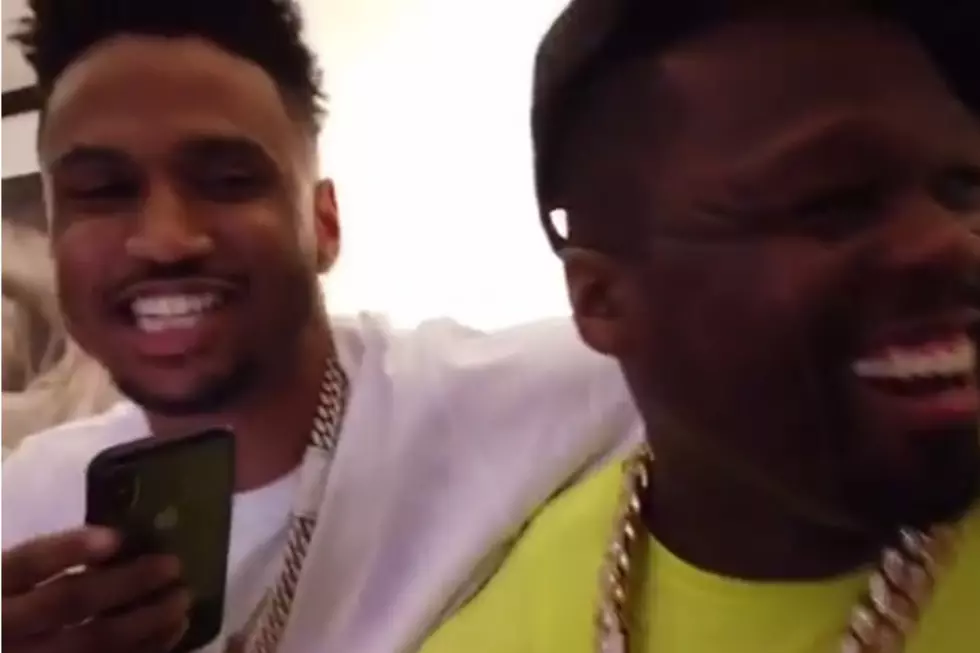 50 Cent Says Trey Songz "Ran Down" on Him
TreySongz via Instagram
50 Cent has a lot of enemies, but Trey Songz is not one of them. Fif' recently felt the wrath of the R&B singer when he jokingly "ran down on" the rapper for teasing him on Instagram.
Both artists were at a luxury hotel in Atlanta on Saturday night (June 8). 50 shared footage of the scene from his room, which featured Tony Yayo and several ladies looking like they were ready to party. In another clip, he jokingly called out Trey. "Trey Songz at Del Frisco's right now. He got like 50 bitches with him," Fif' revealed. "50 bitches in a muthafuckin' restaurant. Do you gotta pay the bill? Don't try to have like a cute nigga moment where you like you don't want to pay the bill now. Pay the bill. You wanna be...you Trey Songz, right?"
In another video, 50 claimed Trey and crew ran up on him in the hallway and chased him. "Yo, oh shit. You hear me, I'm breathing hard. Yo, why this nigga just ran down on me, blood?" 50 explained. "Yo, this nigga Trey just ran...them niggas caught me coming out the hallway, I dropped the bucket of ice. How these muthafuckas know what room I'm in?"
Trey eventually found out exactly what room the Power producer was in and jokingly bumrushed him at the door. 50 and Trey shared a hearty laugh at the events. "Yea, nigga. I found your ass," Trey joked. "I wish y'all woulda seen this nigga. He dropped the ice and all that."
Check out the footage below.
Read 10 Wild Stories That Took Place During Hip-Hop Tours