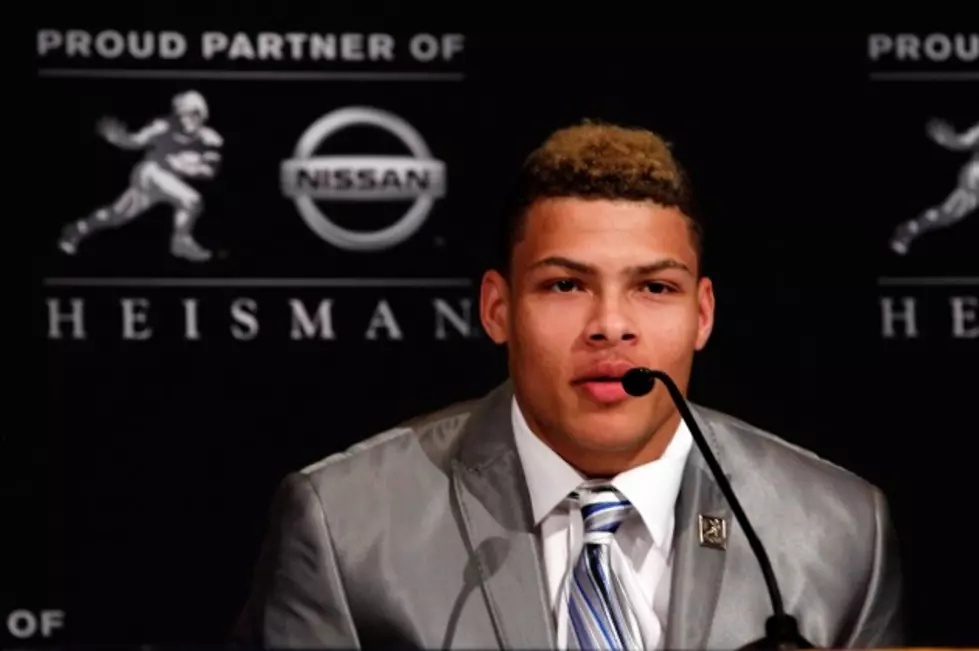 Tyrann Mathieu, Jordan Jefferson And Two Others Arrested On Drug Charges
Getty Images
What has happened to the Honey Badger?  First, he gets kicked of the LSU Football team then it was reported he was going to transfer to McNeese.  Then instead, Tyrann Mathieu entered a drug rehab in Houston and once he left there he registered back at LSU in the hopes of getting himself straight and possibly play for the Tigers next season.
Well that is not going happen now. Tyrann Mathieu along with last years LSU quarterback Jordan Jefferson and two others were arrested on drugs charges last night.
As we reported last week, Tyrann Mathieu was just on the cover of Sports Illustrated talking about his eligibility.  Now that is seriously in question.
 

Tyrann Mathieu's chances of returning to LSU's football team took a serious hit Thursday when the 2011 Heisman Trophy finalist and three other former Tigers players were arrested on drug-related charges.

Mathieu and former LSU quarterback Jordan Jefferson were charged with simple possession of marijuana, the Baton Rouge police department said in a release.

Former Tigers linebacker Karnell Hatcher also was charged with simple possession while former defensive back Derrick Bryant faces the most serious charge of possession with intent to distribute and possession of drug paraphernalia, according to police spokesman Don Kelly.

Known as the "Honey Badger," Mathieu was kicked off the team in August for failing multiple drug tests. He returned to the school as a regular student, hoping to earn a second chance at returning to the team.

But Thursday's arrest greatly narrows the chances of such a return for Mathieu, who would have been a junior this year and was suspended last season for failing a drug test for synthetic marijuana.

According to the police report, officers found the marijuana in Mathieu's apartment Thursday afternoon. Mathieu answered the door, and officers "immediately smelled a strong odor of marijuana," the police report stated.

After Mathieu, 20, gave the police his consent to search the apartment, officers discovered a marijuana grinder, a digital scale and 10 bags of high-grade marijuana, including seven in Bryant's backpack, according to the report.

Police say they were called to the apartment complex after receiving a complaint about a man, who later was identified as the 22-year-old Jefferson, forcing his way through the security gate before going to Mathieu's apartment.