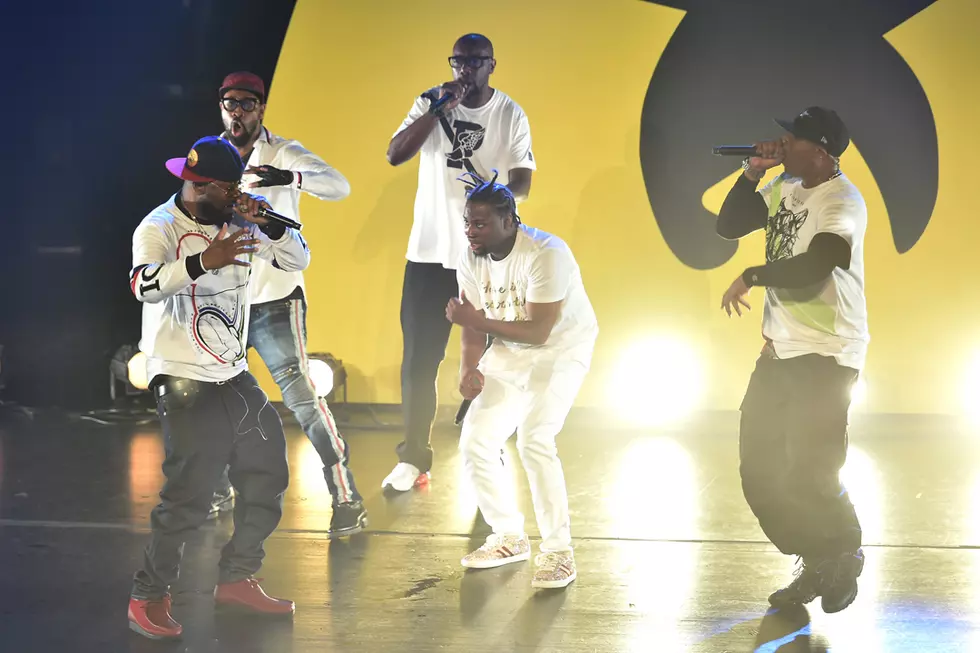 Wu-Tang Clan to Release 'Of Mics and Men' Soundtrack This Friday
Steven Ferdman, Getty Images
It looks like fans will have new Wu-Tang Clan music before the week is over.
On Tuesday (May 14), the legendary group used their Twitter account to announce that they will be dropping a new EP inspired by their Showtime docuseries, Of Mics and Men, on Friday (May 17).
"You've seen episode 1/ Wu documentary by now (and if you haven't, what were you doing last weekend), now listen to the music inspired by the series," reads one part of the tweet. "On Friday, we're coming with a new Wu-Tang EP from @36ChambersALC and Mass Appeal, so let your boss know you'll be in late to work."
The EP follows the group's last release, The Saga Continues, which dropped in October 2017. The EP, a soundtrack titled Wu-Tang: Of Mics and Men Soundtrack, is inspired by Of Mics and Men, which is a four-part series that premiered on Showtime last Friday (May 10), and will continue airing for the next three Fridays. The doc contains never-before-seen footage and interviews with the group and people who had an instrumental part in their story, with director Sacha Jenkins at the helm.
In addition to their Showtime docuseries, Hulu is currently developing a 10-episode TV series inspired by the Wu. Wu-Tang: An American Saga will be set in the 1990s and based on the rise of the game-changing group, and includes both RZA and Method Man as executive producers. Dave East has been tapped to star as a character named Shotgun, who is based on Method Man.
You can view Wu-Tang's announcement about the EP for yourself below.
Wu-Tang Clan's Wu-Tang: Of Mics and Men Soundtrack Tracklist
1. "On That Sht Again"—Ghostface Killah, RZA
2. "Seen A Lot of Things"—Ghostface Killah, Raekwon, Harley
3. "Project Kids (Skit)" – Nas
4. "Do The Same as My Brother Do"—RZA
5. "Yo, Is You Cheo? (Skit)"—Cheo Hodari Coker
6. "Of Mics and Men"—RZA, Masta Killa, Cappadonna
7. "One Rhyme (skit)"—GZA & Masta Killa
See Photos of Rappers' Fashion Choices in 1997